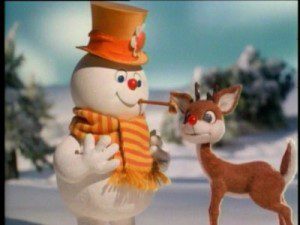 Christmas is a complicated holiday and can be celebrated in a variety of ways. For some it's a Christian holiday celebrating the birth of Jesus. For others its a more secular or spiritual celebration in the tradition of several pagan Midwinter holidays. On another level it's also a secular holiday lacking any particular spirituality.
I've never seen Christmas as an endorsement of any one particular religious philosophy and most Christmas cartoons are further proof of this. Nearly all my favorite Christmas cartoons focus around Santa, reindeer, and snow-people with nary a Jesus to be found. In those cartoons Christmas is certainly a day of the year, but it's also a feeling; it urges us to be the best we can be and to overcome our differences. Some of my favorite Yule-tide specials also include elements that look and feel Pagan. I don't think they were designed with that intent, but it's fun to see them none the less.
Super Holiday content at Raise the Horns:
The History and Origins of Santa Claus
The Other Gift Givers: Beyond Santa Claus
Christmas Traditions: Christian or Pagan?
Christmas Is Not Yours or Mine (On the True Origins of the Holiday)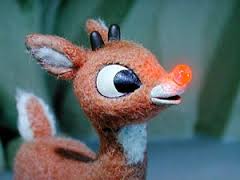 The most famous and perhaps most beloved Holiday cartoon is Rudolph the Red Nosed Reindeer (1964). For 50 years now Rudolph has delighted audiences of all ages, and has become a Yuletide staple. Like most of the cartoons in this article it's completely secular. "Christmas" becomes a day (and time of year) simply about being nice to people and giving and receiving gifts sometime in December. Rudolph is completely free of anything resembling religion.
That the holiday simply revolves around Santa is made apparent when the North Pole's most famous citizen remarks "we'll have to cancel Christmas" due to truly horrendous winter weather. If Christmas is truly a celebration of a particular event, then winter weather shouldn't be able to cancel it.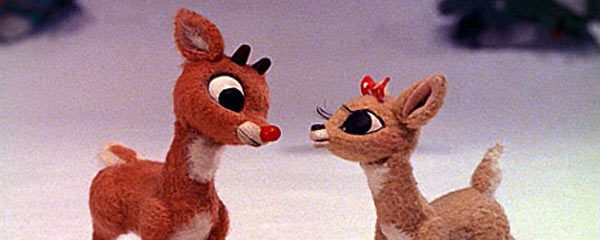 Rudolph has become a holiday staple for a number of reasons. One is undoubtedly the terrific voice work. I can't watch any other interpretation of Rudolph because Bilie Mae Richards is Rudolph to me. Her voice will always be the one I associate with the character, but the other voices are great too. Stern "reindeer games" coach Comet sounds like a gridiron general, and Donner is pitch-perfect as the "asshole-father-who-finds-redemption" antagonist. Janis Orenstein's Clarice nearly makes me cry every time when she tells Rudolph he has "a fine nose." There's also the inspired choice of folk-singer Burl Ives as the show's narrator, probably the role he's now most famous for.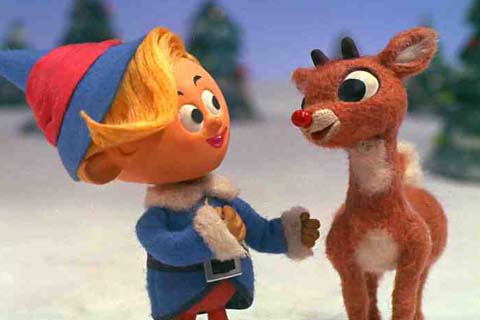 Another factor in Rudolph's success is the absolutely insane story. There's no mention of a an elf who "wants to be a dentist" and a gold-prospector in the original song, but it's an integral part of the cartoon version. There's also the island of misfit toys, and I think ostrich riding cowboys and water-guns that shoot jelly make for fine gifts.
The songs are also now nearly all classics too, and are just as much a part of the Holiday season as Hark the Herald Angels Sing. At my house this version of Rudolph is so much a part of the holiday season that we've got a large Bumble-plush on display in the kitchen and our tree has several decorations featuring characters from the show.
As much as I love Rudolph it's not without its faults. Despite making Clarice the show's heart, women aren't treated all that well at the North Pole. The elves apparently operate along gender lines as all of Santa's toy-builders are male. There's also this absolutely horrible line after Rudolph and friends face off against the Bumble: ".. But they realize that the best thing to do is to get the women back to Christmas Town." Ouch.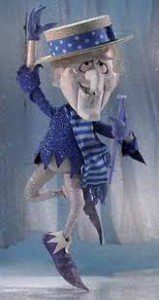 For Rankin-Bass Productions (the folks responsible for Rudolph and dozens of other Christmas specials) crazy stories were standard operating procedure, luckily for us they also veer into Pagan avenues now and again. The Year Without A Santa Claus (1974) is not my favorite holiday special, but it completely redeems its self with the antics of Snow Miser and Heat Miser. They bicker like the Oak and Holly Kings yet remain beholden to their Mom, Mother Nature. Yes, when Mrs. Claus needs some assistance she doesn't turn to Yahweh she goes straight to the Crone. If you can't see Pagan overtones in this you aren't looking.
A bit under-whelming but still worth a look is Santa Claus is Coming To Town (1970). It lacks the musicality of the other two Rankin-Bass specials mentioned thus far, but at least the character model for Santa is an improvement over the one used in Rudolph. Town functions an "origin story" for Santa along with much of his mythology and as a result is filled with magical moments. My favorite character is of course the Winter Warlock, who loses the title of "Warlock" after deciding to work with Kris Kringle. Again, like all of these specials this is no advertisement for Christianity. Santa chooses Christmas Eve for toy deliveries because it's a "night of profound love." While Fred Astaire (the show's narrator) says those words the animation is focused on the Aurora Borealis.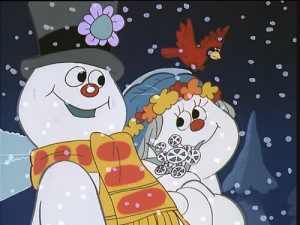 Lacking the stop-motion-animation of its peers, but not their charm, is Frosty the Snow Man (1969), also from Rankin-Bass. Maybe it's the thirty minute running time, or just how well the story is told in the original song, but Frosty is probably the least insane of the original Rankin-Bass holiday specials. Though it lacks the kinetic energy of Rudolph the story of the world's most famous snowman remains an entertaining and magical romp. It also contains some of Rankin-Bass's best voice work, especially Jimmy Durante as the narrator and Jackie Vernon as Frosty.
I'm also a part of the weird minority that prefers Frosty's 1976 sequel Frosty's Winter Wonderland to the original tale. Wonderland is notable for the addition of two characters to the Frosty story: Crystal (sometimes referred to as Mrs. Frosty) and Jack Frost. Rankin-Bass improved over the years with its characterization of female characters (Mrs. Claus for instance is the most level headed person in Year Without A Santa Claus) and Crystal gives the Frosty tale a much needed feminine presence. Jack Frost is a mostly positive personification of nature, at least eventually.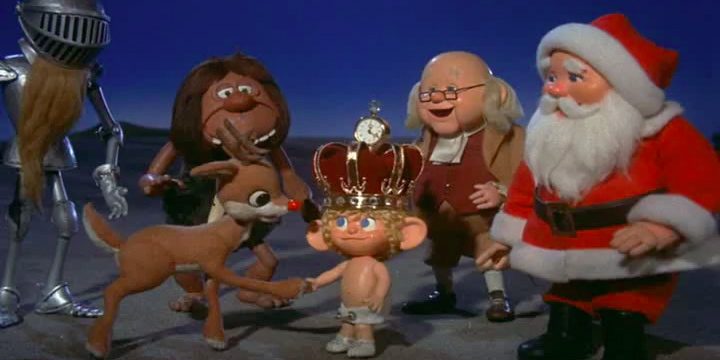 1979's Rudolph and Frosty's Christmas in July should have been the ultimate holiday special, but it falls flat. It features all of the voices most associated with Rudolph (Mays), Frosty (Vernon), and Santa (Mickey Rooney who voiced the character in Town and Year), but not even that can save the mostly rotten story. The animation is delightful, but the idea of Christmas in July just doesn't work as a holiday special, but again, it does make the greater point that Christmas can be about many things, not just one particular birthday. A much better sequel starring Rudolph is Rudolph's Shiny New Year (1976). It's bat-shit crazy, and creates magical lands similar to Santa's North Pole for holidays like the Fourth of July. The addition of an annual "Baby New Year" who ages throughout each calendar year is a wonderful addition to the Rankin-Bass Christmas mythology.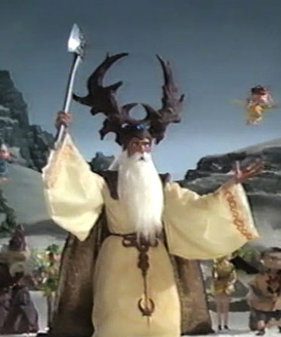 Perhaps the most Pagan of all the Rankin-Bass specials is The Life and Adventures of Santa Claus (1985) which was based on a book of the same name by L. Frank Baum (most famous as the author of The Wizard of Oz). Life and Adventures is rather dark compared to its cousins and opens with Santa on his deathbed while a Council of Immortals votes on whether to add Santa to their ranks. The most powerful member of the council, the great Ak, bears a certain resemble to a few gods I know. LaA is an overlooked gem with some of Rankin-Bass's best animation. (Click this link to the show's opening credits, this is about as Pagan as Christmas gets.) I can't rave about this one enough.
There have been several attempts over the last fifteen years to cash in on the craziness of the original Rankin-Bass productions. All of those attempts have basically fizzled. A Miser Brothers' Christmas features the stop-animation of the original films and even includes the original voices of Santa (Mickey Rooney) and George Irving (Heat Miser). At least it tried to remain true to the original spirit of Rankin-Bass. Rudolph the Red-Nosed Reindeer and the Island of Misfit Toys (2001) wants to be a sequel to the beloved original, but instead features sub-par computer animation and voices that sound nothing like the original. I'm actually angry that this exists.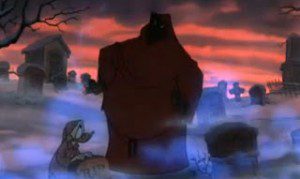 Charles Dickens' A Christmas Carol is one of the most famous and influential books of the last 200 years. Its influence on the modern celebration is sometimes over-stated, but only by a little bit. Two of the most faithful adaptations are animated. The 2009 Jim Carey version does a fine job of adapting the book, but overstays its welcome in several places. Another strong version of the tale is Mickey's Christmas Carol (1983), it also happens to be my personal favorite. The story is streamlined a bit, but the Ghost of Christmas Yet to Come retains his rather frightening edge. I still watch this one every year. (I know there's a bit of "God bless us everyone" in every version of A Christmas Carol, but it's not that hard to imagine an "s" at the end of god. Besides, Dickens' three ghosts seem very much like deities to me!)
Most Holiday specials over the last fifteen years simply insert established "franchise characters" into Christmas settings. My favorite along those lines is Shrek the Halls (2008). It lacks the insane energy of the Rankin-Bass offerings, but the animation is pretty and I'll take advantage of any opportunity to see more of Gingy, Puss in Boots, and Donkey. Is it just me or is Shrek the weakest character in his little world?
I've always understood the appeal of Dr Seuss' How the Grinch Stole Christmas (1966) but it never wormed its way into my heart the way Rudolph did as a kid. That being said I still find a lot to admire in it. The animation (directed by Chuck Jones of Looney Tunes fame) still feels fresh, and Seuss's verse is full of charm. Boris Karloff as the Grinch was a bit of genius casting, and Karloff makes the Grinch both sympathetic and scary at the same time. There's a spiritual message to Grinch, but unlike Peanuts (below) doesn't include an endorsement of any one particular faith. The Yuletide celebration in Whoville feels especially solstice-like with the towns citizens all singing together at sunrise.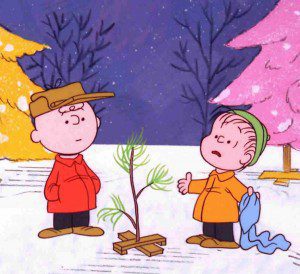 The only Christmas special with extremely explicit Christian overtones is A Peanuts Christmas (1965). The animation is beyond primitive but the water color backgrounds are genuinely beautiful and the voice work featuring actual children has a charm all its own. What really makes Peanuts is the music. Much like Rudolph, the Vince Guaraldi tunes gained a life of their own outside of Charlie Brown. (It's also about the only jazz a large amount of Americans listen to at least once a year.) I certainly can't recommend this extremely preachy 22 minutes to Pagans, but I do think Schultz (the creator of Peanuts) often did a fine job of capturing childhood. (If you've never seen this one, the character Linus reads a rather long passage from the Gospel of Luke, but probably better Luke than Matthew.) As these other specials seem to point out Christmas is not simply "all about" one thing, and that it can be about several things at once.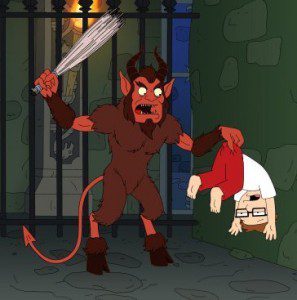 If the childish tone of most Holiday specials is a bit much I recommend spending Christmas with American Dad. AD has been home to some of the best Christmas programming over the last ten years and it's an annual part of my holiday. I don't want to say too much about American Dad's Christmas episodes, but any cartoon that sends the Anti-Christ off to be raised by Sarah Palin is OK in my book. Last year's Minstrel Krampus is my favorite of the lot, not just because it features my favorite Holiday figure, but also because it's a whacky musical. Other episodes have featured a violent confrontation with Santa Claus and the Rapture. It's bat-shit crazy Christmas stuff nearly in the tradition of Rankin-Bass.
Happy Holiday Viewing!