A couple of years ago Terence P Ward who was then writing at the Wild Hunt shared an old list from the early days of that blog (2004) with me listing the "Most Influential Currently Living Pagans." Most of the list is pretty straightforward and contains the people you'd expect to see (Starhawk, Silver Ravenwolf), but also includes one group I'd never heard of, and one particular individual that most of us see as a pariah today (and that's putting it kindly). There are also individuals on it whose influence has waxed and waned over the years that some of you are probably unaware of.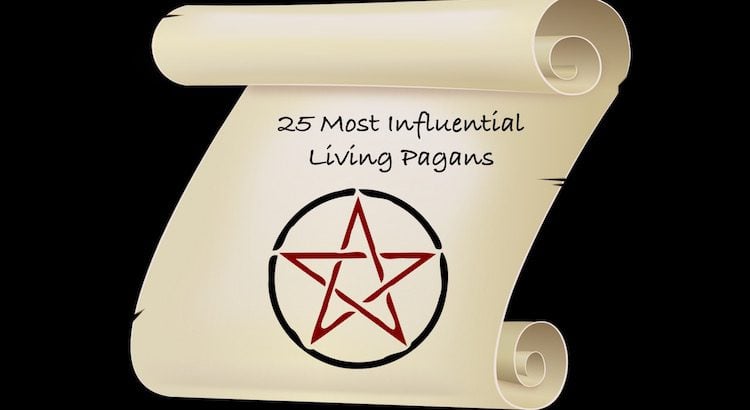 The idea behind this list resonated with me, and over the last couple of months I've been contemplating who I'd put on such a list today. I realize that by doing so I'm more than likely going to end up pissing someone (or someones) off, but here we go anyways. I realize that lists like this don't serve any real purpose, but they are kind of fun to think about. If your math skills are sharp, you might notice that there are over 25 people on this list, I was never very good at math. 🙂
There are a few criteria I looked at while putting this together:
1. Present Day Influence Do they still sell books? Do their past achievements still resonate?
2. Involvement in the Pagan Community Do they go to festivals? Are they on social media? Do they teach publicly? etc.
3. Do Their Decisions Impact Paganism? Maybe they pick the authors and open the platforms? That's a big deal too, and often overlooked.
4. Legacy In fifty years will what they have contributed still be an ongoing concern?
I also realize that any list such as this is going to reflect the biases and limitations of the author. In my case, that means the list is mostly limited to individuals in North American and the United Kingdom. In my defense, there are more than "just Wiccans" on my list, but that doesn't mean every tradition is covered, and I'm not sure it could be. Getting this list down to just 25 people was incredibly difficult, and there are probably another 75 folks who deserve to be on it that I left off. I'm also kind of a luddite when it comes to Pagans on Instagram and Youtube, many of whom have tremendous reach that I'm pretty much clueless about.
Please don't look to be offended, and if you think someone should be on this list that isn't, well the comments are open, and so is the internet. And I'm sorry for not posting pictures of every person listed here. Most of you are going to read this on your phone anyways and it just felt like too much work. There also might be people on this list who don't identify as Pagans, I don't believe that changes their influence on the Pagan Community as a whole. And remember, this is a list of LIVING PEOPLE, something that seems to escape some folks in comments sections online. This list is also in ALPHABETICAL ORDER, meaning the first person listed isn't necessarily the most influential.
Writer's Note: This list was originally put together in August of 2018. It was updated on July 10 2019 to reflect the passing of Raven Grimassi (whose entry was moved to the bottom of the page), and Heather Greene's decision to step down as managing editor of The Wild Hunt. Since this post continues to be read with some frequency it was again updated on June 5,2020 when I added the names Gemma Gary, Devin Hunter, and Christopher Orapello and Tara Love-McGuire to the page. -jason
Also be sure to check out these lists too:
11 Influential Pagans of Color
15 Most Influential Pagans in Mexico
JOHN BECKETT Yeah, John writes here, but John is also one of the most read bloggers in the Pagan world, goes to multiple festivals, is active in the general Pagan community, and in many Polytheist circles, and the UU Church and a couple of Druid organizations. His book The Path of Paganism is also one of the best books on Paganism I've ever read. In fifty years people are still going to be reading his blog and he's still going to be influencing people.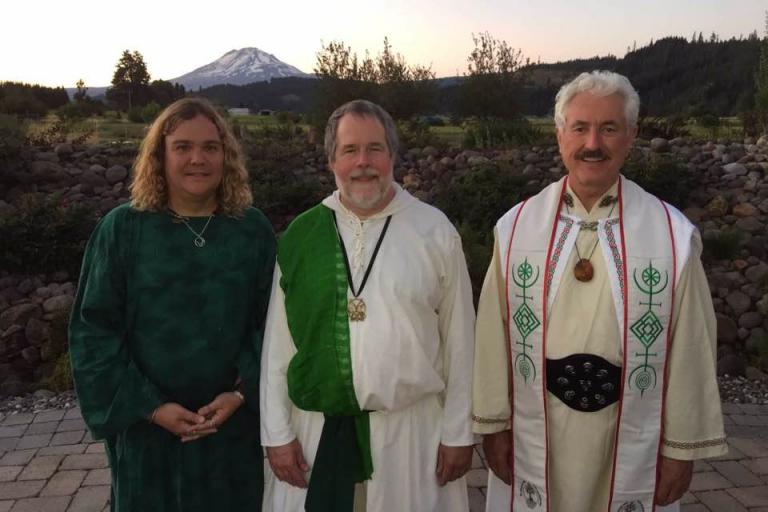 LAURIE CABOT Laurie Cabot turned Salem Massachusetts into the Witchcraft capitol of the United States, was one of the more public faces of Paganism for several decades, trained an awful lot of great Witches, wrote some solid books, and has a tradition named after her. She belongs on this list.
PHILLIP CARR-GOMM Phillip is the Chosen Chief of The Order of Bards, Ovates and Druids, the largest Druid Order in the UK (and possibly the world), was a student of the legendary Ross Nichols, and is partially responsible for Nichols' Book of Druidry seeing print (which I'd argue is an essential Druid text).
T THORN COYLE While Thorn no longer writes about Witchcraft and spiritual topics with the frequency she once did, she remains an extremely influential person in Modern Pagan circles. To put it simply, I believe that Thorn has been "ahead of the curve" when it comes to matters of inclusion and social justice in Pagan spaces and beyond. I'll also make a confession to all of you out there reading this, she's absolutely the best teacher I've ever encountered at a Pagan gathering or event, and an inspiriting ritualist too.
VIVIANNE CROWLEY Vivianne is one of the greatest writers in the history of the Craft, and as a result, one of the most influential. She's also an outstanding spokesperson for Modern Paganism on the world stage.
Two of my favorite Witch books in the late 90's and early 00's were Book of Shadows and Witch Crafting by PHYLLIS CUROTT. While Book of Shadows was more memoir than "how to" book, Curott's ritual descriptions were so vivid and compelling that I quickly found myself adding some of her practices to my own. After those two books were released I saw Phyllis at several Pagan events, where I was amazed and awed by her power as a teacher and a lecturer. (Seriously, she's fantastic.) But then I began to see less of her, and she didn't release a new book for over ten years. Because of those circumstances she was left off the first version of this list, but recently released Wicca Made Easy, which is likely to have the same effect Book of Shadows did twenty years ago, which is to endear Curott to an entirely new generation of Witches.
DAMH THE BARD Walk into a Witch or Pagan shop anywhere in the world and there's a 90% chance you'll hear Damh on the stereo. Musically he's probably our most listened to artist, but he's also a fabulous teacher and ritualist, and a world class thinker. (His blog is pretty great!) I'll admit it, he once took me cider tasting, but I don't think that's the only reason he's on this list.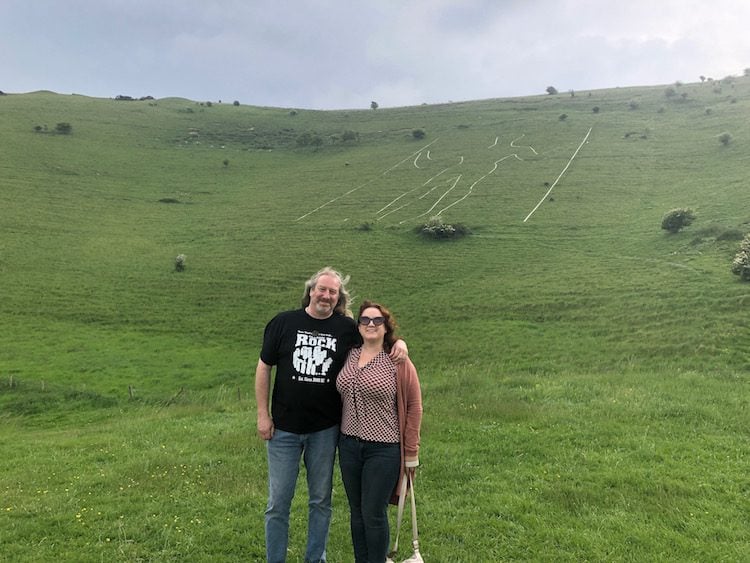 IVO DOMINGUEZ JR Ivo is probably the hardest working Pagan teacher I know. He goes to more festivals and does more workshops than practically anybody. He's everywhere, and for good reason, he's a a great teacher and an even better person. And there's also that New Alexandrian Library project he's a major part of. Ivo is amazing.
LILITH DORSEY No one does more in the United States to bridge the divide between Modern Paganism and Voodoo than Lilith Dorsey. Lilith is also a respected scholar, has a big social media presence, and teaches around the country at a variety of events. Lilith is the real deal.
LON MILO DUQUETTE You probably know Lon through his albums, or maybe it's his books on magick, or maybe it's his role with the OTO, perhaps it's because of his extensive knowledge of Aleister Crowley. Lon is a living legend, and most of us have at least two or three of his books on our shelves.
JANET FARRAR & GAVIN BONE Not only do Janet and Gavin continue to tour the world as teachers, they also continue to write books relevant to the Pagan Community. There's also Janet's involvement in several books she co-authored with her late husband Stewart. For many of us, the text today known as The Witches Bible remains essential reading.
SELENA FOX Let's see, Selena established Circle Sanctuary, The Lady Liberty League, was a founder of Pagan Spirit Gathering, Circle Magazine, and was instrumental in getting Pagan symbols on military tombstones. She also continues to be awesome and do awesome things. Oh yeah, Circle hosts the first Pagan cemetery in the country. Selena isn't just one of the most important Pagans now, she's one of the most important EVER.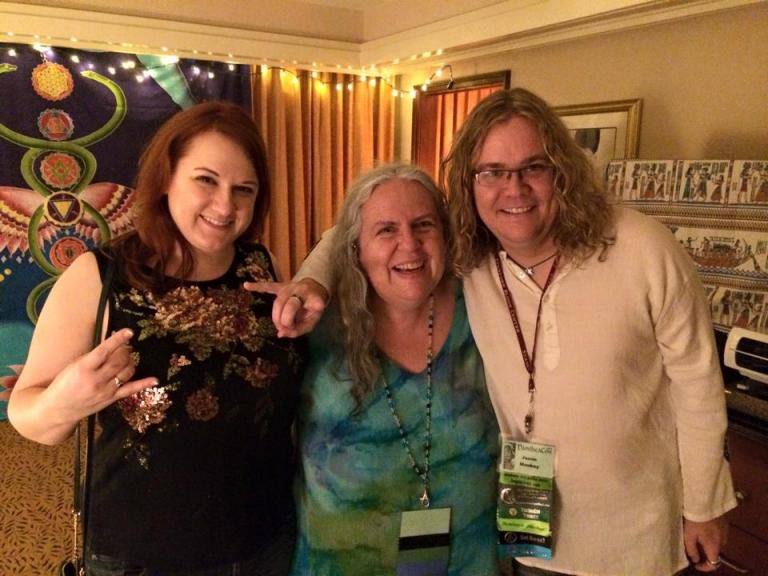 GEMMA GARY has become one of the leadings lights of Traditional Witchcraft over the past 12 years, and for good reason. Her books are easily digestible and full of great information. She's also one of the founders of Troy Books, one of my favorite Witchcraft publishers. If all Gary had done was just co-found Troy Books she'd still be on this list, because Troy is putting out great stuff, and doing so in an accessible fashion, along with providing all the limited editions book nerds like myself love. Now that Llewellyn is distributing Troy Books in the USA, Troy's footprint is only going to grow larger. Personal aside, Gemma Gary's The Devil's Dozen is one of my favorite Horned God books.
ELYSIA GALLO Elysia Gallo (or "boss" to me) is the Senior Acquisitions Editor at Llewellyn Worldwide for Witchcraft and Pagan books, and she's been doing it since 2005. (I swear she must have started working there when she was 12.) She's much smarter than all of her writers and I swear she could write all the Pagan books if she chose to. She also sometimes speaks at festivals and when she does it's delightful. I wish she and Judika Illes would do a podcast together. Bonus: HEATHER GREENE who used to edit The Wild Hunt and is now an acquisitions editor for Llewellyn, and who has managed to sign half of the people who blog at Patheos Pagan.
DEVIN HUNTER has his finger on the pulse of Modern Witchcraft unlike few other practitioners. Not only is he a best-selling author, but he's also a top notch podcaster (and has been for nearly ten years), and was recently on the television game show To Tell the Truth. (Which was especially cool to see, since Witch Sybil Leek was on the original incarnation of that show back in 1964.) Devin is also one of the founders of the Black Rose tradition of Witchcraft and created the occult order Mystic Fires.
RONALD HUTTON Ronald Hutton is one of the pre-eminent historians writing about all things Witchy and Pagan. His 1999 book Triumph of the Moon changed how many of us look at history, and subsequent works, such as Witch, Pagan Britain, and Blood & Mistletoe continued the trend. Though often overlooked his 1996 book Stations of the Sun (on the history of the ritual year in Britain) might be my favorite. Hutton is also a popular speaker at various Pagan events and festivals.
JUDIKA ILLES Judika's works on Witchcraft alone would probably get her on this list, but she also is an editor for Samuel Weiser. In other words, she's a big deal on both sides of the printed page. She's also a tremendous teacher and I'm still hoping that one of these days she and Elysia will decide to do at least a quarterly podcast.
AIDAN KELLY Aidan most likely wants to be remembered for his poetry, but fate has other ideas. Do you use the words Mabon, Ostara, and/or Litha? If you do, then you owe a huge debt to Aidan Kelly who applied those words to the equinoxes and the Summer Solstice. He's also an historian of the Modern Craft, and a founding member of the NROGD Tradition and a founding member of Covenant of the Goddess.
ANNE NEWKIRK NIVEN Anne is the publisher of Witches and Pagans (the last American Pagan magazine with a wide in-store circulation) and the proprietor of Witches and Pagans online (sometimes known as Pagan Square). How many people write at Pagan Square? Like 100? Do many of us still look forward to finding Witches and Pagans in our mailboxes? Yup.
CHRISTOPHER ORAPELLO & TARA-LOVE MAGUIRE Why are Christopher and Tara on my list? Possibly because they have an amazing best-selling book (Besom, Stang & Sword) that makes Traditional Witchcraft easily understood and accessible? Yes, that would be why. Most Traditional Witchcraft books are deliberately written in such a way as to occassionally befuddle the reader, not so with Besom, Stand and Sword. As a result it's going to do for Traditional Witchcraft what Scott Cunningham's Solitary Practitioner did for Wicca. Also, their podcast is one of the most listened to in the Pagan world, and has really great production values.
CHRISTOPHER PENCZAK Does Christopher* continue to teach all over the world? Check. Still writing great books? Check. Is he the co-founder of The Temple of Witchcraft which has evolved into a full fledged tradition? Check. He's also one of the nicest and most genuine people I've ever met. The amount of Witches I know who have studied with Christopher is immense, which means an entirely new generation is being influenced by his work.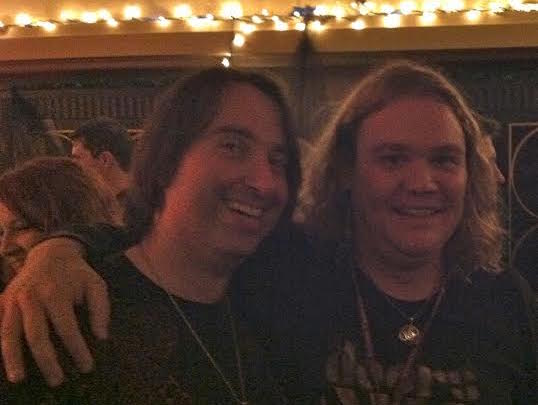 SILVER RAVENWOLF If you were to ask me name the one author who has had the biggest impact on Modern Witchcraft over the last thirty years the answer would be Silver Ravenwolf. To put it simply, her books helped shape a generation. She's the Den Mother of Generation X, and while there are some people out there scoffing as they read this, that doesn't change the fact that it's true. Maybe you are one of the many who doesn't like Ravenwolf? That's your prerogative, but it doesn't change how influential she's been and continues to be. We are also in the middle of a Silver-Renaissance as she's begun releasing books again. She's also simply a great writer, regardless of content. Silver could write a book about paint drying and I think it would be captivating.
MORPHEUS RAVENNA I had a friend who took an early look at this list and disagreed with Morpheus's inclusion on it, but he's wrong. She changed Pagan publishing with her Book of the Great Queen, established Coru Cathubodua, a priesthood of the Morrigan, and is one of the leading voices in the Devotional Polytheist movement. She's also someone I hear people talking about pretty much everywhere I go.
MAXINE SANDERS While the tradition she helped co-create has her late husband's name attached to it, the Alexandrian Tradition has thrived due in no small part to the work of Maxine. How important is Maxine? On a recent trip to London Geraldine Beskin (owner of Atlantis Bookstore) told me that Alex and Maxine basically revitalized (and helped save) Wiccan-Witchcraft in the UK during the late 1960's and early 1970's. Maxine has also had a hand in initiating some of the most influential Witches ever, like Janet and Stewart Farrar. Maxine continues to be out there "doing the work" too, making festival appearances and having a hand in several book projects, like the Alex Sanders notebook released earlier this year.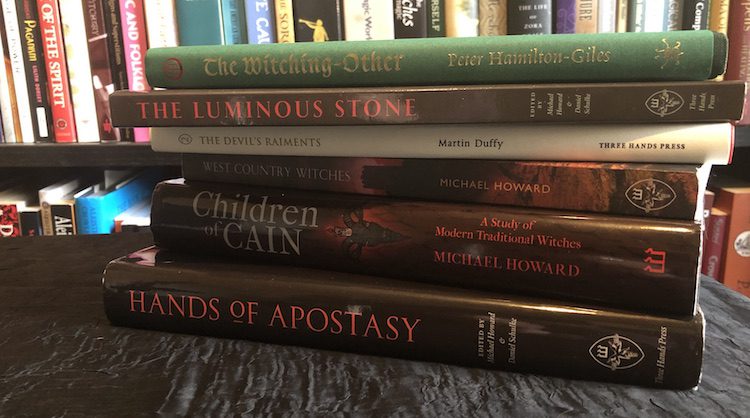 DANIEL SCHULKE As one of the founders of Three Hands Press, Schulke helped to spark a true renaissance in book publishing. Three Hands Press doesn't just publish some of the most important books in the history of Traditional Witchcraft, they helped re-establish book making as an art-form. The influence of Three Hands Press (and other similar occult publishing houses) can be felt outside the sphere of Traditional Witchcraft too. I keep seeing more and more limited edition books from much bigger publishers being created with the attention to detail that Three Hands is known for. As a book nerd I approve.
STARHAWK I was once on an elevator with Starhawk and had no idea what to say or if I should say anything really, I was completely awestruck. (I have friends who know "Star" quite well, and assure me she's not really that intimidating.) Starhawk is one of the most influential Witches EVER, and nearly forty years after the publication of the The Spiral Dance (1979) she continues to write and teach all over the world. In addition to teaching Starhawk is one of the founders of the Reclaiming Tradition and is a well known political activist. The influence of Starhawk on Modern Paganism is immense.
WREN WALKER & FRITZ JUNG The original draft of this list included Wren Walker and Fritz Jung, founders of the Witches Voice, the first ever "you have to go here!" spot on the Pagan internet. Because I'm kind of a screw up they ended up getting left off this list when I first published it. Yikes! As Homer would say "D'oh!" Since the late 1990's Pagans have been using the Witch's Voice (or as its sometimes called Witchvox) and people are still using it today. Want to find Witches in your area? Go to the Witch's Voice. So simple, and yet it was completely revolutionary. Everyone on this list is a game changer, but this was one of the biggest game changers ever!
LAURA TEMPEST ZAKROFF isn't just a friend of mine, she's probably the hottest writer in the Witchcraft world we inhabit right now. Her books are all best sellers, and she's a popular presence at festivals and events across the country. Laura also "does it all," as a bellydancer-artist-and writer! I can barely string three words together she writes books while painting. Seriously both Sigil Magick and Weave the Liminal (her two latest books other than The Witch's Altar) are runaway best-sellers on the Pagan charts.
OBERON ZELL Why do so many of us call ourselves Pagan? In large part due to the influence of Oberon Zell, who began using the term in the late 1960's in reference to Druids, Magicians, Witches, and lots of other people who gather under our umbrella. Oberon was also the publisher of The Green Egg magazine (which still exists online), one of America's first national Pagan soapboxes. He's also one of the founders of the Church of All Worlds, which through the Green Egg, has had a huge impact on Paganism worldwide.
These people probably also deserved to be on this list, but that would have taken it beyond 25 folks:
Orion Foxwood
Devin Hunter
Diana Paxson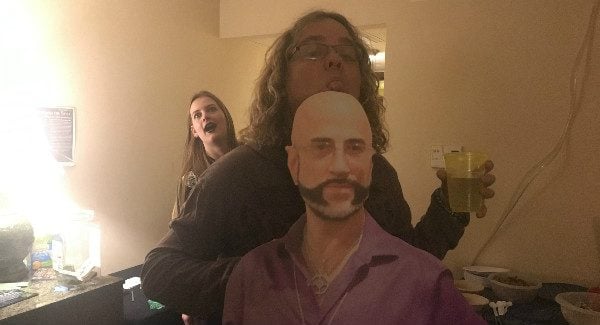 *Or as one of my favorite Witches calls him, "C-Pen." I think that makes me "J-Man."
In Memoriam:
RAVEN GRIMASSI & STEPHANIE TAYLOR-GRIMASSI I don't think Raven Grimassi needs much in the way of introductions, but if you've somehow overlooked him the last twenty-five years, he's a best-selling author, and frequent visitor (along with his wife Stephanie) to various festivals across North America and the world. In addition to teaching in person, he also offers online courses. Raven is one of the biggest names in the history of Pagan publishing. (Update: Raven passed away in March of 2019, but his influence will continue!)