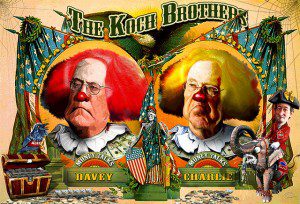 When I saw the headline in The New York Times, I felt physically ill: "Koch Brothers' Budget of $889 Million for 2016 Is on Par With Both Parties' Spending." In a bold and blatant move to control the outcome of a national elections, the Koch Brothers are building an old school mob-boss style political machine. Only they're not looking out for anybody's interest but their own:
The political network overseen by the conservative billionaires Charles G. and David H. Koch plans to spend close to $900 million on the 2016 campaign, an unparalleled effort by coordinated outside groups to shape a presidential election that is already on track to be the most expensive in history.

The spending goal, revealed Monday at the Kochs' annual winter donor retreat near Palm Springs, Calif., would allow their political organization to operate at the same financial scale as the Democratic and Republican Parties. It would require a significant financial commitment from the Kochs and roughly 300 other donors they have recruited over the years, and covers both the presidential and congressional races. In the last presidential election, the Republican National Committee and the party's two congressional campaign committees spent a total of $657 million. (NYTimes)
The move puts the Koch brothers, who already have the nation's Republican governors, representatives, and senators on speed dial, one step closer to their dream of complete control of the United States Government. Congratulations Americans! Your voice no longer matters in American politics. That's because the politicians no longer need to care what you think. You can't help them anymore. They just need people like Charles and David Koch—two of the richest men in America—to keep writing checks.
If this isn't evidence enough for you to to finally get engaged and figure out what the Supreme Court ruling Citizen's United means, then Lord help you. You can read a quick article about it here. More Americans believe in witchcraft, ghosts, and UFOs than agree with Citizens United. When 80% of the people agree on an important issue & the leaders refuse to act, something has to change. Nothing will change until outcry from normal everyday people who don't have billions of dollars begin to rattle the cages of government.
I have no special affinity for the Democrats (or Republicans for that matter). More and more I have come to understand that my citizenship in the kingdom of heaven usurps any political ties or national affiliation. But I do think democracy is a pretty good thing. Freedom of speech is an essential protection for minority views, and I've got a few of those. We all have. But, the minority view no longer has a voice. The Koch brothers are buying the world's largest sound system. We're at the tipping point. When you and I speak, nobody will be listening, even if they are trying to hear. Citizen's United must be overturned. If we need to impeach Supreme Court Justices to get it done, then so be it.