As this is the time of year when we reach the climax of seasonal gift wrapping, I have decided to share some of my creative eco-friendly wrapping techniques – and there are really two primary methods to it.
1) Cloth Bag Wrapping, and
2) Paper & Paint Wrapping
Cloth wrapping is fabulous for its reusability, and paper wrapping is compostable.
CLOTH BAG GIFT WRAPPING
For cloth bag wrapping for the Winter Holidays I find a textile already seasonally patterned and purchase the amount I need.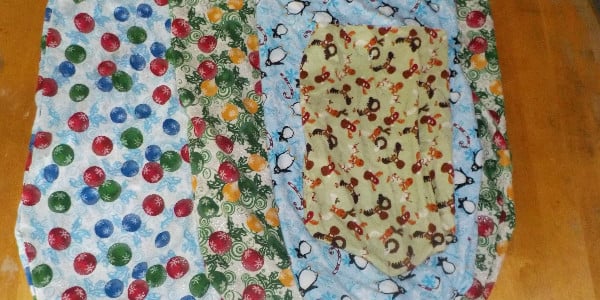 Depending on if you want a large/medium/small bag, you can choose 4/2/1 meter(s) of cloth respectively. While you are in the fabric store do not forget to pick up some ribbons for tying up your bags just like Santa's. For a tag I simply cut out a rectangle card stock and cut a slit to slide onto the ribbon.
*Fun Eco-Friendly Tip from Megan Manson at Patheos: Pagan Tama – Reuse old Holiday Cards as Tags!
Putting It Together
With the fabric, I have found the easiest pattern is a U-shaped bag. Whatever size you have chosen, cut two matching U-shaped pieces out of your cloth. Then place the patterned sides together. From here you can either:
– Pin them in place and machine sew the pieces together, or
– Hold the two pieces together and blanket stitch them together (ideal for beginners, especially if you don't have a sewing machine)
Make sure to leave the top of the 'U' open. Once done the belly of the 'U', flip it inside out and either blanket stitch or hem the mouth of the bag.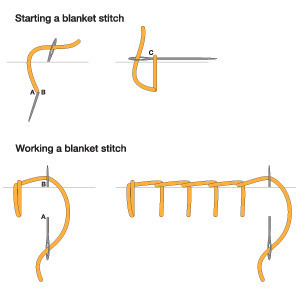 All that is left is to place your gift(s) into the bag. Either one or two big gifts, or many small gifts per bag. Then slip the name tag onto the ribbon and tie off the top of the bag – And you are done!
I like to avoid and remove any shipping/display packaging from the gift before placing it in the bag. This is to avoid wasting resources and time on unwrapping and disposal on the holiday itself in order to spend more time with each other.
After it is unwrapped, remember to take it back home to reuse next year.
Furoshiki
Alternatively you can hem a sheet and wrap it like a regular paper wrap and tie it's end's together – also known as Furoshiki, which has a several methods to wrapping with cloth as shown below.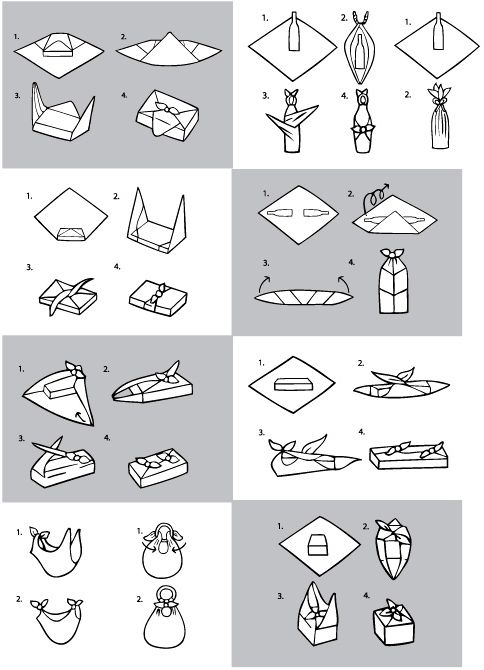 PAPER GIFT WRAPPING
Because some gifts are best left in the box they came in for transport, it's ideal to simply paper wrap them. As a result, instead of buying predecorated rolls of wrapping paper, I like to use Kraft paper from the post office, and paper tape from Plastic-Free Life, wrapping like you would with normal wrapping paper. Then you can paint any way desired.
There are two primary ways you can paint – Solid background and foreground image, or stencils.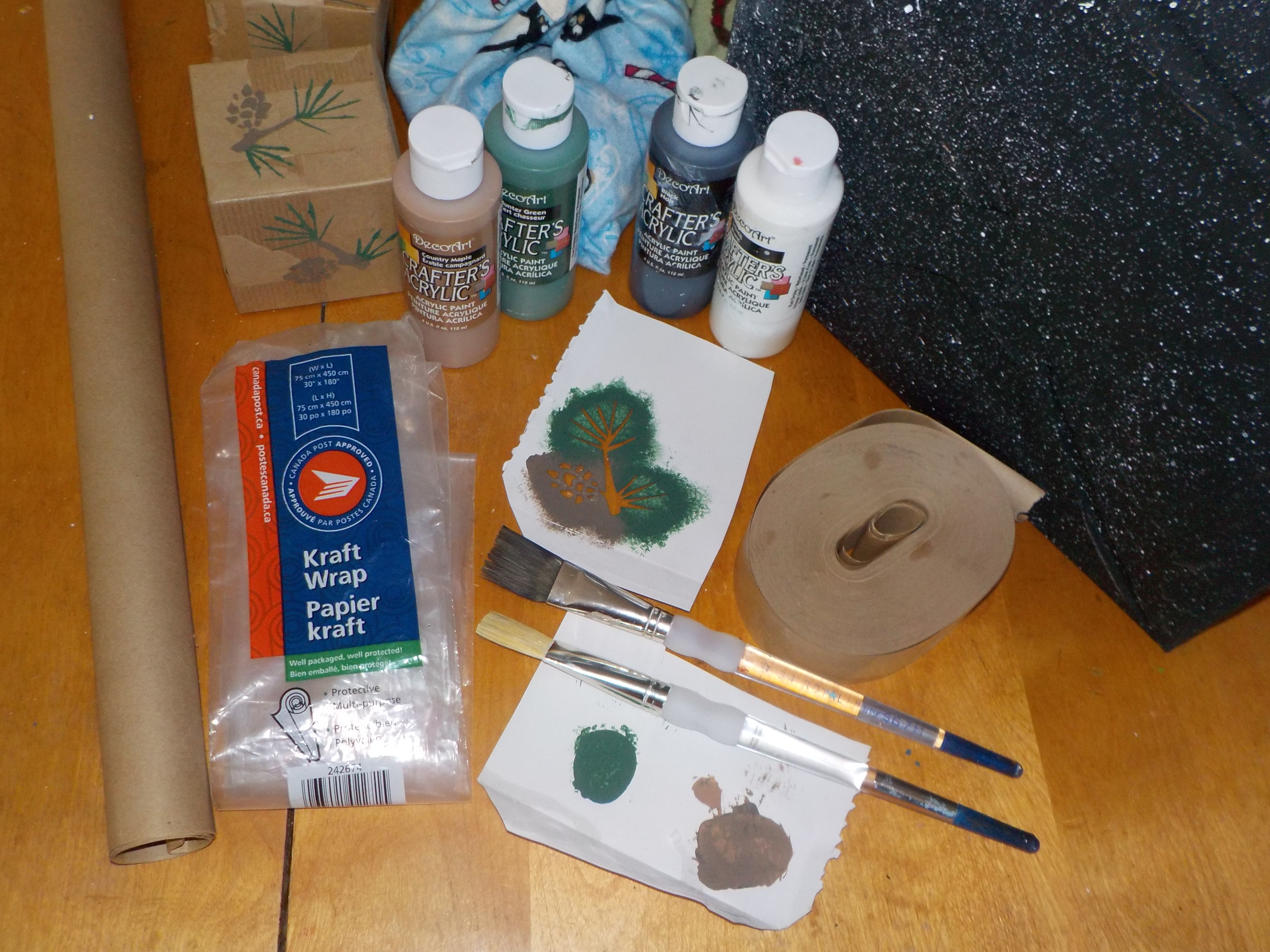 Solid Background & Foreground
For the Solid Background & Foreground Image, I like to paint it black and flick white paint on it in a milky way pattern to celebrate Nox (The Longest Night). For name labels I simply cut out the name and lay it out so the 'stars' outline it.
Stencils
For the stencils, I use card stock or pieces of harder paper scrounged up from the recycling bin. Then I use an art scalpel to cut out the image I want. For stencil images I like to make 'nature' patterns – this year it was a pine tree sprig.
A helpful tip for painting with your stencil is to dab a bit of paint on your brush, dab once on scrap to remove excess, then dab the stencil for a clear image – brushing smudges your image.
*I have a stock pile of old paints I am working my way through and hope to eventually replace them with more eco-friendly options. I am currently studying paints via the SCA in order to find a simple solution. Which, I will get back to you when I've got something solid to share. If you have any recommendations, please comment below!
End Result
And here are this year's results!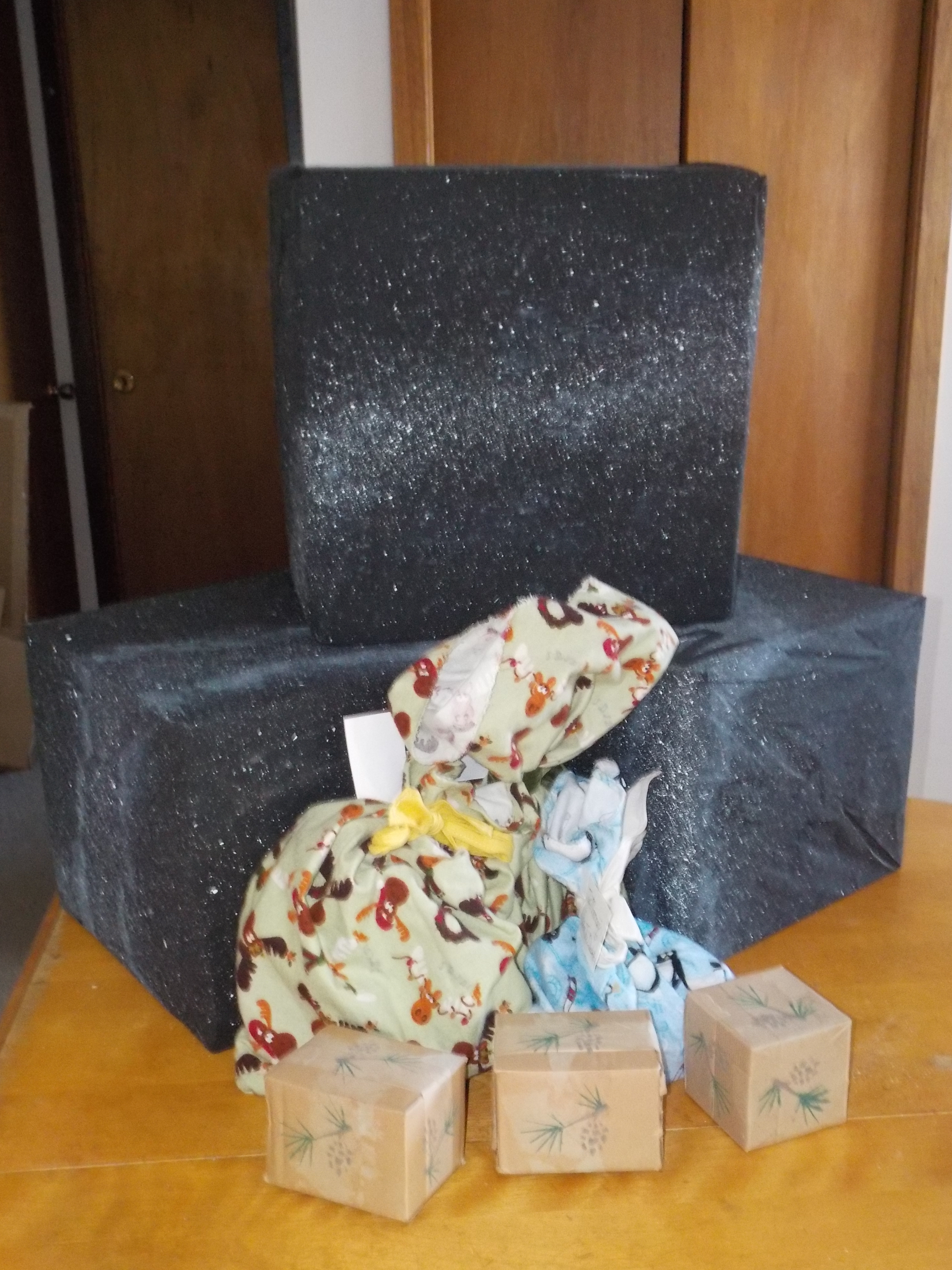 That is all there is to it!
Hope you have yourself a Happy Holiday!
And a special Happy Solistice / Borealis Nox to my fellow Saegoahs!
---
For more fun and eco-friendly gift giving Ideas I highly recommend taking a look at – Simplify the Holidays.