I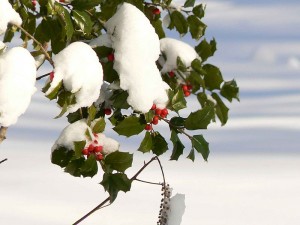 t's below zero outside. Even though I can feel the cold seeping through the walls, the house feels cozy.  I try to organize my thoughts enough to write, and end up making spaghetti for the kids instead while snitching bites of leftover homemade brownies in the corner cabinet.
The tree in the corner is re-decorated by the kids almost every day, Mr Punk likes to crawl behind it and unplug the lights. Each child has a pair of boots and coat and snowpants that fit them, we have mittens and hats to go around too. That is a good feeling.
It's dark when I walk to work in the morning. Sometimes I trip because I am looking up at the moon and stars while I crunch through the snow. Once I was startled by a fully grown pair of deer walking along the City block, they raised their heads to look at me, and then continued on their way, trotting along the sidewalk.  
The house has been easier to keep clean lately, maybe it's because of the bags of outgrown toys and clothing donated and out of our way, maybe it's our work schedules settling into a comfortable rhythm.
I scribble in my usual notebooks, making lists like I've always done. Lists of gift ideas, lists of writing ideas, lists of appointments that should be made, phone numbers I need to call, letters I want to write and cookies I want to bake. Putting it all on paper so I don't have to juggle it in my head is a soothing ritual.
We make soup. Haley cooks up a spicy beef and bean chili, I eat mine with cheese, she eats hers with a pickle. The heat feels good in our stomachs. I chop up carrots, celery, onions and garlic and make a pot of lentil soup. We warm it up to eat some more a couple days in a row. Comfort food is probably the best part about winter.
We squabble on our days off, working opposite schedules limits our time together, and sometimes it feels like everyone is competing for time with everyone else.  I'm not sure who thought of the no-internet-when-we-are-all-at-home-together rule, but a week into the practice has revealed remarkable peaceful family time.
Peace.
It's a time of year where people crave it, search for it and pontificate about it. And I have it.
It's a good feeling.
And that's my stream of consciousness for tonight.