Today's post is the third and final one by Dr. Eric Seibert, Professor of Old Testament at Messiah College (post one is here and post two is here). Much of Seibert's work is centered on addressing the problematic portrayals of God in the Old Testament, especially his violence. He is the author of Disturbing Divine Behavior: Troubling Old Testament Images of God
 (Fortress 2009) and The Violence of Scripture: Overcoming the Old Testament's Troubling Legacy
 (Fortress 2012). Seibert is also a licensed minister in the Brethren in Christ Church and formerly the Director of the Peace and Conflict Studies Initiative at Messiah College. He is currently working on his fourth book, Disarming the Church: Why Christians Must Forsake Violence to Follow Jesus (Cascade).
Since the pervasive presence of "virtuous" violence in the Old Testament constitutes a major problem for modern readers, I want to devote my last post to what can be done about it.
As I see it, overcoming this problem involves learning to read the Bible nonviolently, in a way that increases our love for God and others, promotes justice, and values all people. In The Violence of Scripture
, I suggest several steps we can take to help us read this way.
One very important step we can take is to be intentional about problematizing and critiquing "virtuous" violence when we encounter it in the Bible. This is not hard to do, especially if you are willing to read violent verses from the perspective of the victims. For example, when reading the flood narrative, try reading the story through the eyes of those people outside the ark. Or instead of reading the story of the battle of Jericho with the Israelites who are circling the walls, try reading the story from the perspective of the Canaanites sitting inside the city.
Reading in this way complicates the notion of "virtuous" violence considerably. It is hard—some would say impossible—to justify the killing of infants and toddlers in stories like these. Reading this way sensitizes us to the problem of violence in these texts and keeps us from simplistically classifying such moral atrocities as good.
When read from the perspective of the victims, the myth of "virtuous" violence is exposed for what it really is: a myth. As I said in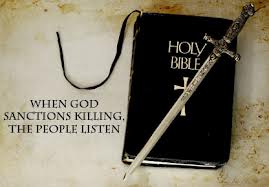 my previous post, violence is not a virtue. Violence is destructive and harmful. It is not the kind of behavior that should be sanctioned or celebrated, even when the Bible suggests otherwise.
Critiquing the violence in these texts does not, however, render them useless. Rather, it allows us to deal with them more responsibly. For example, even though I do not believe God commanded Israelites to slaughter Canaanites, I think that narrative can still be used constructively. The conquest narrative in Joshua 6-11 reminds us that religious violence is extremely dangerous because it gives divine sanction to behaviors that in any other context would be deemed immoral. Moreover, if one assumes the narrative was intended to bolster the political ambitions of King Josiah, it stands as a sober reminder of the way political leaders sometimes use religion to promote their own agendas.
Similarly, while we should certainly critique texts that contain violence against women and/or depict woman as second-class citizens, we should still attempt to use texts like these for positive ends. For example, some of these texts can be used as starting points to discuss the problem of domestic violence which is so endemic in our own day. We can use these texts that oppress, devalue, and subordinate women to begin conversations about the way woman are still mistreated in the world.
Using such texts to name these issues—issues which are infrequently discussed in the Church—can be a first step toward raising awareness and can help us begin to confront these problems more directly.
Reading the Bible nonviolently involves a commitment to read it in ways that are faith-affirming and life-giving. It means learning to read in ways that preserve the dignity and well-being of all people. This will require us to be critical of "virtuous" violence in the text while at the same time looking for ways to move beyond critique, to see how these texts can function positively for us despite the problems they raise.
In short, what I am suggesting is that we find ways to both critique and embrace troublesome texts, always reading in the direction of justice. I believe this represents an ethically responsible way to deal with the problem of "virtuous" violence in the Bible. What do you think?