Prospect Park Bandshell
Brooklyn, New York
July 31, 2012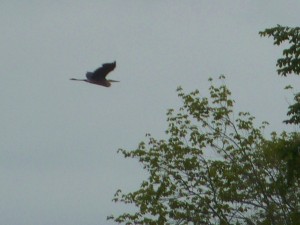 Early in the set during the quiet opening of Icelandic post-rock band Sigur Rós' "Ny Batteri" at an outdoor show in Brooklyn's Prospect Park, just before it unfolds from ambient noise into a song, at the exact moment of dusk, a great blue heron flew diagonally over the audience, silhouetted against the dark blue sky, pushing the air with its enormous wings as if in slow motion. Someone behind me saw it too and groaned in awe. I'm very familiar with this motion. As a regular flat-water kayaker, I get to see herons taking off all the time. And every time, it feels transcendent, divine. A tiny part of my brain was insisting this must have been staged, because it was too perfect.
I doubt anything else in the show could have surpassed that unplanned moment, but Sigur Rós' music alway aches towards the transcendent. It strains with meaning. This can be a little exhausting sometimes, best taken in small doses. But not live. Live, you're in the music in a different way; when its composers are in front of you sharing it, your attention doesn't waver.
The symphonic, atmospheric style of much of Sigur Rós' music worked beautifully in an outdoor setting. Besides the heron, there was a constant chorus of peepers. Whenever a song hit a quiet patch, there were the peepers with their high-pitched croaks behind me. Instead of being a distraction, they become part of the music — a real-life version of the frogs on New Order's "Perfect Kiss." (The same cannot be said for the folks who are a fixture at all public events these days — movies, concerts, readings — who, after years of watching movies on big screens in their living rooms, seem oblivious to the fact that they're disturbing others when they talk to their friends at full volume while facing forward during the show.)
When Jonsi Birgisson is singing in Iclandic, I can imagine in the lyrics any message, any underlying philosophy I like, since I don't know the language. But actually, much of the time, he's singing not in Icelandic, but in an Icelandic version of glossolalia (real syllables combined in non-words) that's been dubbed Hopelandic. So even Icelandic listeners are meant to do the same. I can't help imagining, though, that if he were singing in English, I'd be OK with the lyrics. Sigur Rós songs evoke for me a feeling of worshipful awe, not so different from my reaction to herons flying. It's a blend of cacophonous guitar and brass with ethereal strings and voice, building in tension then resolving into beauty, or building calmly then exploding into noise, over and over. It's a formula, for sure, but it's a formula that works.
When asked a few years ago in Relevant about the fact that many people of faith treat Sigur Rós songs like worship music, Birgisson said,
"That's kind of a scary responsibility, but also a cool thing. I think any way that my music can inspire people is an amazing opportunity."
He added,
"I'm not a religious person, but I am spiritual. Music is what keeps me alive, and it keeps me fulfilled and happy. I let everything flow through me and out of me and into my songs."
That's what I think people hear in Sigur Rós' music: the unadulterated nexus of artistic and spiritual expression — when something greater flows through the artist and into their work. When art is transcendent in that way then it can evoke transcendence.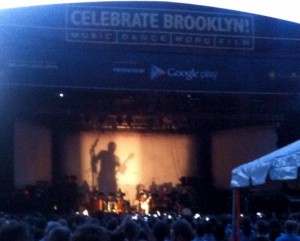 Earlier, telling a friend I was going to see Sigur Rós in Brooklyn, I quickly defended myself from charges of hipsterness. In the English-speaking world, Brooklyn would be a mecca of sorts for the band. Audience reactions confirmed this, as people often cheered at a song's first note. The band did a satisfying mix of fan favorites and newer material — always a delicate balance — leaning towards the favorites.
It is rare, after decades of watching a wide array of genres of music performed, that I see something new, something I've literally never seen before, perhaps never even imagined before. And at this show, I was able to add something to that list. During "Svefn-g-englar", Birgisson lifted his guitar in front of his face and sang at the guitar's pickups. The result was faint whispy vocals, as if being played through a loudspeaker far away. It was a beautiful sound, and a delight to watch — I was surrounded by satisfied chuckles as people realized what he was doing. At another point in the concert, in the middle of a song, the band stopped cold. And waited. And then a girl dressed perhaps as a fairy danced across the stage. We still waited. She danced back across. Then the band started up again where they left off. Gimmicks are one thing; gimmicks that create something beautiful are another.
Sigur Rós knows it's manipulating its audience, from the epic larger-than-life guitar sound to the plaintive singing and theatrical staging. Unlike the heron flying over the audience, its beauty is constructed, but it is no less divine.
Sigur Rós has just begun a world tour, with additional dates in the United States through August 12. Full details can be found here: http://www.sigur-ros.co.uk. And remarkably, you can listen online or download the audio of the entire concert in perfect quality through NPR here.