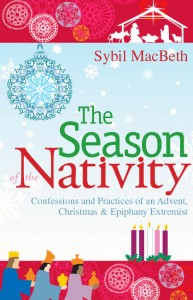 I've always loved Christmas. Growing up in an atheist ex-Christian household, though, the religious aspects of it were limited to: a small crèche on a side table which was never referenced or examined; a star ornament on the top of the Christmas tree; my mother's occasional mentioning that Jesus was a Jew; and listening on the radio to the Festival of Nine Lessons and Carols from King's College, Cambridge, again without explanation. Ours was never a materialistic household, so the holiday was not ruined by consumerism, though other family dysfunctions did a decent job of that. But later in life, when I encountered the liturgical calendar, it was like, if you will, opening a present. I'm not sure I'd ever even heard of Advent before. (I knew of the second coming, through my family's Mormon and Seventh Day Adventist connections, but not this celebration of the first advent.) This is not just about ritual or religion; it's simply that there is opportunity for more fun and greater spiritual depth when the one day of Christmas becomes instead a month of Advent, 12 days of Christmas, then Epiphany and extending the season until Candlemas on February 2.
If Advent is new to you, as it was to me once, Sybil MacBeth's new book, The Season of the Nativity: Confessions and Practices of an Advent, Christmas & Epiphany Extremist
, is a treasure trove of ideas for family rituals and little projects you can add to the coming seasons. It's mostly focused on things to do with children, but many of the suggestions could just as easily be done by the child within us. And especially at Christmas, we should all bring out our inner child to play a bit.
I love the liturgical calendar, as I've written about here before. The colors and themes and rituals help ground our modern digital lives in the seasons. They remind us that the seeming urgency of immediate material demands is just a blip in the slow advance of annual cycles across millennia. Each year, as we read the same stories, see the same colors, sing the same songs, we ourselves are slightly different but very much the same; and we are reminded of both our differentness and our sameness, and of that which is eternal across it all. As MacBeth says:
I have never had a God-free life, but the liturgical calendar with its yearly rituals offers me a pilgrimage vocabulary and an entryway into spiritual practice. But be forewarned; in spite of its order and repetition, this pilgrimage is neither tame nor predictable. For me, it is often expansive and explosive: expansive because my understanding of the gospel grows; explosive because my life is often blown apart and rearranged by this "good news."
When I first got involved with liturgical tradition, I lived alone, but even so my holidays were enriched beyond measure when I created a few home traditions just for myself, including lighting Advent wreath candles. Now, I look forward to taking on some of the ideas in this book as a family. MacBeth is author of the much-loved bestseller Praying in Color
, and in this book she offers a similar trove of ideas. Some are daily exercises; others are one-off projects. She's not suggesting you do them all; just read through them and try a few that speak to you.
Many have a visual element involving lights, decorations or drawing; some are drawn from Praying in Color
. Even the writing exercises use an unstructured approach involving doodling. A few examples: setting up a bare Christmas tree strung with purple lights; reading the Advent stories as a family and discussing them; of course there are sections on Advent calendars and wreathes.
One I'm really looking forward to is the "progressive crèche." You start with Mary and Joseph together somewhere else in the home, en route to the manger, and the shepherds, magi and baby Jesus hidden away. You move Mary and Joseph a little closer each day, until they arrive at the manger Christmas Eve and you add the baby Jesus; on Christmas Day you add the shepherds; and on Epiphany the magi show up. (Or you can start the magi even further away and have them arrive on cue.) It makes me smile just to think about it.
And some of the exercises are straight out of my contemplative toolkit. For example, MacBeth suggests trying daily meditation with the Jesus Prayer or another simple one-line mantra meditation; learning to sing O Come, O Come Emmanuel; listening intentionally to the first part of Handel's Messiah. And MacBeth's word doodles are really a form of lectio divina, where one interacts with Scripture contemplatively. She has you take a word related to Advent from scripture or elsewhere, write in on a page, meditate on it and see what comes up, writing down any other words or phrases that you think of, also drawing and doodling to create a finished little page of illustrated text, then meditate some more on everything that came up.
MacBeth, like me, is a convert to the liturgical variety of Christianity, and this I think gives us both an even greater appreciation for its power. We are both, in her words, Advent extremists. I have written a number of posts about Advent in the past, and will write a few more this year. You can find them all here.
You can see all my Advent-themed pieces together at patheos.com/blogs/philfoxrose/tag/advent/. Please share this link, or just one to my blog, with anyone you think might be interested. Thanks!
---
The Season of the Nativity: Confessions and Practices of an Advent, Christmas, and Epiphany Extremist
is a selection of the Patheos Book Club.  For other posts about the book, samples, more information or to join the conversation, click here.