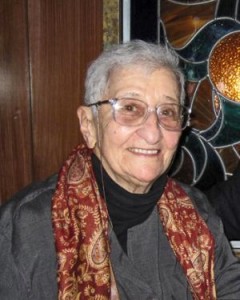 I lost one of my spiritual anchors a few weeks ago when Tissa David died at the age of 91. Most of the world knows her as a breakthrough female animator — an innovator who brought realistic motion to characters, especially female characters — and there have been numerous obituaries written about her in the past month. I will not repeat those except to give a few key details. I had no idea what she did for a living until I'd known her for close to a year. (You can see some of my favorite examples of her work here.) Tissa was one of the most unassuming people I've ever known. She was a member of the centering prayer group at St. Ignatius Loyola on 84th Street and Park Avenue in New York all through the time I led it, and I will remember her as the embodiment of contemplation. When I joined that group, I was immediately drawn to her quiet and gentle strength. While she was happy to chat before and after we sat, she rarely spoke during the period of sharing after the centering prayer session. When she did, it was rarely more than a few sentences. As the group's facilitator, if I gave a little talk on method or answered a question in a way that leaned towards saying, "This is the right way to do it," Tissa would sometimes ever-so-gently offer her own observation that was always welcoming and nonjudgemental. While never directly contradicting me, I always knew she was correcting what I'd said into something more generous and loving for the benefit of newer practitioners. And I always appreciated it.
It was only after I'd known her quite a while that I learned two things about Tissa David. The first was that she'd been sitting with the centering prayer group at St. Ignatius twice a week since it started — and the group at St. Ignatius was one of the first if not the first regular centering prayer groups formed — as well as daily mass. The other thing came out before a centering prayer session, when we happened to get into a conversation about a new digitally-animated film and Tissa got quite excited about the subject — even getting judgmental, which I'd never seen her do before. She mentioned she did animation and made a few references that led me to believe she was pretty significant in the field. I then did my own research online, as we do these days, and discovered her remarkable professional history. Click here to see a few of my favorite samples of her work, and to read a remembrance of Tissa that comes from the animation community, check out this lovely piece by animator John Canemaker in The Wall Street Journal:
Tissa David… was one of the world's great animators and a woman whose artistry is peerless in the traditionally male-dominated animated-cartoon field. Her sensual, witty hand-drawn lines display superb timing in motion. Her instinct for acting gave characters distinctive personalities and ineffable charm. Tissa David endowed her characters with charm and personality, warmth and heart. As is the case with most animators, her name was not familiar to the general public. But audiences grew up seeing and responding emotionally to David's work.
Her work appeared in commercials across decades for Piel's Beer, Bain De Soleil, Crunch Fitness and many more; in television segments for Sesame Street, Electric Company, and even music videos for
Ka-Blam!
on Nickelodeon; and in animated short and long-form films. Her 1953 French film "Bonjour Paris!" was the second full-length animated feature ever directed by a woman. (And it wasn't until Jennifer Yuh's 2011
Kung Fu Panda 2
that a major American studio produced an animated feature directed solely by a woman. The challenge for female animators in America is a part of Tissa's story.)
For the general public, Tissa David's best known work is animating Raggedy Ann in the 1977 feature film Raggedy Ann & Andy: A Musical Adventure. From the LA Times obituary:
For Raggedy Ann, David eschewed the pretty heroines of Disney and animated the doll as "a plain Jane with a heart of candy — and she's all female," the New York Times said in 1977.

"If the work is good, then perhaps I will prove a point," David said in the New York Times article. "To create a female character in an animated film, you must think like a woman and 'feel' like a woman. In other words, you must be a woman."
Though she never complained or talked much about her health, and only ever if asked directly, it was clear that Tissa's energy level was down these last few years, and she stopped taking her annual month-long trips to her homeland of Hungary, which had included visiting family and an extended stay at a convent. (A native of Transylvania, she lived through WWII there then escaped Communist Hungary to Paris, and eventually moved to New York City.) Tissa was quick-witted and sharp until the end, and was working on an animated feature film, Poe, about Edgar Allan Poe set to be released in 2013.
I said at the beginning that I lost a spiritual anchor. That's not really true. I will always have Tissa in my heart, and I will recall her gentle example when I realize I've been overly judgmental teaching about method. Nevertheless, I miss her.
Why am I telling you about this, other than to document a little about her and her work and share it with you? I guess it's this: each of our worlds has amazing people like Tissa in it, whether it's a humble elderly person with a fascinating past, or a soft-spoken neighbor with great wisdom to share, or a coworker who quietly lives by loving spiritual principles; or, rarely, someone like Tissa who embodies it all. Notice these people.