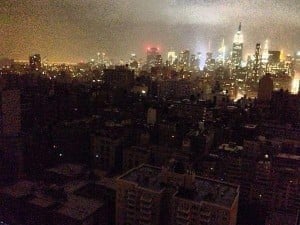 I live in the middle of downtown Manhattan, so unless you have been on a self-imposed news blackout, you know that I'm in the midst of an electrical one, caused by Hurricane Sandy. Despite the warnings about potential outages, and despite the fact that I dutifully bought water and canned goods and made cold-brew coffee in advance, I didn't really expect anything to happen. Probably largely because of the fizzle in New York City that was Hurricane Irene. So when the power went out almost to the minute of when they'd said its worst would hit, I assumed it would come back on in an hour or two at most. An hour or so later, when the cellular service went down, I was caught completely by surprise. My careful efforts to have full charges on my iPhone, iPad and MacBook were suddenly barely relevant. While I had made sure the next day's post on my blog was queued up to run, it hadn't occurred to me to plan beyond that. I had assumed that by managing the charges on my devices and using my 3G internet access on the iPad or iPhone, I'd be able to post to my blog and manage other jobs remotely even in a longer-term blackout.
Here I am, though, about 40 hours into the blackout, on its third day, sitting in a cold apartment (apparently the boiler needs electricity for ignition, though I'm not sure why they can't go down there with a match and start it the old-fashioned way). I imagine a lot of people are going stir-crazy. The fact that there's no cell service means there's no way to coordinate with friends and family. The fact that there's no electricity also means there's no way to buzz someone's intercom to let them know you're downstairs. So unless people made contingency plans in advance, or live someplace directly accessible (like being in a ground floor front-facing apartment) then everyone is cut off. (Unless they walk a mile or two to an area that, though still without electricity, is covered by an adjoining cellular zone, which is how I'm posting this. But then they'd also have to be trying to reach someone who has power, or they wouldn't be able to get the message.)
But I already live a part-time hermit lifestyle. When I'm in the country, going between reading, hiking, kayaking and — I admit it — watching TV, I can easily go a day or two without seeing another human being, and longer than that without talking to anyone. So that part of this is no problem to me at all.
And when I did go outside yesterday, to check out the area a dozen blocks away around Stuyvesant Town where the river overflowed and cars got washed away, I had several enjoyable conversations with complete strangers, as always happens in the midst of emergencies, when everyone lets down their guards and looks for connection.
I'm eating perishables and things in the freezer that have thawed but are not yet spoiling. There will be some loses there, but that's certainly trivial.
The reading is getting a bit old, I have to admit. I've been alternating between three books: one I'm reading for work, another I'm reading for spiritual growth, and the third, a novel, I'm reading for fun. I'm entirely accustomed to reading several hours a day, but reading all day is another story. I admit it; I'm a bit bored. My mother was just as avid a reader; my clearest recollection of her is sitting in "her" chair reading. Nevertheless, she told me on numerous occasions, "You know, before television, life was a bit boring."
It also feels weird to be cut off from political TV and internet coverage. Of course, as I often say, my being informed doesn't actually affect anything, but in this case, so close to the election, I think it's a reasonable thing to want. It also means that I haven't been able to see if anyone commented on my election endorsement post or any others.
BTW, if I was really bothered by any of this, I could walk about 5 miles to where there is electricity. I could get some work done, recharge my devices, call a friend and crash on their couch for the duration. I'm not actually suffering or deprived at all by global standards. It's only relative to what I'm used to that there is any sense of deprivation at all. What I'm used to is having the world and nearly every convenience it has to offer, at my fingertips from my living room couch. As much as I'm used to those things, I don't need them, perhaps thanks to all the time I spend away from them in my weekly routine. I think that's a good thing.
I feel like this post should have some pithy conclusion, otherwise it's just my rambling thoughts. So here: modern urban society is structured in such a way that it actually discourages socializing. My friends, even my religious congregation, is spread out across the entire city. We have to make play dates with each other or we don't mix at all. Remove the ability to chat by phone, Facebook or email, and we're completely isolated. Throughout thousands of years of human history, this has not been the case. Except for a few individuals in certain professions, such as Plains States farmers, people have lived in communities where there was a common square, where you could approach someone's house and knock on the door or call to them. Modern urban and suburban life is perhaps the most isolated way people have ever lived. And though I'm comfortable with it — I grew up in a high-rise apartment — I have a feeling it's not a good thing.