Thai rice noodle salad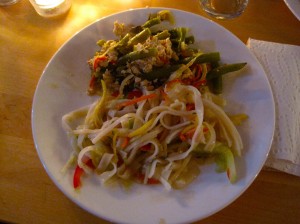 Once every month or two, I get to cook dinner for 30+ people at St. Lydia's. As I've mentioned before, my church structures its service around a meal. To be the cook is fun, but it's also intimidating — kind of controlled chaos as I coordinate all the prep and cooking with helpers, working against a one-hour countdown clock. It's like being part of a cooking reality show.
It was my turn last week. I knew there would be a lot of basil coming from our church's plot at the local community garden, so I decided to make a Thai dish. Of course, the classic Thai basil dishes are meat-based and we make all our meals vegetarian, so those were out. I landed on the idea of making green beans, some of which could also come from our garden.
[Note: With this basic recipe, you can substitute and vary the quantities of the vegetables.]
Serves 4
1/4-1/2 lb rice noodles
cucumbers or zucchini – cut into strips or shredded
tomatoes – chopped
(optional) jalapeño – finely sliced, or a pinch of red pepper flakes
1/4 of a red pepper, in matchsticks or finely sliced
1/2c carrot, shredded
(optional) 2T cilantro, minced
Vinaigrette
1/4c lime juice
1/4c rice vinegar
1T sesame oil
1T fish sauce or substitute soy sauce
1t minced garlic
(1t+ red pepper flakes – omit if salad has heat already)
STEPS
1. Add rice noodles to boiling water for 3 minutes until softened but still firm (or follow box directions); drain and rinse under cold water then set aside.
2. Whisk together vinaigrette ingredients.
3. Transfer noodles to bowl; add all the veggies; top with dressing and toss.
The recipe is mine. I'm sure it's based on something originally but over time I've modified it to suit my taste and cooking style (as you should too).
Return to post
Thai green beans with basil
and click here for a gallery of the images.