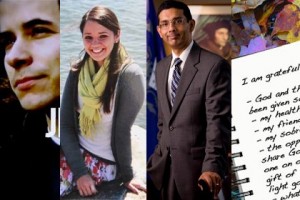 My Patheos blog has only been around for five months, so it seems a bit much to list the "Best of 2012" posts from it. But it's interesting to look at what was most popular and why, and I've done exactly 100 posts, which is a good reason to pause a moment and look back. So I'll highlight a few things. On pure popularity, the top 5 posts unsurprisingly were all about controversial topical subjects. The top post with popularity not based on controversy, at #6, is The Gratitude List. Admittedly, even that one benefitted from timing with its Thanksgiving tie-in, but it's a useful tool any time of year.
The post with the most hits, by a margin, was The End of Dinesh D'Souza. I'm afraid many readers didn't realize the title was a play on one of D'Souza's book titles, The End of Racism
. While I've been critical of D'Souza for years and this piece was no exception, it was not the hatchet job some were expecting based on its title. I confess the setup, his "affair" and resignation, was a cheap shot, but there was substance too. You can't write about a public figure without some who disagree with your conclusions believing you've been unfair in your treatment, but I do believe I stuck to the facts. Nevertheless, I feel a little dirty because it was seen as biased by some.
I'm realizing though, looking at the most popular posts, that many of them are negative — pieces criticizing Dinesh D'Souza, Paul Ryan, the Salvation Army, PETA, Kathy Lee Gifford, and a Survivor contestant made up six the top 10. Those six make up most of the negative pieces I've done in a hundred posts. What does this tell us? Well, people love to gripe, and to read the griping of others. Which reminds me of the findings I cited in my piece on gossip that "we feel a closer kinship over shared dislikes of people than shared likes."
I don't want to be part of the insular conversations that happen on both sides of the political spectrum about how messed up the other side is. But I can't help it that when I ocassionally write a critical piece, some people use it as ammunition. Well, I can help it. I can avoid writing such pieces altogether. What do you think? Is it OK to criticize those you disagree with publicly, or should you always just lift up what's good? I'm still questioning this. My old spiritual director encouraged me to be "part of the conversation." I'm still figuring out the best way to do that.
My goal in writing, ultimately, is to help people, so I'm particularly pleased that my Gaudete Sunday piece after Sandy Hook spread widely and quickly and was in my top 10. One reader said, "Phil, your essays are lights shining in the darkness." Another said, "Thank you Phil for a an uplifting perspective." And third said, "In the darkness, you have shown us the light of God." In all sincerity, if I'd published nothing else these last five months, I'd be happy to have done that one piece.
What I found with the column I was writing before coming to Patheos was that over time, the "helpful" posts continued to get steady traffic, sometimes even growing as they became resources shared and reposted by others, while topical posts have their run and then die. I expect the same to be true in the long run here.
While I'm looking back at last year, one post I wrote for Busted Halo ended up being their most popular piece of the year: my response to the viral video, "Why I Hate Religion, But Love Jesus." I mentioned it here recently when Busted Halo honored it as one of their "Best Of 2012." While I did find fault with the video, I did so because of my positive views which were the focus of the column. A reader of the original column, who just saw it when it was featured last week, said, "thank you for this! My kids saw [the video] as part of their Catholic teen youth program a few weeks ago, and loved it, but it left me struggling with some of their questions. I now have a better perspective of what I can say to them." Again, I'm thrilled whenever my words are helpful.
Thank you for the last five months! I look forward to a year of posts ahead.