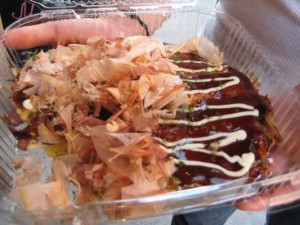 Mardi Gras is one of those very Catholic things that cracks me up — because it's so human. Just before Lent, during which people are called to refrain from all excess and on some days fast, Mardi Gras is a final blowout, devoted to eating the most decadent food you can think of — both because they are foods you won't be allowed to have again for a month and a half, and to use up those ingredients in the home.
The most traditional food is fried dough — pancakes especially, and also donuts or latkes (which if you recall I wrote about two months ago as being the traditional food of Hanukkah). Once again, an excuse to eat fried carbs!
Last year, on the way home, when I hadn't managed to find any opportunity to have pancakes or donuts on Mardi Gras and it was already nighttime, in a moment of inspiration I got okonomiyaki for dinner. Okonomiyaki is Japanese street food at its best: pancakes made of flour, eggs, shredded cabbage and diced squid, topped with Worcestershire sauce, mayonnaise and bonito flakes. I'm super-lucky to live in a partly Japanese neighborhood and go to the nationally-known takeout stand Otafuku around the corner for it once in a while. I wrote about Otafuku and okonomiyaki in this piece last summer: Okonomiyaki and connecting through music.
So today, maybe I'll get some more traditional American pancakes. But right now, I'm leaning towards turning Otafuku's okonomiyaki into a tradition by doing it for a second year in a row. I know it's not really decadent, which is supposed to be the point, but honestly I have no desire to binge on bad food in advance of Lent.
You can see all my Lent-themed pieces together at patheos.com/blogs/philfoxrose/tag/lent/. Please share this link, or just one to my blog, with anyone you think might be interested. Thanks!