[This year, 2014, as I'm no longer in the East Village, I begin a new tradition of having latkes during Hanukkah that are homemade in my new home!]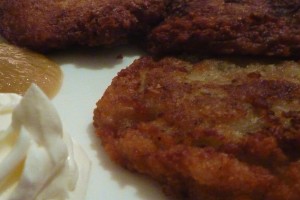 I'm not one to pass up the opportunity to celebrate with food. And not just within my own tradition. If I can honor another religious or national tradition by eating some yummy food, you won't have to twist my arm. So each year, I honor Hanukkah by picking up some latkes — potato pancakes. In a rather convenient excuse to eat fun food, Jews decided centuries ago to honor the miracle of the Temple's sacred oil lasting for eight days, by lighting candles … and eating food fried in oil! Donuts are traditional too, but I have to draw the line somewhere, and I love carbs way more than sweets anyway.
Seriously! I'd love to have heard that discussion between the rabbis: "How should we honor this holy day commemorating a military victory of orthodox Jews over secularization and the restoration of proper Jewish law, after which there was an eight-day celebration in which the temple oil miraculously didn't need replenishing?" "Did you say oil? Let's eat fried food!"
I've had a love affair with potato pancakes for much of my life, long before I knew of the Hanukkah connection. I first discovered them growing up, when my family moved to New York. My mother was always looking for new candidates to add to her endearingly WASPy repertoire of exotic food options. The move to Greenwich Village, New York, put us in the midst of ethnic neighborhoods: the Jewish Lower East Side, the Ukrainian East Village, and the Italian West Village and Little Italy. She added new dishes right away. One was a rolled veal roast oozing with prosciutto, garlic and Italian herbs from Ottomanelli & Sons in the West Village. Two more were frozen supermarket-bought pierogi served with butter and sour cream and cheese blintzes served with sour cream and blueberry sauce.
And fourth — also frozen and supermarket-bought — was potato pancakes with sour cream and applesauce. Each of the frozen dishes was a mere shadow of the real thing, but they were all I knew, and they were very good. The fact that they were in the supermarket at all was due to our being near these ethnic neighborhoods; on the other hand, our eating frozen supermarket potato pancakes just a few blocks from stores on New York's Lower East Side where you could buy fresh latkes was kind of criminal.
Later, I discovered the real deals. Buttery pierogi at the 24-hour Kiev Diner became a staple in my teen punk days. I discovered how good fresh potato pancakes could be — crispy on the outside, fluffy/starchy on the inside, with plenty of salt and onion in the mix (because what isn't better with a little too much salt and onion?) — at Bruce's and at Ben's on Long Island before ever having them in the Lower East Side.
In recent years, I've often gone to Yonah Shimmel's, the hundred-year-old Lower East Side knish store that sells latkes during the holiday. If not them, then some other traditional Jewish supplier. But honestly, I'm afraid Yonah Shimmel's aren't that great anymore. They're too greasy, if that's possible, and a little rubbery. So this Hanukkah, I broke with tradition slightly. I did a little research on who makes the best potato pancakes in town, and signs pointed to the local Ukranian standard-bearer, Veselka, a block from my East Village home. (Though Veselka's founders were from a part of the Ukraine that's historically Polish, the restaurant emphasizes its Ukrainian identity.) 
I rely on Veselka for borscht, mushroom-barley soup and pierogi, as well as for reliably excellent diner fare, but it never occurred to me to turn to them for latkes. Pirogi, blintzes and potato pancakes all come from Eastern Europe and are eaten by both Catholics and Jews, but blintzes and potato pancakes are often associated with Jewish culture. (Latke is the Yiddish word for potato pancake.)
It turns out Veselka takes great pride in its potato pancakes, and besides its cookbook
(which appears to be out of print in paper form, but available as an ebook), there's this article with instructional photos about how they're made. (They do two nontraditional things: they include a little garlic, and add some shredded carrot.)
So on Saturday evening — just to honor tradition, of course — I picked up some potato pancakes for dinner from Veselka. And they were very good. Crunchy on the outside, fluffy and full of flavor on the inside. For those of you who can't get local fresh-cooked latkes, consider making some.
If you don't have Veselka's cookbook, here's a basic latke recipe I've used before:
1 medium onion
1 pound russet potatoes
2 eggs
1 teaspoons salt
1/4 teaspoon pepper
Oil for frying (if you want to be traditional for Hanukkah, you should use olive oil, but any oil will work)

Peel potatoes and keep in cold water.
Chop onion into chunks and pulse in food processor until pureed (or mince as fine as you can.)
Beat together two eggs in a large bowl and stir in onions.
Chop potatoes into chunks and pulse in food processor until grainy, or use a potato ricer.
Put potato in strainer and press out extra water.
Add potato, salt and pepper to egg and onion mixture.
In a  large pan (ideally cast iron), heat a good amount of oil over medium-high heat. When oil is hot, add batter in 3-inch patties.

On each side, fry 3-4 minutes until nicely browned.
Drain on paper towels.
You can see all my Advent-themed pieces together at patheos.com/blogs/philfoxrose/tag/advent/. Please share this link, or just one to my blog, with anyone you think might be interested. Thanks!