NOTE: The following is a guest post from my sainted father, Galen C. Dalrymple, Director of Operations for iam2.org, an organization devoted to crowd-sourcing compassion and empowering ministries serving the neediest children in the world.
Recently the filmmakers of Not Today, along with my friends at Lovell-Fairchild, invited me to India to learn more about the film. I told them my father would be a much better choice, since he is an extraordinary man of God with a passion for these issues and stands at the helm of a faith-informed organization that can make a real difference for children in need of food, water or protection. It was an amazing journey, and below is the first installment in the story.
*
India.
The very name evokes a distant, ancient, exotic land on the other side of the world. Most of us know the stories of the British Empire and its involvement in the Indian sub-continent through tales such as The Far Pavilions, the Rudyard Kipling stories, and more recently, movies such as Gandhi, Monsoon Wedding and Slumdog Millionaire. Something about this timeless place invites us into mystery and captures the imagination.
After two days in Hyderabad, I am now in Bangalore, and soon will go to Mumbai (formerly known as Bombay). It's another movie that has brought me here — but a movie of a different sort. This movie is not about magical adventures or voyages of discovery. While the movie includes adventures and discoveries, to be sure, its purpose is to expose the human trafficking trade and eliminate child sex slavery.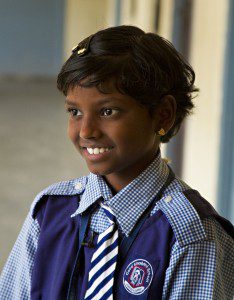 Not Today tells the story of a rich young man from southern California who, after deciding on a lark to visit India for a party, encounters a Dalit ("untouchable") father and his little girl sleeping on the steps of a building at night. He refuses to help them, explaining that they are not his responsibility. Yet later he learns that the father, unable to feed his daughter, has sold her into the service of a wealthy family — or so the father believed. In fact, he has inadvertently given his daughter into the hands of child traffickers. Guilt-stricken, the young man helps the father understand what has happened and, together, they set out to find the girl and redeem her from slavery.
It's a moving story on many levels, well acted and entirely believable, in part because sexual enslavement and exploitation of children is disgustingly real and in part because the role of Annika, the young Indian girl, was played by an actual Dalit child, Persis Karen. For this, her first performance, Karen won the "Best Emerging Actress" award at the Monaco Charity Film Festival. Her performance will tear your heart out.
When the movie is released in early 2013, I strongly encourage you to see it. With sensitive conviction, Not Today opens our eyes to a harsh and horrifying reality, but a reality we must face with great urgency and faith.
In the coming days I'll share more about the movie and what I've learned about the Dalits in India. We Americans don't know that much about India and the plight of the Dalit people or the conditions they endure and how the worldview in India has contributed to their situation. I'll also share some lessons the movie holds for us!
Let me leave you with this question. Regardless of where you live, what would you do if you truly believed you could not now — or ever — provide food, clothing, shelter, medical care or education for your child? What would you do for your beloved daughter or son?
Don't answer too quickly. Wrestle with it. For the Dalits, that is their everyday reality.
*
Look for more information soon about Not Today. In the meantime, please learn more about iam2.org. I (Timothy Dalrymple) am passionate about this organization, where I serve on the side as Director of Content. It's a strategic place to give, as your charitable, tax-deductible donation will go to create a social-media launching pad that will propel countless nonprofit projects that provide the most basic necessities to the poorest of the poor children around the globe. Please consider giving. Thank you.