Editor's Note: This is a revised version of a letter to college freshmen I published before.  I published the first part yesterday.  
*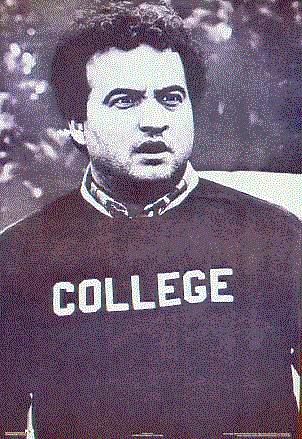 4.  Seek answers, not merely questions. You may hear the opposite in the freshman orientation process.  "It's not the answers but the questions that matter," they might say, "not the verities but the inquiries, not the destination but the journey."  Yes and no.  The faculty certainly want you to question the views with which you were raised, especially when they do not agree with those views.  When I was teaching, it was commonly said amongst my colleagues that the purpose of our instruction is to make the familiar strange and the strange familiar.  Our aim, in other words, is to cause young people to see how dubious and arbitrary are the moral, political and religious beliefs with which they were raised, and how sensible and compelling the beliefs of others could be.
This is not necessarily a bad thing.  We do want young people to understand the weaknesses of their own views and the strengths of other views.  The problem was that it was not applied evenly.  If you entered college with a worldview that matched the one prevailing at your university, then you were thought to have no oppressive, exclusivist, intolerant and irrational beliefs from which you had to be disabused.  And if you were a conservative Muslim, then the religious studies faculty would stumble all over themselves to defend your perspective and help others see it charitably.  If you are a conservative (white) Christian, however, then your parents are a part of the problem, and, for your sake and the sake of the world around you, you have to be liberated from the bonds of prejudice and ignorance.  I don't think I'm exaggerating.  We had professors who promised the students at the outset of a year-long course that any Christians in the lecture hall would lose their faith by the end of the year, or who scoffed that "God is dead beneath my feet," or who verbally high-fived fellow faculty when they provoked evangelicals into crises of faith.  This is important to remember: if you are a conservative Christian of one stripe or another, many professors will view your loss of faith as a good thing, for you and for the advancement of society.
Those who encourage you to "be comfortable with ambiguity" may really want you to loosen your grip on particular views.  By and large, they do not want your views on evolution, global warming, abortion rights, gay rights, or the evils of a whole fleet of -isms, to be ambiguous.  They want you to agree with them unambiguously on those points.  So grow comfortable with complexity, and with a proper humility over the things we can know and the things we cannot, but recognize the ambiguity in their call for ambiguity.  Compelling, reasonable answers are out there.
When I began what became a decade-long study of atheism, my faith was cast into question.  I believed that I had been initiated into mysteries that other Christians had not, that I had come across criticisms of the Christian faith that few if any Christians had heard or addressed.  After all, no one at my home church had read Hume or Voltaire, Nietzsche or Russell.  Yet this, of course, was rubbish.  The more I investigated the matter, the more I discovered that, of course, countless thousands of exceptionally intelligent Christians have read Feuerbach and Freud and Russell and Rorty — and not only read them, but developed very satisfying responses to their critiques of Christianity.  The problem arises when you pit a university course criticizing Christian beliefs against an immature, unlearned, Sunday School faith.  Just as you educate yourself (if and when you do) on the criticisms of your beliefs, you should educate yourself on how your faith community has responded to those criticisms.  Men and women of profound Christian faith and extraordinary intelligence and wisdom have been responding to criticisms of Christian belief for as long as the Christian church has been in existence.  Today there is no field — from biology and physics to philosophy and biblical studies — where there are not committed believers who stand amongst the most accomplished in their fields and stand ready to explain how they see their faith in light of their expertise.
5.  Seek betterment, not merely achievement. On the one hand, it's never quite true that you can "reinvent yourself"; you do, after all, bring yourself with you wherever you go, along with your habits and predispositions, your wounds and weaknesses.  But the transition to college offers extraordinary opportunities to improve your character and enrich your personality.  Commit, for your first year, to try something new every week.  Go to a Taiko concert, write a piece for the school newspaper, watch an obscure foreign film, sign up for that sailing (or golf or Swahili or classical guitar) class, attend that public lecture (public lectures are among the most powerful and the most underutilized resources you can tap at college), go bungee jumping or apply for overseas study in Europe or a research trip to the Amazon.  Countless students can attest that the most important things they did in college took place outside the classroom.  If you're faithful with your classes, you'll receive your education and training.  But if you're faithful with the other opportunities college affords you, your horizons, your sensibilities, your sense of yourself and your world will expand exponentially.
The important corollary here is that you should not do those things that diminish you or enslave you to addictions.  No decision is isolated.  The decisions you make in these years will form patterns and momentum for the decisions you'll make for decades to come.  If you throw yourself into drinking or drugs or even the addictive pursuit of love and sex, you may awaken four years later and find that you've squandered your opportunities and wasted your potential.  Envision the person you want to be, the person you believe you are called to be, and start being that person.  And start now.  One of the biggest mistakes college students make is thinking that their college years are a pause from "real life" or a waiting room set apart from "the real world."  Your older friends or siblings do you no favors when they act as though you do not inhabit the real world.  Yes, you inhabit a particular sphere with its own rules and protections, but you are called to be who you are 
today
, to begin today the habits you want to keep tomorrow — for who you are in the next four years will have an immense impact on who you are for the next four decades.
6.  Seek fellowship, not merely friends. I'll keep this short.  The best and most important part of my Stanford experience, by far, was the Christian fellowship to which I belonged.  It's a great joy to be surrounded by people your age, people like yourself, who love God and seek to live their lives according to his Word.  The most significant training I've ever received for ministry or for Christian living came through that fellowship world.  The friendships I've maintained in the thirteen years since graduation are virtually all from that fellowship.  We played and worked, prayed and worshipped, served and ministered shoulder to shoulder — on campus, in the inner cities, around the country and around the world.  The fellowships also introduced me to remarkable Christian women.  One beautiful relationship ended with pain and regret.  Another led to a beautiful marriage.
7.  Finally, seek first the kingdom and righteousness of God. Plunge deeply into the life of the mind.  Savor the beauty and the rhythms and richness of the scholarly life.  Immerse yourself in friendship and fellowship and commit to learn from one another.  Enjoy the sports contests and the public lectures and study abroad.  Explore all the idiosyncrasies of your school and community, the traditions and hidden treasures.  And learn how to love and be loved by a significant other.  You will change majors and change jobs and change careers many times before your professional life is through.  That's fine.  And you will go through your romantic ups and downs.  That's fine too.
Just make sure you major in the majors and minor in the minors.  Remember your first love, remember who is the Way and the Truth and the Life, seek him, and the rest will work itself out.  "Delight yourself in the Lord and he will give you the desires of your heart" (Ps 37:4).  "In all your ways acknowledge him, and he will direct your paths" (Proverbs 3:6).  Whether your college years bring you hardship and misfortune or flourishing and joy, or more likely both, seek God through it all.  Probably the most important thing I learned in my college years came when I broke my neck in a gymnastics accident, and I learned in truth that nothing could separate me from the love of God that is in Christ Jesus (Romans 8:38).  God's gracious communion is the one thing needful.  No matter what else might be taken from you, if you have that, then you have enough and more than enough.  The goods of the world will come and go.  Yet the peace and the joy of your fellowship with God through faith in Jesus Christ will endure forever.
Live for that fellowship, live in it, and live out of it.  In the end, the rest are details.
Sincerely,
Your Friend
*