Recently I was invited to interview the comedic actor Kevin James (television's long-running King of Queens and many movies such as Hitch, Paul Blart: Mall Cop, Grownups, The Dilemma, and Zookeeper) and to screen his film hitting theaters now, Here Comes the Boom.  In the film, Kevin James is Scott Voss, a burned-out teacher who rediscovers a purpose in life when he commits to raising the money to fund the school's music program, which is about to be eliminated due to budget cuts.  He puts himself on the line — literally — for the music teacher (played by a very funny Henry Winkler, who will always be "The Fonz" in my mind) and for the students who find in music something transcendent, when he learns that he can make money just by entering mixed-martial-arts (MMA) fights and losing.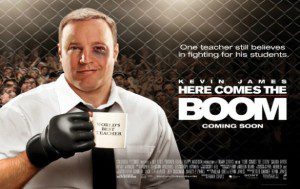 Salma Hayek plays the school nurse and Voss's love interest, and MMA legend Bas Rutten (who steals the movie with a hilarious performance) plays his trainer.  Several other MMA greats appear in the movie.  James is a zealous MMA fan, and knew many of these fighters personally.  The co-creator of the film, James also made sure that elements of his Christian faith were represented. While I'm not sure I would call this a family film (some of the fight scenes are intense, and the only "family" depicted in the movie is headed by a husband and wife who seem to relate through vicious insults), it was certainly more enjoyable than I expected, and I was impressed with the organic way in which faith was interwoven into the lives of the characters.
I met Kevin James at his hotel in Atlanta, where he had tweaked his back and was sitting in a wheelchair.  I mixed my own questions with questions friends suggested on Facebook.
TD: You trained for thirteen months for this role, and filmed tough MMA fights.  Then you get injured doing interviews.  What's up with that?
KJ: You journalists are terrible.
Yes, we're a dangerous bunch.  Now, I write for a religion website.  Here Comes the Boom showed characters engaging in acts of everyday faith — praying before a fight, or discussing the story of Jacob wrestling with God over a plate of pasta.  What's your own faith background? 
I'm a Catholic.  Faith has always been a part of my life.  There have been times in my life when I've gone away from the faith, then come back, but I've grown to realize that it's really the reason why we're here, the reason why we were created.  I'm a strong believer in it, and it's helped me in many areas of my life.
Was there a deliberate decision to include scenes where faith is organic to the lives of the characters?
Yes, absolutely.  There are so many movies out there that go the opposite way.  There's so much negativity.  To show faith and prayer as positive things was important to me.  You're right in that it's difficult.  You don't want to beat people over the head.  They're hip to it, and they know when you're just banging them over the head to get them to believe it.  So that was important to me, to make it organic, and to have it be in the main stream of this movie.  It shows up in different parts of the movie.
You had a bunch of MMA fighters, these hyper-masculine men, sitting around a dinner table discussing a Bible story.  You've gotten to know the MMA world well.  Have you seen that there?
Oh, man.  Faith plays a HUGE part for the fighters I've met, following the sport.  I became a fan of the sport back in 1993, and as I grew to know these people and these fights, to see them and work out with them, it wasn't even the fighting so much that impressed me.  They seem like gladiators going at each other in a cage — but they're real people.  Some of them are fighting to put food on the table for their children, or they're fighting for the money to care for a sick grandmother, all sorts of reasons.
The Bible says that there is no greater love than to lay down your life for your friends.  That's really what we wanted to show in this movie.  That's exactly what the character does.  You don't have to hit people over the head to make sure they get it.
In the fighting world, I see it all the time.  I know how much prayer and a strong relationship with God is needed, and they rely on it.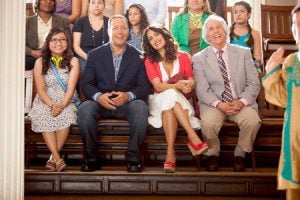 Facebook question: Did you ever have a school nurse who looked like Salma Hayek?
(Laughs) I did not. I had a school nurse who looked [points to his friend, in the room] — sorry Danny, but she looked like Danny.  She was a nice lady, but no, she did not look like Salma Hayek.
It would have been nice, though, right?
Oh, it would have been very nice.  I would have spent more time in the nurse's office if that had been the case.  So maybe it's better that she looked like Danny.
Who's your favorite MMA fighter and why?
I have so many, but I have to say that Bas Rutten was my favorite MMA fighter because he first brought me to the sport. Getting to know him, when he came to the states and became champion, knowing what he went through, not just fighting but overcoming the language barrier to becoming the person he is with the charisma he has. He's just a great person.  He's one of the many guys I've met through MMA who is just a fantastic person.  Ryan Parsons is another, Mark Munoz.  They're such great people.
Facebook question: Would you answer to Mr Blart on the street?
I would.  I was taught to respect other people.  Even though I'd be laughing on the inside, I wouldn't show it.
Scott Voss does something extraordinary to help others.  What's the most rewarding thing you've done to help others?
Well, there are always big gifts you can give, but it's also the small ways.  Those are the ones that are often most impressive.  Little things, like, I was driving with someone one time.  They stopped and went out and helped a homeless guy, helped him across the street, jumped back in the car, and his life just went on.  He never made mention of it.  Didn't make a big deal.  I've known people in my life who do these little acts of kindness.  It makes me think, I need to be a better version of myself.  It will change you and the way you perceive things.
Facebook question: Remember when you were in that movie with Will Smith?  That was awesome!
(Laughs) Okay!  Thanks for the question, I guess…?
Yes, that was a fun movie.  Will was such a great guy.  It was really my first movie, and he gave me a great platform to be funny.  He wasn't threatened by anything.  That shows how secure he is as a movie star — one of the biggest movie stars, if not the biggest, in the world.  He was all about making me better in that movie.  So I'm thankful to him.
As a Catholic, and someone in your line of work, how do you perceive God's calling on your life?
I'm finding it every day.  It's how I navigate His calling, how I listen to it.  It drives my family and drives what I'm all about.  I cannot separate God from my life.  You can't live like that.  There's no way of separating God from your life.  Now, that doesn't mean I need to play a priest in every movie.  That would do more of a disservice.  People would think I'm preaching to them and I'd be out of the business.  So I just try to take the opportunities God has given me, try to be funny and entertain and put a positive message in the movies I do.
We all fall short, and I'm not crazy about every movie I've done.  But you continue to try to get better as a person and do the best work you can.

For more coverage and discussion of faith and film, see Patheos' Movie Channel.  Follow it on Facebook — and check out our Movie Club conversation on the new Walden Media Film, Won't Back Down.