Brent Dusing is the founder and CEO of Lightside Games, which seeks to make computer games (so far they've mostly been Facebook-based games) that involve players in the stories of the Bible. Their Journey of Moses and Journey of Jesus have both been phenomenally successful. Now they've partnered with the History Channel's Bible miniseries to create a hidden-object game — called Light the Way — that families can enjoy alongside the miniseries.
I don't take these things lightly. I believe very firmly there is a place — just as there are for children's books and television shows and films — for Christian computer games that provide entertainment and education together. So I spoke with Brent by phone: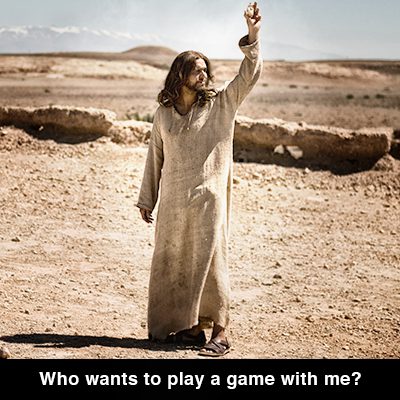 Tell me about Lightside Games and its twofold bottom line.
Lightside Games is established on three principals. Fun, quality and biblical authenticity. We make games for adults and children, grandparents and teenagers, and they're played on Facebook as well as iPad and iPhone. We are a for-profit business but we also have a goal to reach people all around the world, where they are. There are hundreds of millions of people playing games on iPads, on Facebook, every week. So our goal is to reach them with the truth of God's love through these games.
As other organizations and companies have sought to use the medium and the technology of film to bring the gospel stories forward in a new and powerful way, you're using the medium of computer gaming to absorb people in the biblical story? 
That's really what we aspire to do.  We want to bring the Bible in a fresh way to believers. At Lightside Games, we're focused on presenting the truth of God's love to people in a fresh way. Some people learn by hearing, others by reading, others by doing. Playing is doing. We find that there are many people who learn the stories of the Bible through playing the game. One of the things that's been really rewarding for me personally has been to hear the testimonies from players about how their lives have changed through the God's work in those games.
Anything, anonymously, that you would be able to share? Any anecdotes? 
Sure. We had a woman who was going through some really difficult times in her life. She had a husband who was abusive and a son who was an adult but had some severe mental disabilities. She was also going through a period of unemployment. She told us how much playing the Journey of Jesus game had meant to her life. The game and the church she attended were the two things that really made a big difference in her life, the two things that were positive areas of refuge she could cling to. We've seen so far hundreds and hundreds of people come to Christ through playing these games.
I can also share with you an interesting fact. We've found that we've had over 100,000 people play the Journey of Jesus game in Muslim countries. And we know statistically that the majority of them were not Christian. We found that sixty-five to seventy percent of them, when we surveyed them, indicated an interest in learning more about Jesus. 
Tell me how this partnership with The History Channel series came about?
We knew some people involved with the Bible miniseries and began a discussion with them. Then I met Mark Burnett and Roma Downey and I was struck by their genuine love of God and their passion for making a great product. Lightside was established on the principal of making games that are fun, high quality, and biblically authentic. We're really excited to be working with Mark and everyone else on this partnership. 
But honestly, I should also say that it was really about listening for God's voice and direction.
What was it like to Mark Burnett and Roma Downey? 
There was an event organized by Focus on the Family. I was really struck by their genuine passion for the love of God. I spent a few minutes talking with Roma, and she's really been working hard to make the film resonate God's love. And I think it does. You know, we built our company on making quality products that are fun for people to play, but that reflect God's love and truth. Meeting other people who are very talented at making films and television productions, people with that talent, but who share our passion for high-quality Christian entertainment, was very exciting.
How is it going for the film and the game?
For the film, they announced the first showing had 27 million viewers. Really this is the first great Christian film, I think, in almost ten years, that's really become a big phenomenon – since The Passion. They've had a lot of success already, and I'm not really surprised. I think ultimately they'll reach hundreds of millions of people around the world with this film. There are two billion Christians in the world, and I can tell you that people are really hungry for high quality Christian entertainment. They want to see great products that affirm their beliefs and they can be proud of. And for the nonbeliever, these stories are universal, and Jesus Christ is indisputably the most significant historical figure of all time.
By the time that Mark and Roma get around to having the film translated and disseminated to other countries, I'm sure it will reach hundreds of millions of people.
In terms of the game, what we're seeing is that people are really enjoying it. Families are connecting; parents are playing it with their children. This is really a chance for adults to play a game they will actually enjoy, while their kids are learning something valuable as well. We're seeing high levels of activity and engagement — people playing and returning frequently. People are enjoying the depth of the story, understanding the thoughts and emotions of the major characters in the Bible. People also enjoy the challenge. It's a fun, engaging game. They try to do better than their friends.  It's been really fun to see the excitement and enthusiasm people have in playing these major biblical scenes and trying to get through the next challenge.
Can you explain the concept of a hidden object game?
I think the best metaphor is Where's Waldo? If you remember those books, you'd look for where he's hiding.  What we've done is we've taken the scenes from the Bible series, and there are hidden objects inside of them. The faster you find the objects, and the fewer mistakes you make, the higher your score is. The images are presented in order, and of course there's a narrator; in the beginning of the story it's Daniel, and later Mary Magdalene. So they narrate the story for the player, and as the player gets the story they walk through the major events of the Bible and explain the thoughts and emotions and feelings of these real people who were going through God's work in their lives.
I think you can say it's like twenty-first century stained glass. Stained glass was a way to show the general public the big stories of the Bible in a way that was beautiful and engaging and could display the stories quickly. Well, there are probably half a billion people around the world who play games on social networks and mobile devices every week. So presenting that in a fun, engaging way, giving people a way to sink their teeth into the biblical stories, I really think it's like 21st-century stained glass.
The game is available on Facebook today. It will be available on the iPad in a couple weeks. And it will be on the iPhone in April.
As I like to say: If you want to give your kids a game they'll remember, you can either teach them to use birds to shoot pigs — or you can teach them the Bible.