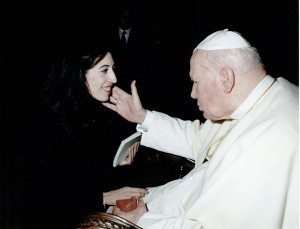 Ok, it's the first official feast of St. John Paul II, a man who was known by more people than any other contemporary figure in history. By this I mean, no one else in human history has been so familiar to so many people while he or she was alive. He was Pope for about 26 and a half years. Visited 129 countries, some of them repeatedly. Millions of people saw him, perhaps even more heard him, thousands met him. I know people who first became aware of their religious or clerical vocations just by seeing him. A classmate of mine was not even a practicing Catholic when he saw the Pope on a trip abroad. This man was in the crowds, just out of curiosity. But when he saw the Pope, he instantly experienced an interior call to conversion (reversion) and to religious life. All in an instant of seeing one man at a distance.
One of the greatest lessons I learned from St. John Paul II's example stems from his first words as Pope, "Non abbiate paura." Do not be afraid.  This has been a guiding principle that I continue to appreciate more and more. It's certainly one that I relied on as we sifted through the news on the recent Synod.
I leave you with a
post I wrote around the time of his canonization
a few months ago in which I discussed how he affected our understanding of feminism and opened up possibilities that have yet to be explored fully. And nope, I don't mean women's ordination.
Throughout his pontificate, the Pope frequently recognized the situations of women who were abused or disadvantaged. In no way did he support an idea of patriarchy which required the domination of women. Rumor has it that when he saw a draft document of the UN Beijing Women's Conference in 1995, he dryly noted that a document that concerned itself so much with women's fertility should at least concern itself as much with women's literacy.

Rather than hash out a really tired anything-you-can-do-I-can-do debate that had been heard for decades, John Paul II shifted the conversation from doing to being.
Happy feast!