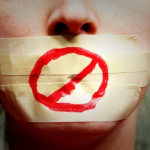 This week, pro-lifers around the U.S. are commemorating the anniversary of Roe and Doe with various forms of peaceful demonstrations. In some ways we're better off than in other parts of the world where abortion is not even a legitimate discussion.
But we're still unable, for the most part, to have a rational conversation about a controversial topic. And this is largely what freedom of speech is about – being able to speak freely on all matters, including those of conscience, as I wrote in mycolumn this week.
After a conversation with a friend in the UK who's beensuspended from her job for sharing a pamphlet on post-abortion effects with a colleague, I realized that the abortion issue is secondary insofar as there's a more primary concern if we can't speak about it. Then, we can't function as a democracy.
And what does that say about democracy building in other parts of the world when we ourselves are failing in an essential aspect of democracy?