I remember as a young child always having a fascination with stones, fossils, and crystals.  My grandmother took me on many trips to the "earth store" to shop for new crystals and fossils to add to my collection.  Something about these naturally occurring treasures being hidden deep inside the earth until their discovery has always held a certain fascination for me.  When I began to study metaphysical topics, in sixth grade, I discovered a large body of lore related to working with crystals and other minerals from the earth.
Like many beginning seekers, I jumped into the study of crystal energies and how they effect the human body and energy system.  It makes sense why so many people gravitate towards crystals, and continue to incorporate them into their daily life.  Crystals serve the purpose of teaching beginners about various correspondences and how they relate to one another.  They are able to learn and understand the basic Hermetic principles through working with these hands on tools.
The study of crystals can take one in any direction, having associations with the energy centers or Chakras, the color spectrum, herbalism, Reiki, and so on.  It is safe to say that crystals can be incorporated into anyone's daily life.  The cool thing about working with crystals is that it can be done so in a completely secular context with no associations with any one religion or spirituality.  This is often a person's first step in metaphysical studies because it maintains a certain level of comfort.
Magical practitioners are innately connected to the earth, nature and her energies.  Naturally, many magical practitioners incorporate the use of stones and crystals in their practice.  They are utilized in a number of different ways to enhance one's magical practice.  Modern practitioners have a wide variety of mineral allies to choose from, and with advances in science and technology new minerals are being discovered.  These recent discoveries are often though of as stones for the New Age.  The idea is that they have waited until their unique energies were needed before surfacing, and now present themselves to humanity for healing.  However, there are also classical minerals that have been used for centuries.
Sorcerers, witches, and magicians; the cunning folk of the Old Religion have since the beginning met in secret places to share their closely guarded information.  This knowledge was often shared under threat of death if anyone was found out.  Thus, it is in our very nature to adopt the diverse practices of fellow practitioners, to share and to learn from one another.
The fact is that although some stones have a longer history of traditional use, and others have just recently been discovered, these minerals have been in the earth for millennia.  It is the purpose of this article to identify and explain some of the stones that have been used historically in folk magic or witchcraft, and also to describe some of the newly discovered healing crystals of the New Age.
Like much of the lore that is the basis for modern forms of witchcraft, there is not any one single source that these examples can be traced to.  Many have origins as far back as the Paleolithic period, and have been adopted by various different cultures before arriving within their present traditions.  These are just a few examples, and their uses will vary depending on the tradition and the practitioner.  These descriptions are meant to serve as general guidelines for additional research.
The Witch's Stones
The Hag Stone: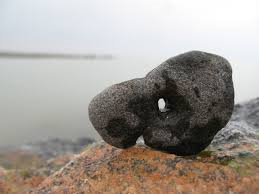 Perhaps the most common and widely used of the sorcerous stones by eclectic and modern traditional witches.  The hag stone is a stone that has a naturally occurring hole.  Knotted cord is tied through the stone when making the witches ladder.  It has been used for nocturnal flight, and to see into the other world.  The hag stone or holey stone represents the feminine principle in witchcraft.  Hag stones come in all shapes and sizes; some are small enough to be carried and others are large enough for a person to pass through.
The God Stone: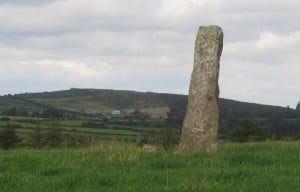 This stone, with its phallic shape represents the creative force of the universe through the active masculine principle of the Horned God.  Smaller god stones are placed on the altar and used in various rituals of virility, representing the male side of divinity.  Larger god stones are used as axis points for laying the compass or casting the circle.  Ancient examples still stand at the old stone circles that dot the countryside.
The Troy Stone: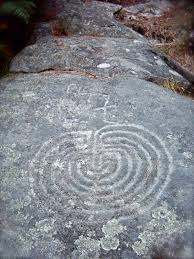 A flat stone marked with the spiral design of a labyrinth sometimes depicted by a coiling serpent.  The troy stone represents the coiled serpent power deep within us, and also within the core of the Earth.  The chthonic power that we draw upon to work our rites comes from the dragon ways leading from this core.  The troy stone can be used as a meditative tool to induce trance states to facilitate journeying.
Sunstone: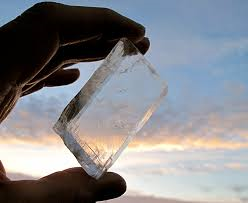 The sunstone was a legendary tool used by the Vikings to navigate in dark or cloudy skies without the aid of the Sun.  The Viking sunstone was likely calcite, however sunstone also refers to the "crystallized light" that is quartz. Rock quartz has been used to purify spring water that has been poured over it, and it can also be charged for its own purposes most commonly healing.
Lodestone: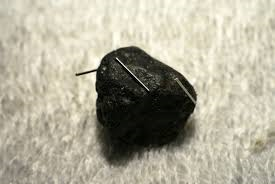 One of the first references to lodestone's magnetic properties was made in the 6th century BCE by the Greek philosopher Thales of Miletus.  A lodestone is a naturally magnetized piece of mineral magnetite.  It is used widely by practitioners of Hoodoo, and is used also by modern and traditional practitioners of witchcraft to draw power and attract certain influences.  Lodestones have also been used traditionally to magnetize magical blades and other ritual tools.  I am currently wearing one for its grounding properties, and association with the planet Saturn.
Crystals of the New Age
Shungite:
Shungite is a Purifier stone, which is a stone composed of a single element, in this case Carbon just like a diamond.  Although it is a stone of the New Age, Shungite is actually quite ancient, forming nearly 2 Billion years ago.  This stone has very strong healing properties, and helps to neutralize any pathogenic organism that may cause the body harm.  Shungite was discovered in Russia in the 1700s where it has been used for its healing properties.  Today, Shungite it used in gem elixirs and a shield from the harmful effects of Elecromagnetic Fields.  It also embodies its ability to make a connection to the earth, thus it is a powerful grounding stone as well.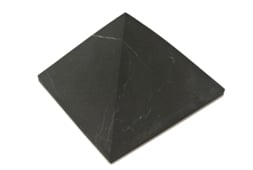 Moldavite:
One of the most spiritually active stones of the New Age, Moldavite is a talisman sent to Earth for spiritual awakening, transformation and evolutionary growth.  This unique crystal is a fusion of celestial and terrestrial minerals that occurred when the heat generated by the meteorite's impact fused the surrounding rock.  This crystal facilitates a strong connection between one's own consciousness and the Universal Source.  Moldavite's unique nature allows it to connect with the Ascended Masters and cosmic messengers.  It is used to draw thought patterns and light vibrations that are most beneficial down into the physical plane.  One resonating with Moldavite will experience heightened spiritual awareness and spiritual protection.  It prevents negative energies from connecting to one's aura, and helps disconnect from unhealthy attachments.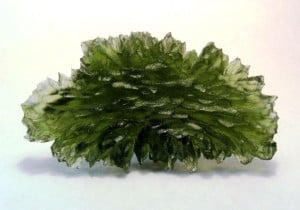 Spirit Quartz:
Spirit quartz is a stone that perfectly balances male and female energies.  It also enhances metaphysical abilities.  According to crystal correspondences, it facilitates transitions between different brainwave states, heightening awareness and psychic perception, and facilitates insightful dreaming.  Spirit quartz can also be used to assist in out-of-body journeying and the ascension process.  This is a stone of the New Age.  It activates the lightbody and provides multi-directional spiritual and cellular healing, which is the realm of the ascensionist and lightworker.  Spirit Quartz carries the vibration of universal love for healing.  It helps reframing the past and realigns the etheric blueprint.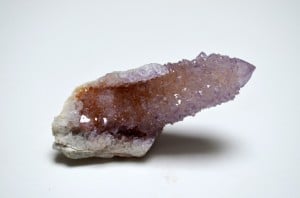 Sources:
www.crystalvaults.com
www.afwcraft.blogspot.com/2011/06/witches-stones.html
www.healing-crystals-for-you.com/shungite