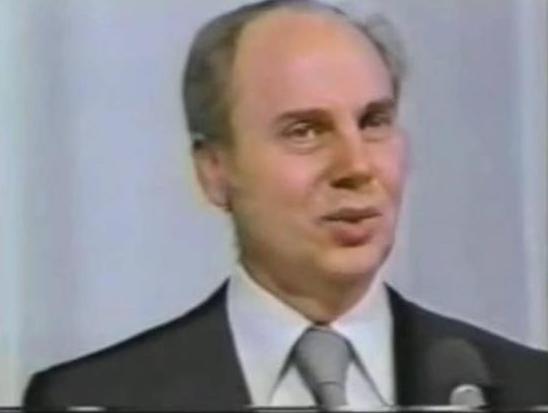 In the early 90s, the private music studio of Reva Cooper Unsicker made occasional appearances on public access TV in Peoria, Illinois. Reva was apparently world famous in her hometown, being the highly esteemed organist at First United Methodist Church and a private music teacher for some six decades before her death in 1995.
She also liked to play the piano really, really fast.
Nobody was ever supposed to see this, of course, but in gracious mercy God and the internet had other ideas.
Nearly ten years ago, on Easter Sunday 2009, my life changed completely when my friend Todd shared the John Daker video on Facebook.
I laughed, cried, and cringed through many, many viewings since that wonderful, wonderful day. I've since introduced Mr. Daker to everyone I love, or even tolerate. It is, in my opinion, the greatest video in the history of the world. The John Daker video is enough to justify the existence of the internet. If you haven't seen it before, here it is.
We don't know anything about the girl creepily singing at the beginning, and we don't really care. Mr. Daker is the star of the show, and his mashup of Charles Wesley with Amora too, okay is stunning.
There were others in the all-star lineup that day. Here's George Stanton with some Jolson songs.
Then to give Reva a little break from her expeditious ivory tickling, Pearl Gross makes a comedic appearance. Be sure to watch all the way through for the world premiere of a Reva Cooper Unsicker original composition.
Then Bob Spencer gets up and gives us a rendition of the classic "I Left My Heart in San Francisco." Unfortunately for us, he must have left his vocal prowess in grade school.
Reva must have thought that Margie Hicks was a special talent, because she let her sing for nearly seven whole minutes. They are, without question, the most painful minutes of the show.
And then Bob joins Marge on the stage for an impassioned rendition of "People Will Say We're in Love" from Oklahoma.
For the grand finale, I present John, George, Pearl, Bob, Margie, and some other lady as the John Daker Sextet gives us "God Bless America" with "The Battle Hymn of the Republic."
It's been reported that John Daker made a number of other appearances on local Peoria TV, but the only confirmation we've seen to date is this poor recording of him singing "Moon River" with the Woody Woodpecker theme.
About four years ago, I wrote a post about the beauty of the church choir. I included the John Daker video in one of my points as an example of the good folks who make up these ensembles. My point was basically that good old Mr. Daker and any of his friends would be welcome in my choir any day of the week. I was shocked to receive a comment from one of the pastors at the First United Methodist Church in Peoria, Illinois, which John, Reva, and most of the others so proudly attend.
While the pastor used his best manners, he essentially told me that he was sick and tired of people like me sharing this video in an attempt to humiliate and embarrass John, and that it was freaking rude of me to share the video in a viral blog post. I responded with my earnest disagreement.
You see, in a world plagued by violence and suffering, and in a church that has no room for church musicians without commercial appeal, John Daker represents hope, peace, and faith. Here is a regular guy who has managed to lift the spirits of millions thanks to his willingness to crash and burn with dignity and self-respect. And I can only imagine faithful service to Firss Unided Mefdusst Shursh in Peoria is genuine and unparalleled.
And John Daker, still alive and apparently well, doesn't seem to mind. Here is a brief video of him captured at a local Ford dealership as Daker brought in his Taurus for service.
And here he is again.
And then, Mr. Daker addresses his adoring fans.
We're not laughing at you, John Daker. We love you. And we need more folks just like you.
Photo:
youtube screenshot