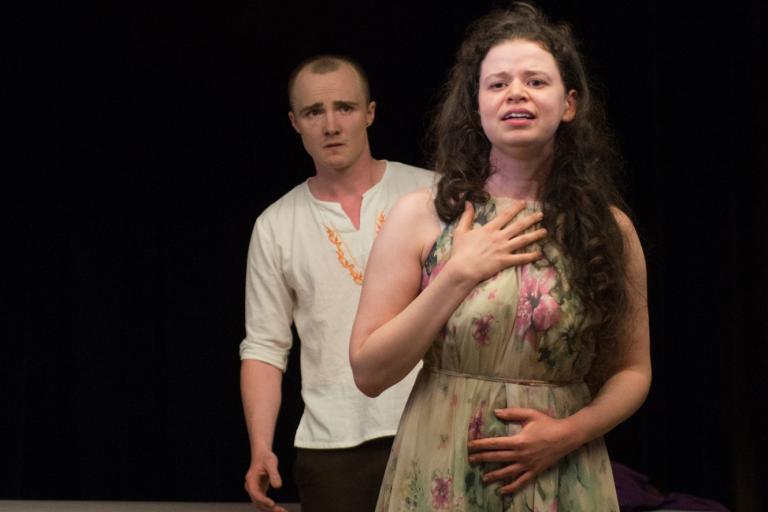 Followers of this blog may have wondered where the Pop Feminist has gone these past few weeks.  While followers of popular culture may have wondered where in the world has all the Catholic art gone these past few centuries.
The answer to both is the same:
Artists go where artists are welcomed.
Beggars at the Feast
As we discussed a little in part one, artists are businesses of one.  That means that each of us must be, in some sense, an entrepreneur.  The infrastructure, the vacation and benefits packages, the idea of taking a weekend is not built into our business model.
Consider, too, for anyone in the performing arts – when everyone else's work ends is when our work starts.  We don't "get weekends," or even nights, because that's exactly when we're performing for you.
Instability is built into an artist's work.
Jobs, when we can get them, last sometimes for a day, a few weeks.  If we're lucky, we stumble into something that runs a year.
I remember the first time I realized that the fellow who'd been playing Thénardier in Les Misérables on Broadway year after year was actually keeping a job.  Or another time, at the end of my first year out of college, when I was studying Shakespeare for one glorious month in London, when I overheard my grumpy, British teacher complaining about another job opportunity drying up because of his age.  And how grateful he was when he had to slip away one afternoon because he'd booked a short voiceover gig.
An artist's life is unstable.  And that instability almost ensures that most artists are habitually poor.  Because they have to build almost every job from square one again – and be extremely frugal with their money inbetween.
Which in turn means that if anyone offers a modicum of stability – whether a job in a long-running musical, or a part in a terrible movie, or the opportunity to ghost write an awful book, or narrate that same book, or what-have-you – we artists would be fools not to take anything resembling proffered stability.
That's where you, dear Church, come in.
Open Up Your Gates!
When I first got out of college, I was fortunate enough to attend a parish with a very old and generous priest, Fr. Larry, at the dying and now defunct parish of St. Mary's.  The church – which once had a vibrant K-8 school attached; now a hollow building next door – as well as an attached convent; long since converted into condominiums – was first on the chopping block in the early aughts, when the church scandals forced parishes to close or consolidate.
Fr. Larry clearly saw the writing on the wall.  But he was also a generous soul and when I asked if I could use the evacuated gymacafitorium for a little performance, he simply handed over the keys and showed me how to turn on the impossibly loud and ancient AC units.
He wasn't neglectful, and he happily took a tithe from each subsequent performance, but from 2000 until 2004, when St. Mary's officially closed, that terribly built room with the creaking AC, the impossible "stage" with disgusting orange curtains, the perpetual musty smell…all of it was mine to make something beautiful as I could.
I owe Fr. Larry a lot.
When I started teaching soon after at a neighboring Catholic high school, which had torn out its stage and thrown out all its sets, props and costumes, it was Fr. Larry and his openness which first allowed our little drama club to flourish.  A drama club that I know did much good during its years: putting on increasingly better performances, certainly, but more importantly giving teenagers a place to belong, and a way to connect to their parents.
Fr. Larry did that.  Because he opened up his doors.

Freely given.  Freely received.
Because Fr. Larry didn't charge us (renting space can be expensive), it meant that our little troupe could make a bit of a profit, year after year after year.  The stability he gave us allowed us to invest in better costumes, buy the rights to better musicals, put a little polish on the productions parents were going to see anyway.
And yes: it meant that yours truly could be paid.  Crazy notion: to earn a paycheck for the hours and years of work one does.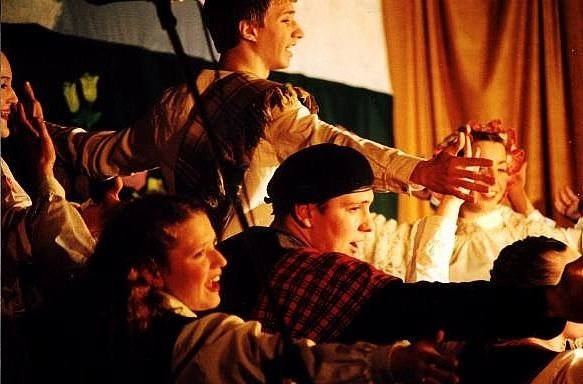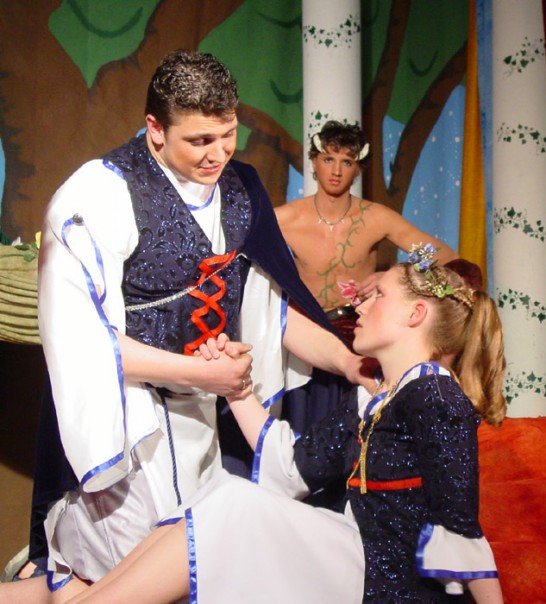 (Brigadoon in 2003 vs. A Midsummer Night's Dream in 2004.  Same stage.  Same actors.  A little bit of generosity from a parish priest.)
Protestant Fellowship
Unfortunately, once St. Mary's closed, no other Catholic church opened up its doors.  My own new parish, which had an attached school with a large cafeteria, kept it closed to most comers.  The Catholic high school where I was still working begrudged me storing the sets their own students built and were using in the hollow remains of the school's cavernous gym.
In fact, that same Catholic high school which had hired me for the express purpose of building up their drama program, now penalized myself and their student body.  We were told that we couldn't produce Hamlet: a text the seniors were in the middle of studying.  And so the students got together, and convinced me to start a summer Shakespeare school.
With the Catholic churches closing their doors, we turned to our protestant brothers instead.  The local Episcopal Church let us use their basement for rehearsals – once again, entrusting us with the key and nodding kindly when we handed over a grateful tithe.  They were happy to have us.
The money wasn't the issue.  Beauty and the salvation of souls was. 
The theatre school flourished and grew. 
Later the Methodists gave us some room on their upper floor.  We rehearsed there one night during a hurricane, and we kept our footfalls light so as not to disturb the blood drive happening below us.
In the last few years, before I moved to NYC, Grace Baptist welcomed us in – a church that tended to eye Catholics with suspicion.  Once again we were given their full trust, and we worked to keep it.  Older students grew up and came back to teach the younger ones.
One year we performed in the basement of the Masonic Temple.  Two years we performed at the Portuguese Club – ostensibly full of Catholics, who had us pay a pretty penny for one week's use.  My last year, we performed at the Greek Orthodox Church, next door to my new home parish that wouldn't let us in.
And while my work continued to be – continues to be Catholic: all the casual observer could see what who opened up their doors, and who didn't.
The Widows Mi(gh)te
This month, two spaces have opened up their doors to my NYC theatre company: The Shakespeare Forum and The Sheen Center.
Thanks to the generosity of The Shakespeare Forum, my company Turn to Flesh Productions (TTF) has been able to flourish for the past two years.  Prior to that, we were floundering a bit: performance space in NYC is as astronomical as apartment rental…and rehearsal space is just as steep.
But Forum has not only gifted us with space to perform, but this year invited TTF to join their Second Annual El Barrio Shakespeare Festival.  TTF took on four pieces of programming which ranged from a performance pairing Shakespeare with new plays – such as Romeo and Juliet with my Cupid and Psyche (pictured at top) to acting and writing workshops, to classes on writing and performing new verse.
As an educator, the teaching aspects were particularly welcome to me.  In NYC, to hold a class, I'd have to pay for a rehearsal space and charge already penniless actors for the opportunity to learn.  But since Forum gave the space for free, we were able to offer free classes in turn, to artists who can barely afford to buy milk.
Freely given.  Freely received.
Now, The Sheen Center has also begun to open up their doors to Catholic theatre companies and artists in NYC, with residencies, an art gallery, movie premieres and – most welcome to me! – inclusion in the Second Annual Sheen Center Theatre Festival of Catholic Playwrights.
My one-act play, More Human, received a staged reading last year at the same festival, and has since gone on to have a fairly robust life playing in NYC and Ohio, among other places.  This year, my full-length play, The Merry Widows of Windsor, a sequel to Shakespeare's Merry Wives, will be presented in a fully staged reading, starring yours truly (yikes!), in the Sheen Center's black box theatre.
The luxury that the Sheen has afforded us is tremendous, and I'm grateful to receive it.   But who pays for it?  Because the money to keep the lights on must come from somewhere.
Well, dear friends: the money comes from you.
Those two bucks you throw into the second collection for lights and heating?  That allows Father to let me open up the doors to thousands of students.  That spare change you scrounge around for and put sheepishly into the collection basket?  It's paying for my rent this month, since the Sheen Center is capable of paying us this year.
But Father can just as easily keep the doors closed.  And the Sheen Center could just as easily only take theatre companies that can pay them.
And in the first situation: any artists would go to other churches, or to no church at all, or even turn their back on the church that turned Her back on them.  And in the second situation: good theatre might be done by people with deep pockets, but there would not be the development of specifically Catholic work, by those whose pockets are like St. Francis: empty.
Churches: Open Up Your Gates.

Parishoners: Encourage your pastor to reach out to artists and invite them in.
Do you want a Renaissance?  It begins with you.
---
Photo courtesy of Joel Webber.  Pictured: Andrew Barrett and Abby Wilde in Cupid and Psyche by Emily C. A. Snyder, directed by Chris Rivera, produced by TURN TO FLESH PRODUCTIONS, as part of The Shakespeare Forum festival.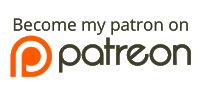 Want to make some great Catholic art?  Become my patron on Patreon!  For as little as $12/year, you get access to all sorts of cool rewards each month!  Thank you in advance!