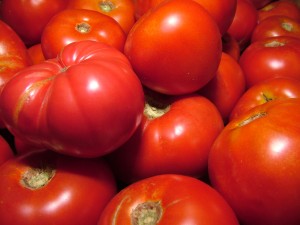 I don't know why I agreed to the request from the woman who lives downstairs. Linda had asked that I grow some tomato plants for her—one 'Sweet 100s' and a second 'Champion'—oh and would I mind maybe bush zucchinis and a single cucumber plant?
I no longer worked the grounds at the retreat center and hadn't taken on any gardening clients this summer, so I had a bit more energy. I had been growing only one tomato vine, and that seemed more than enough. With the removal of all the perennial beds, there certainly was space along the west fence for her plants. So, I thought, why not.
God help me for such shortsightedness!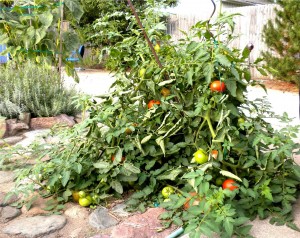 Nearly 40 'Straight 8' cucumbers have been picked from that single plant and it's still fruiting. And the zucchinis? The ones I began hand pollinating at the beginning of the season? Well after the first 15 fruits, and having stopped playing bumble-bee, they continued to produce from every single bloom and, with the well spaced rains, the squashes grew at a nightmarish rate! Seven plastic grocery bags filled to bursting, and requiring two hands to carry, were toted out to friends and enemy alike.
It is the tomatoes that are pushing me over the edge. I surrendered and stopped picking the tiny 'Sweet 100s' after the first half-bushel—they can rot on the vine for all I care!
But the 'Champions'? They are out of control.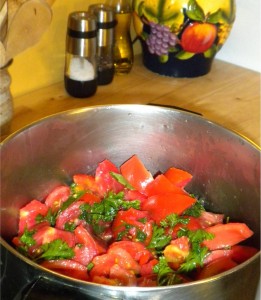 When I realized what monsters were afoot I lopped off several of the limbs and plucked flowers before they could set. I think I made
them mad…they grew all the more. The one plant off the kitchen door (pictured above) is over four feet high by eight feet wide! So far it has produced more than 70 full sized fruits, with at least 30 more still ripening. (Folks, that's over a bushel from one vine!) I can't sauce down, blanch and freeze, or give them away fast enough.
Next summer I will keep in mind there is only one person in this house that cooks. And to not plant veggies where the old chicken coop once stood.
Oh, and here are a few recipes to use up some of the multitude from the garden:
Fresh Ratatouille-ish 
8 med. tomatoes, blanched/skinned and diced*
1 med. Eggplant diced (skin on)
3 small summer squash, sliced
2 small zucchini, julienned (or omit summer squash and use a total of 5 zucchini diced)
1 tbl. each, dry, oregano, basil
1-3 tsp salt (to taste)
1 tsp. fresh ground pepper
Olive oil
Sauté Eggplant in olive oil until slightly tender, add squash and sauté until they are tender. Add remaining ingredients and simmer for 15 minutes.
*Or 2 cans Mexican style stewed tomatoes
Fresh Tomatoes Soup
½ stick butter
3 chopped sweet (Vidalia) onions, about 2 cups
8-10 cups fresh chopped tomatoes, skinned or not
1/8 c lemon juice (about 2 tbls)
4c vegetable or chicken stock (one large box)
¼ c thickening agent; flour, gluten free mix, or instant potatoes (Optional…I sometimes like it clear)
½ c fresh minced parsley, lightly packed
½-1 tsp salt (to taste)
½ tsp fresh ground pepper
Sauté onions in butter, add broth, tomatoes bring to a boil, turn down heat and simmer for 30 minutes. Puree half the batch. Add thickening and simmer another 10 minutes. Add parsley, salt, pepper, cook until parsley is tender. Serve with a dollop of sour cream.
Tomato Bake
1 box Quinoa shells or bag of egg noodles, cooked and well drained
4-6 cups diced tomatoes (about 8-10 fruits)
1/2 tsp fresh ground pepper
(If using Quinoa, 1 tbl sugar)
1/2 tsp salt
2 tbl butter melted into cooked noodles
Take 9×14 glass baking dish, greased. Add buttered noodles, add seasoning to tomatoes and pour over noodles and mix together. Cover with foil. Bake 350 for 15 minutes, uncover and cook another 15 minutes or so until top begins to dry just a bit.
You can also top this casserole with any kind of cheese, seasoned coating mixes like Shake and Bake, French's Fried Onions, or the pot-luck favorite–precooked stuffing mix layer on top. Do not cover with foil if you are adding any of the toppings.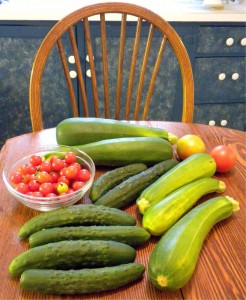 In the Beginning…