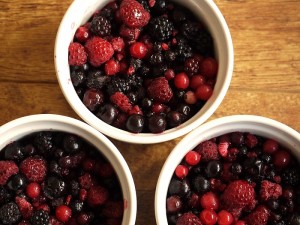 Are you gathering with friends and family after Memorial Day services? Wondering what to bring to the pot-luck? Bring a pie! Its easy to tote, doesn't need ice, can be made ahead and is a fun we-be-fancy dessert to share!
Since the Civil War, Memorial Day, formerly known as Decoration Day, is a day to honor our deceased veterans. Much like All Souls and All Saints days celebrated in late autumn, families gather and remember the dead and pray for the repose of the soul.
During May rhubarb in Michigan is abundant and, at the grocers, berries plentiful; all make yummy pies. Using those fruits as starters, here are a few of my favorite pies shared during Memorial Day weekends.
Red, White, and Blueberry Cream Pie

This pie tastes like a cross between cheese cake, cream pie, and a regular berry pie. It is my most requested dessert!

One 9" pie shell, unbaked, pressed into pie plate.

Filling, mix together, set aside for about 5 minutes:

1 tsp corn starch

2 tbl flour

1 ¼ cup sugar

¼ tsp salt

1 cup sour cream

1 egg beaten

Fruit: 3 cups fresh berries. I usually use a pint of blueberries, half-pint red raspberries, and quartered strawberries to make up the difference. Evenly spread fruit into bottom of unbaked pie crust.

Pour filling mix over berries. Bake 400º for 35-40 minutes (use a pizza pan underneath in case it bubbles over).

Crumble Topping: mix together

2 tbl sugar

3 tbl chopped pecans or walnuts

3 tbl flour

3 tbl butter

After 40 minutes, remove pie from oven, and sprinkle topping over pie. Return to oven and bake for another 15-20 minutes. Chill before serving.
For my birthday–May 30th–my grandmother would bake a rhubarb-custard pie instead of cake. Though best served chilled, we would occasionally eat it warm with vanilla ice cream.
Grandma's Rhubarb-Custard

9" pie crust for top and bottom

Filling:

1 ½ cups sugar

3 tbl instant tapioca

2 egg yolks

Let stand for 15 minutes, and then add…

3 cups fresh rhubarb, sliced in ½" pieces

Place pie shell in 9" pie plate; add filling, cover with crust. Crimp edges and cut vents into top crust. Brush with beaten egg whites and lightly sprinkle with about a teaspoon of sugar. Bake 350 º for 1-1 ½ hours until crust is brown. Use a pizza pan underneath pie in case it bubbles over.
This blueberry pie is a quick and easy pie with a little zest, great for any occasion!
Margaret's Blueberry Pie

9" pie crust for top and bottom

Filling:

4 cups blueberries

1 ½ cup sugar

3 tbl corn starch

2 tbl instant tapioca

½ tsp grated lemon peel

1/8-1/4 tsp nutmeg

1 tsp fresh lemon juice

1 tbl cold butter (cut into eighths and dotted on top of filling)

Mix filling, pour into pie shell, dot with butter, and add top crust. Crimp edges and cut vent holes in top. Bake 400 º for 45 minutes, until crust is brown. You guessed it…use a pizza pan underneath pie in case it bubbles over.
So there you have it, simple as pie! A lovely practice as you make your dessert is to offer prayers for those with whom it will be shared.
Image courtesy morguefile.com.
Stay in touch! Like The Catholic Garden, Morning Rose Prayer Gardens' page on Facebook: