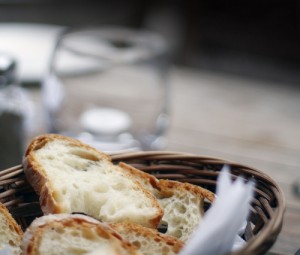 His name was Bill, though William seemed to suite him better. He was not very tall, only about 5' 6", a bit overweight and prematurely balding. He had bright pale blue eyes that smiled from behind thick wire rimmed glasses. Bill was a man of fine mettle, and a friend of a friend's husband. We had met a few times in gatherings of similar social circles.
We were in our mid-twenties, me recently entering college while he having graduated several years earlier and working in his field. Bill was an oil drilling engineer. He looked at geology with a very different eye than most people. He travelled about the country as confident in his brown tweed suit for consulting, as he was in Vibram Sole hiking boots and backpack surveying potential drilling sites.
One afternoon he called and asked me to join him and his sister for dinner at a French restaurant he had discovered near his apartment. This may not seem too remarkable at first reading, but Bill lived in Denver, Colorado and I resided near Detroit.
A few days after the phone call, to which I had said yes, I received in the mail plane tickets and an itinerary of the four day weekend out west. I had never flown before and was nearly beside myself with excitement.
My very Catholic grandmother was delighted for my adventure and equally concerned about my virtue. None the less, she took me shopping for appropriate clothing, for I was after all a college student with a wardrobe indicative of that station in life. She only mentioned once her concerns.
Bill's older sister was much like him. Short and round, thick glasses and prematurely aged. They both liked things that were aesthetically pleasing and minimalistic like modern art and jazz music—and really, really good food.
Apparently they had conspired to share with me, their city peasant, some of the finer delights of a true French cuisine. One of the items on the menu I had asked to try, along with the hors d'oeuvres they had ordered, was the onion soup. Bill's sister turned slightly to meet his eyes, rolling her own, and shrugged. He then looked at me, smiled indulgently (knowing how much I loved soups), turned to the waiter and order it…in French of course.
What came was totally unexpected. A bubbling and slightly browned covering of baked cheese sealed in the soup beneath. I waited with great expectations as the soup cooled enough to consume. When I finally broke through the crusty cheese the aroma filled my senses, as did the taste of its hearty broth and sweet onions. It was by far one of the tastiest and most challenging soups to eat—being somewhat messy with the stringy cheese and trailing onions dripping steaming broth.
I thoroughly enjoyed that soup and often ordered it at restaurants back home, knowing each time that I would face the same daunting challenge of how to consume it with some dignity and grace.
The following stove top recipe tastes very much like the baked French Onion Soup served at restaurants but with the dripping hazard some what reduced.
Tortellini Onion Soup

3 large Vidalia sweet onions, cut into quarters and thinly sliced

1 each: carrot, celery stalk, medium parsnip, diced

2 tbl. olive oil

1 tbl. butter

32 oz. beef broth (pre-packaged or paste dissolved in water, don't use bouillon cubes)

16 oz. vegetable broth (pre-packaged or paste dissolved in water…again, no cubes)

1 pkg., 9 oz., cheese tortellini, fresh is better but frozen works just fine

Salt and pepper to taste

Melt butter in olive oil and sauté sliced onions, when starting to turn clear, add remaining diced vegetables and cook until tender. Meanwhile, in large stock pot bring broth to a boil, add sautéed vegetables and tortellini. Simmer for about 5 minutes until pasta is tender. Add salt and pepper to taste. Serve with fresh hard crusted bread for dipping into soup.
I've tried unsuccessfully to change up this recipe by using regular, not sweet, Vidalia onions or omitting the parsnip. In both instances the flavor was changed, and not for the better. The sugar content of Vidalia's when they're cooked really makes this soup. The parsnip adds a flavor that is hard to identify but seems to be crucial to the excellence of this recipe.
(Image by Kellie L. Folkerts, courtesy shutterstock.com)