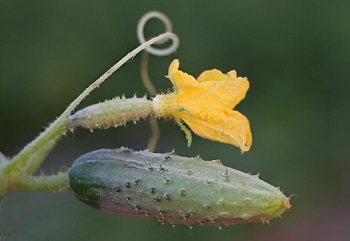 It's August and in Central Michigan the farmers' markets are in full swing. There are family reunions taking place and end of summer gatherings held at a moments notice.
Its also time to pick up speed harvesting the veggie patch. I've tried to keep my garden under control with only one or two plantings of a vegetable type, and still there is plenty to give neighbors or donate to food shares—I've watered a lot during this year's drought, so there's that adding to the abundance.
The tomatoes are still green (there will be a lot of them ripening all at once!) but the Straight Eights cucumbers are freakishly productive—unwittingly I planted three hills. With a bumper crop coming on faster than I can give them away, I made a couple of my favorite cucumber recipes. Thought you might enjoy them too!
This cucumber salad is a single person's size, but can be double or triple as needed. Keep in mind it only keeps for 24 hours and then separates becoming watery…cucumbers are like that, you know.
Creamy Cucumber Salad

1 large cucumber, peeled, thinly sliced, sprinkled with 1 tsp. table salt and set aside for 30 minutes, then drained

COMBINE:

½ cup sour cream

4 tsp. cider vinegar

2 tbl. fresh chives (or 1 tbl. green onion tops diced)

1 tsp. dried dill weed

1/8 tsp. cayenne pepper

Pour sour cream mix over cucumbers and gently mix. Refrigerate for 30 minutes. Serve.
This next recipe is a quick salad, and my favorite! Though the measurements are flexible, it always comes out perfectly fine: two parts sour cream to one part mayo. It too separates, though because it lacks vinegar not quite as bad. I've eaten it up to three days out by just draining the water off the top.
Dilled Cucumbers in Sour Cream

2 medium cucumbers, peeled, thinly sliced

COMBINE:

1 cup (small tub) sour cream

1/3 cup mayonnaise (not salad dressing!)

2 tbl. dill weed (for each additional cup of sour cream/mayo, add another tablespoon)
The following recipe will keep for a week! I highly doubt these addictive little crunchers will last that long. I love the crispiness of the cucumbers and the cooling flavor of this salad.
Pickled Cucumber Salad

3 medium cucumbers, skin on, thinly sliced

½ Vidalia onion, thinly sliced

3 tbl. fresh minced dill (or parsley), up to 1/3 cup if desired

COMBINE: Mix until sugar is dissolved

½ cup white vinegar

1 cup sugar

¾ cup water

½ tsp. table salt

In a 2-quart, sealable glass container toss onions and cucumbers with dill. Pour liquid on top, cover and let set for 24 hours (well, okay, 10 hours if you want them with dinner).
This recipe takes more time, but is well worth the effort. A familiar summer-time fare in my kitchen.
Gazpacho

2 cups cucumber, peeled and chopped

3 lbs, approximately 6 cups, chopped tomatoes

32 oz. tomato juice

1 ½ cup green bell pepper, chopped

1 ¼ cup Vidalia sweet onion, finely diced

1 cup celery, finely diced

3 large garlic cloves, minced

1 tbl. rice vinegar

1 tbl. cider vinegar

1 tbl. balsamic vinegar

¼ tsp. dried basil

¾ tsp. table salt

½ tsp. fresh ground pepper

½ tsp. hot sauce

Combine all ingredients, cover and chill for 4 hours. Yields 8-12 servings.

I have often substituted home canned or frozen tomatoes for fresh, but then reduced the juice by 8 oz. The vinegar combinations can be whatever you have on hand, except for white vinegar which is too harsh for this recipe. It is a nice change of taste to use red bell peppers, or English cucumbers with their skins on.
I hope you enjoy these recipes. May God bless you with enough to share.
Image by svklimkin, morguefile.com.
Stay in touch! Like The Catholic Garden, Morning Rose Prayer Gardens' page on Facebook: