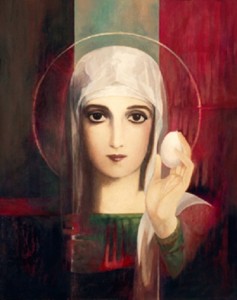 In anticipation of her feast day, let us pray:
St. Mary Magdalene,
Hear our prayers and carry them to our beloved Lord. We pray for our Sisters and Nuns who seek Jesus as you had sought him, in a world determined to destroy the Christ.
Guide them as a community of women to follow in your steps, and share the Good News with the ignorant and those mired and lost in sin. Strengthen them in prayer, console them in struggle, bring them peace in their final hour.
We ask all this of you in Jesus name. Amen
Original artwork by Richard Stodart, Mary Magdalene, 1995. Lithograph available…and its a lovely litho at that! I have one.