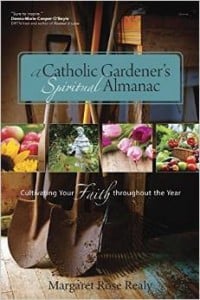 For years I've enjoyed reading the Farmer's Almanac. All the random fun pieces of information and facts about growing and harvesting, were eagerly read throughout the year. I bought a new edition every January.
It was that love of almanacs that lead to the writing of A Catholic Gardener's Spiritual Almanac, released by Ave Maria Press in 2015.
The construction of the book is, of course, by month, and each month is themed. It coordinates a garden topic and a liturgical garden plan, with what is taking place within our Catholic Church during that month.
Like most almanacs there are stories, tidbits of fun facts, quotes, and gardening information. Its not meant to be read all at once, but picked up while enjoying coffee or in the evenings, a light read before bed.
I've offered a way to not only grow in a garden, but also the garden of your soul. I hope you'll consider picking up a copy and maybe send one to a gardening friend.
Peace and all good in the new year!