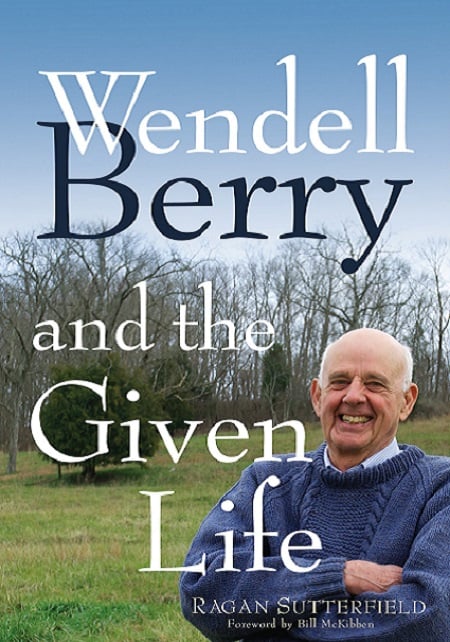 We all get asked now and again, "What are you reading?" In the past year or so I've read, among other titles, Seeking Jesus in Everyday Life; Teresa of Avila, the Book of My Life; and Gerard Manley Hopkins; the Major Works.
Of late, I've enjoyed Ragan Sutterfield's wonderful new book Wendell Berry and the Given Life (Franciscan Media, 2017). I've never read any of Berry's (prolific!) writings—for a garden lady in her sixties that's hard to believe—and was delighted by author Ragan Sutterfield's collection of essays about the philosopher.
The author's compilations of Berry's expansive writings fostered an understanding of the relationship of humans and nature. Each chapter distills a topic—such as givenness, work, economics, or language and peacableness—weaving together Berry's thoughts with other Christian writers.
Sutterfield synthesizes Wendell Berry's writings and his vision that our world and our life are gifts to be lived in and through a moral compass focused on 'the other', our neighbor. Much of the book fitted neatly with my Benedictine experience of living a virtuous life in a world often neglectful of those spiritual principles.
There is the humility of our creatureliness that comes through a reflective wisdom of interdependence, as Berry says "…that is born from soil…and home." As Sutterfield's essays highlight, Berry emphasizes the importance of stability and community of place.
We have come, as Elizabeth Scalia has written, to a generation of strange gods, where 'virtual community' is only one step away from imaginary. Sutterfield's book reminds us of Wendell Berry's conviction that we are designed to reach out—in our place, whether city dweller or along farm lanes—and touch our neighbor, our land, and embrace our Lord within the creation we were given.
Sutterfield's lovely collection of essays was a help to me in that it brought together, concisely and cohesively, the nearly overwhelming abundance of Wendell Berry's written works. The author masterfully weaves together Berry's philosophies and makes it easy for the reader to see the truths of "a given life". I am grateful for Sutterfield's new work and my introduction to Wendell Berry through it.