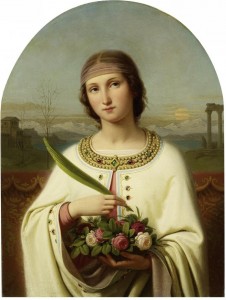 September 1 was a big day for us gardeners and, well, all naturalists, when Pope Francis instituted within the Church that date as the World Day of Prayer for the Care of Creation.
Vatican Radio reported the event, in which Pope Francis noted that…
…the initiative follows in the footsteps of the Orthodox Church which, for the past 25 years, has dedicated September 1st, the beginning of a new year in the Orthodox liturgical calendar, to care for the environment. Since that time, the World Council of Churches has also marked a month-long 'Time for Creation' stretching from September 1st to the feast of St Francis of Assisi on October 4th.
In the spirit of this time for creation I will share with you until October 4 a few gardening saints who knew the value of nature.
St. Dorothy of Caesarea, c.a. 311, Turkey
Former Memorial, February 6, Patron of Florists and Gardeners, Roses and Fruits
This saint's history has been told with varying bits of the literary license often used by storytellers. The central theme of these stories is that she chose to remain a virgin, refusing to marry or compromise her Christian faith. For this she was to be martyred.
As she was led to be killed, a young lawyer, whom it is said she refused to marry, jeered and mocked her. He haughtily told her when she arrived in heaven to send him the celestial flowers and fruit that she claimed grew there. Dorothy said she would indeed send him flowers and fruit from paradise. During that winter shortly after her death, and some storytellers say the very same winter's day, an angel disguised as a young boy brought the lawyer these gifts in a basket wrapped in linen. The basket the angel carried contained the most exquisite roses, some still in bud, and beautiful and unblemished fruits.
The young lawyer was astonished, because it was impossible to find these fresh plants at that time of year. He recognized the miracle of the virgin Dorothy and became a Christian and too was martyred…he is St. Theophylus.
Fruit trees were often blessed on her feast day of February 6 because of her connection with blooming and fruitful miracles. The following prayer is often used and found in the Book of Blessings[i].
Blessings of all kinds of Fruit Trees and Vines

V. Our help is in the name of the Lord.

R. Who has made heaven and earth.

V. The Lord be with you.

R. And with your spirit.

V. Let us pray.

We beg You in Your goodness, almighty God, to pour the showers of Your blessing upon these newly budding trees and vines which You have made, and which You have been so kind as to nourish with temperate weather and sufficient rain. Bring the fruits of Your earth to full ripeness. Grant, too, that Your people may always give You thanks for Your gifts, so that You may fill them that are hungry with the fruits of a fertile land and that the poor and the needy may praise the glory of Your name, through Christ our Lord.

R. Amen.
Her feast day was removed from the revised Roman calendar in 1969. It was decided that what was perceived as religiously motivated fiction had taken a cultic turn for factual history by her followers.
For more garden saints, my book, A Catholic Gardener's Spiritual Almanac, has them listed by month!
Image Franz Ittenbach [Public domain], via Wikimedia Commons.
[i] Canadian Conference of Catholic Bishops, National Liturgical Office Publication Service. A Book of Blessings. Ottawa, Canada; John Deyell Company, 1981.