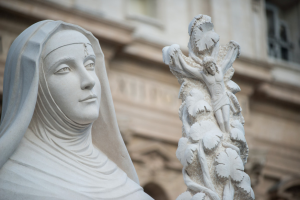 My excitement cannot be contained at the new sculpture of St. Rita of Cascia, the patron of desperate causes. Though she is not my patron saint, she is well loved.
The article at Aleteia, written by Sub-Deacon Antoine Antoun, Beirut, shares the story behind its origin. He notes…
How appropriate that this was done by someone from Lebanon, and from the rocks of Lebanon, specifically from Tartej. From these rocks, Nayef Alwan, who is from Aitou al-Zgharta in Lebanon, sculpted the statue of Saint Rita. This statue will be erected at the birthplace of Saint Rita—at the entrance of the town of Cascia, Italy…
St. Rita's tomb with her incorrupt body is at the Basilica of Cascia in Italy.
Image by Antoine Antoun, Aleteia.org. Used with permission.