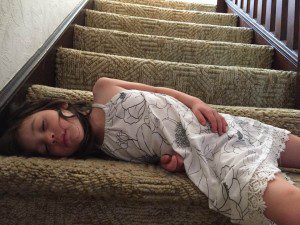 This is about where I am as I consider the number of boxes before me that still need to be emptied and their contents burned in the small bonfire of my vanity.
Matt has filled our bedroom with books. You probably think I'm being hyperbolic. Perhaps I am, except that everywhich way I turn I am banging my toes on them–piles of them arranged liberally around the floor intermingled with odds and ends, shoes, and spaghetti-like computer cords. Meanwhile, because I haven't put anyone's clothes away or figured out where dressers will go, or found hangers, or done anything in anyone's bedroom, clothes have been carefully strewn all over the upstairs. It's like having seven cats who drag the laundry around, instead of only one.
Still, the house, which I think I might call Totliegh, unless someone objects, which they might because I haven't asked them yet, is so charming. No matter where I am and what kind of pile of stuff I am avoiding, I can lift up my eyes and see something charming. Every view from every window is restful. Every doorframe bears a thoughtful examination. Every room calls you to sit down and rest awhile. This must be why I am making such slow progress. I keep stopping and gaping at all the beauty. But also, I'm tired, and so I just stare at the stuff instead of deciding where to put it.
The main thing this is week is to turn a portion of my attention to the pile of work gathering itself for me at church. I looked in the windows of my Sunday School rooms yesterday and then shuffled away, disconsolate and overwhelmed. Where even to begin? How come the summer can't last like six months? Why does time have to keep ticking along, making me older and more behind?
Struck spiritually dumb during the sermon yesterday–a thundering exposition of James 4:13-17 which begins, "Come now, you who say, 'Today or tomorrow we will go into such and such a town and spend a year there and trade and make a profit'- yet you do not know what tomorrow will bring. What is your life? For you are a mist that appears for a little time and then vanishes." All I do is plan. I am always planning. My lists and my calendar and the swirling of my anxiety are the substance of my personhood. What do you mean, O Troubling James, that the only certainty in life is death? I need to know, I am sure, what tomorrow will bring. But also today. I am sure that I need a guarantee that all my plans for today will fall servilely into order.
I will now arise and go about my life, which, if it has to be a mist, should at least be a substantial one that hangs around in the corners and refuses to give up, even for the blazing son. Pip pip.