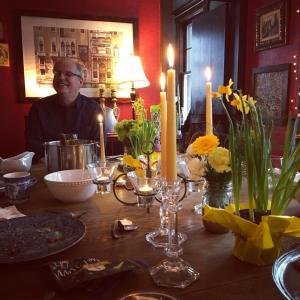 Yesterday, at the ghastly hour of eight in the morning, I drove my parents to a bus which conveyed them on to JFK so that they could fly to California. They are off to see friends and family for two weeks and then come back here with an eye to going back to Nairobi in March.
I'm telling you this because so many of you prayed and wrote last October when I suddenly leapt up and rushed to Africa to help them come here. But then I fell silent for the most part as my dad was seen by every possible doctor from here to kingdom come. An update is therefore long overdue.
Here is little excerpt from my mother's blog, explaining how things have gone the last few months, and years.
The doctor we saw this week admires the fact that at least 10 other doctors in both Kenya and the United States have ruled out all the big, scary things like heart disease, cancer, Parkinson's, ALS, MS, ME, Lyme Disease, Guillain–Barré, complications from malaria, Zika, you name it. But they haven't put a name to what brought Bob to his knees this time. What has probably happened is that a viral infection in the past seriously compromised something in his neurological—or maybe immune—system, and while at this distance in time, no particular sort of damage can be pinpointed, when something comes up, Bob goes down.
There was, most recently, the illness we all got in Kenya in August, (several days of gastrointestinal misery that swept hither and yon). Most of us got over it, but two weeks later (the time it often takes, according to the doctor, for a neurological reaction to kick in) Bob began having severe muscle weakness, abdominal muscle spasms, and finally wasn't able to walk without help. After much anxiety, when my own world seemed to be crumbling, our daughter Anne flew to Kenya and helped me, with the aid of colleagues, our insurance company, and a medical evacuation team to bring Bob back to North America. This is not the first time Bob has returned to America in a wheel-chair. The first time was in 1999, when we came back to New York for Anne's graduation from Cornell.
As each potential illness was knocked off the list of possibilities, I won't lie, my blood pressure went down a little more. And, as you can imagine, we have settled in and loved being all together in one place for longer than a few weeks. The ordinary daily back and forth, in spite of all the anxiety, has been an unexpected gift in the middle of what originally promised to be the usual year.
As we have daily reminded ourselves over the last several months, none of us make it out of here alive. The body is frail, the mind full of anxiety. I mean, gosh, right now I have the full blown flu. But even as we go one by one down to Sheol, God's mercy and goodness stretches to match even the moment we are in, all the way to the end of time. I'm so grateful to see my dad walking across the room without stopping to lean on every wall, to see the strength return and the anxiety subside. But now, of course, we are going to miss them terribly. The Lord giveth, I've been saying to myself, but then the Lord taketh away.
So thank you for praying!