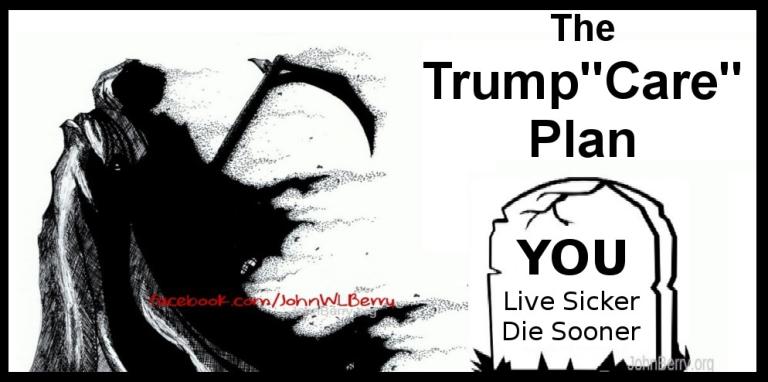 The Congressional Budget Office, headed by a Republican appointee, has determined that millions of Americans will go without healthcare insuring that thousands die much like they did during the pre-Obamacare days. They estimate that 14 Million Americans will lose insurance in the next year and "an estimated 52 million people would be uninsured" within a decade. They also estimate that the U. S. Government will save about less than one percent of our annual budget.
"Proponents of the plan, led by House Speaker Paul D. Ryan (R-Wis.), have argued the total number of people covered is the wrong way to measure the law's impact." Of course it is. Not having access to healthcare is definitely the wrong way to measure the impact on the poor and those unable to get insurance for whatever reason.
Americans who gained healthcare because of the Affordable Care Act would be the chief victims of Trump"Care."
The estimates starkly contrast with the Trump administration's claims that more people would be insured under the Republican bill than would be if Obamacare was kept in place.

The projected loss in coverage next year alone equals about 70 percent of the 20 million or so people who have gained insurance as a result of the Affordable Care Act, as Obamacare is formally known.

The total loss in coverage over the next decade would wipe out Obamacare's gains in coverage, and then some.

"In 2026, an estimated 52 million people would be uninsured, compared with 28 million who would lack insurance that year under current law," according to the CBO's report.
Other victims would include older Americans.
Analysis shows
: "Under Obamacare, (a 64 year-old who makes $26,500) would also pay $1,700 in premiums for insurance (as would a 21 year-old). But under the Republican bill, (the 64 year-old) would pay $14,600 — more than half his annual income. That amounts to more than a 750 percent increase in premiums from Obamacare to the Republican bill." This condemns older Americans who are poor to deeper poverty or no healthcare. And Republicans are cool with this as long as the wealthy are not inconvenienced.
Not even two months ago Trump promised that:
"We're going to have insurance for everybody," Trump said in press conference Jan. 11. "We're going to have a healthcare that is far less expensive and far better." He also told us that: there would be "lower numbers, much lower deductibles."
In a "60 Minutes" interview Trump promised very clearly that:
"I am going to take care of everybody. I don't care if it costs me votes or not. Everybody's going to be taken care of much better than they're taken care of now."
Well now we know that he lied, congressional Republicans lied, his supporters both bought and repeated the lies and Americans will die because of it. They sure have an odd way of Making America Great.
Read the full CBO report here.