Update:
BREAKING: SCOTUS maintains stay of inmate Don Davis' execution! One life spared – many to go!
The Communications Director for Arkansas' Attorney General tweeted at 11:48 local time, "#SCOTUS maintains stay of Inmate Don Davis' execution. #arpx #ARexecutions."
#SCOTUS maintains stay of Inmate Don Davis' execution. #arpx #ARexecutions

— Judd Deere (@JuddPDeere) April 18, 2017
Additionally, it is reported that Arkansas Governor's communications director says, "Don Davis and Bruce Ward will likely not be executed before the state's midazolam expires on April 30."
So many hours. So few words. #ARexecutions for Monday on hold per #SCOTUS order. #ARNews pic.twitter.com/9QmuTsYkfb

— Marci Manley (@Marci_Manley) April 18, 2017
The lust for blood that is capital punishment continues to possess the State of Arkansas this Easter.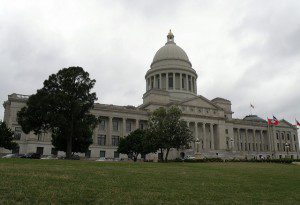 Arkansas is preparing to execute Don Davis tonight in case SCOTUS happens to allow it in the next few minutes.
Local media report media witnesses are being selected and moved into place, though Mr. Davis has not been moved from his holding cell into the death chamber.
If the state sanctioned killing takes place, it is expected to be one of eight originally planned for this month.
As the WaPo reported this evening,
At the heart of the fight is an unprecedented flurry of executions that have pushed Arkansas to the forefront of the American death penalty at a time when states are increasingly retreating from the practice. Arkansas Gov. Asa Hutchinson (R) scheduled eight lethal injections to take place over an 11-day window, a pace unmatched in the modern era, which he defended as needed because one of the state's drugs is expiring this month and no replacement could be guaranteed amid an ongoing shortage.

[…]

The Arkansas Supreme Court on Monday afternoon narrowly stayed the two executions scheduled to take place later that night, which came after a federal judge had previously issued an order over Easter weekend staying all the executions. Other court orders had also blocked individual executions and barred the state from using one of its lethal-injection drugs.

After the Arkansas Supreme Court on Monday afternoon stayed two scheduled executions without explanation, attorneys for the inmates said this meant the lethal injections were off for the night.

But Leslie Rutledge (R), the state's attorney general, quickly sought a review of what she described as a flawed decision, filing a motion with the U.S. Supreme Court seeking to vacate one of the two stays, focusing the state's efforts on trying to carry out one execution Monday night. Judd Deere, a spokesman for Rutledge, said she decided not to appeal the stay halting the other execution, which the Arkansas Supreme Court also stayed last week, because the state rejected her appeal fighting that first stay and then handed down a second one.
Naturally, the Catholic leadership in the USA rebuked the scheduled executions – set to begin today, Easter Monday:
Bishop Frank J. Dewane of Venice, Florida and Chairman of the USCCB Committee on Domestic Justice and Human Development issued a statement this morning in response to the scheduled executions of seven men in 11 days in Arkansas. The state is planning to begin the executions on Easter Monday. Bishop Dewane joins the Catholic community of Arkansas, and people of good will across the country and around the world, in urging Governor Hutchinson to reconsider this plan.

"This Easter, let us ask the Lord for the grace to infuse our justice with mercy. May those in Arkansas who hold the lives of these individuals on death row in their hands be moved by God's love, which is stronger than death, and abandon the current plans for execution," Bishop Dewane wrote in asking for commutation of the sentences of those scheduled to be executed to life imprisonment.
We're minutes away from a decision…
Updates are being posted on Twitter using the hashtag #ARexecutions:
*Updated with news of SCOTUS decision.