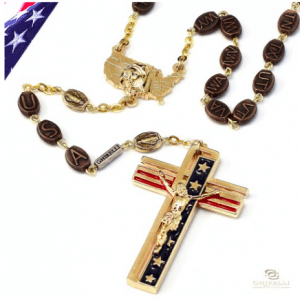 For only $42 this patriotic Rosary can be yours!
Description by Ghirelli:
With the new USA Rosary, we hope [United Statesians] far and wide will be strengthened in their resolve to be ever more faithful followers of Jesus, while praying a rosary for the United States.

Gold finish with red and blue enamel on the front of the Crucifix, with a portion of the Pledge Of Allegiance, "One Nation Under God", inscribed on the reverse side.

The Centerpiece, also in Gold finish, presents an image of Our Lady, with a map of the U.S. behind Her. The reverse side presents an inscription of Psalm 33:12. The Hail Mary beads are heavy antique copper-finished medals, with an image of the Immaculate Conception on one side and each state's individual abbreviation on the other side.
50 beads with the initials of each of the 50 states! Red and blue decorate the cross with a few stars. The centerpiece has Mary with the continental USA behind her.
If it were just the decorated cross, I'd think the rosary was intended to demonstrate how Jesus is, each and every day, crucified in the USA – in the weak, poor, and defenseless – but throw in the cost, the precious metal, the craving for Christendom and what do you have? Sacrilege, it would seem. I wonder how many people in the American Solidarity Party have already purchased this commodified piece of spiritual tradition.
Act fast! The silver rosary is already sold-out! Oh, btw, use promo code "PC2016" for free shipping!