Join Keith Michael Estrada on Facebook …
UPDATE (Friday, November 4, 2016 – 18:34 pacific time) : Catholic Answers (catholic.com) replied to our request for comment on Friday afternoon. A representative of Catholic Answers wrote, "Catholic Answers does not endorse any third-party assertions that go beyond what we actually say in our publications." The descriptions of the non-negotiables, "are taken verbatim (though abridged in some cases) from the bulletin insert we publish. The layout of the flyer, the party-platform comparison chart, and everything above and below the "non-negotiables" is not ours." Catholic Answers sent us a copy of their bulletin insert in noting the differences between their own publication and the unauthorized flyer included in Immaculate Conception's bulletin discussed below.
(Monday, November 7, 2016 – 11:12 pacific time): The source of the mysterious flyer has been revealed. See this post for more.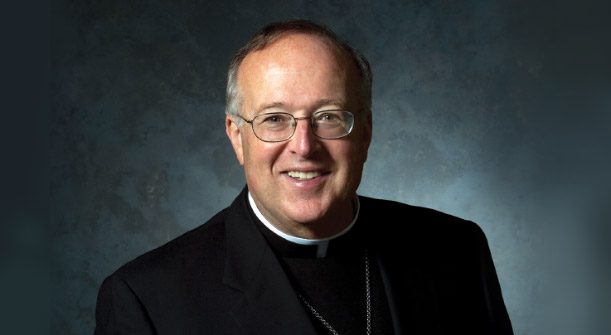 The Diocese of San Diego released a statement Friday afternoon by Bishop Robert McElroy concerning the distribution of political materials at Catholic parishes.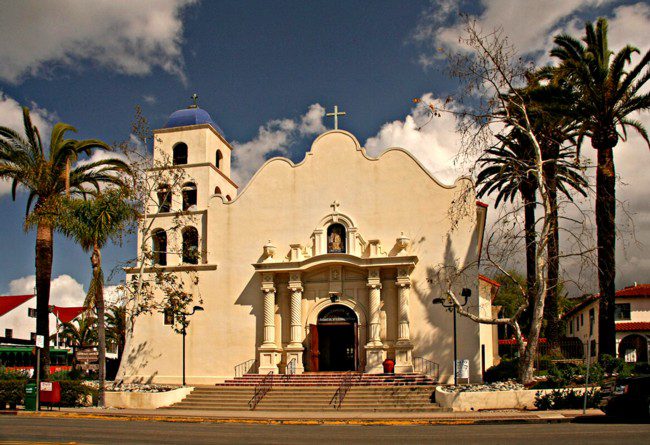 A flyer by an anonymous author made its way into parish bulletins at Immaculate Conception Parish in San Diego, warning that voting Democratic is a mortal sin – and that those who die in mortal sin are condemned to hell. The San Diego Union-Tribune's Joshua Stewart broke the story Wednesday afternoon and dozens of media outlets quickly regurgitated the news with a tremendous lack of nuance and unimpressive investigation.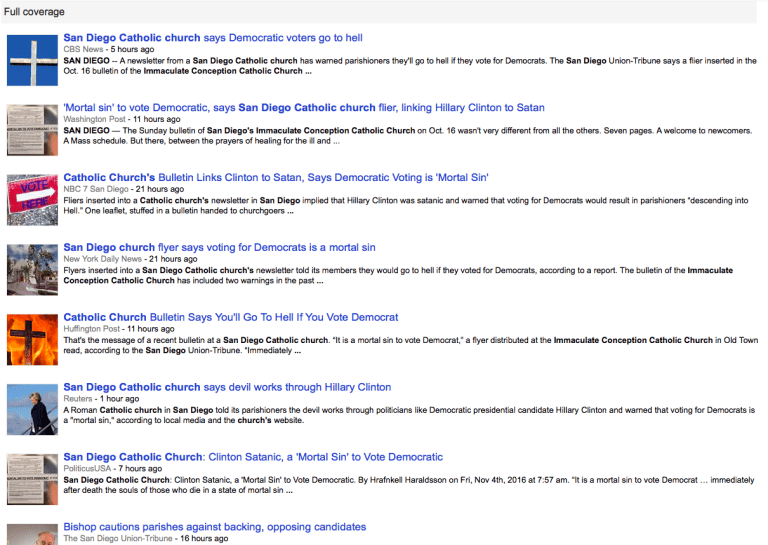 The flyer contained a list of "five non-negotiables", described as actions
that fundamentally conflict with the moral law and can never be deliberately performed under any circumstances. It is a serious sin to deliberately endorse or promote any of these actions, and no Catholic candidate who really wants to advance the common good will support any action contrary to the non-negotiable principles involved in these issues.
The insert then listed abortion, homosexual marriage, euthanasia, human cloning, and embryonic stem cell research and noted where each party platform stands on each. The Republican party platform, the flyer's author suggests, agrees with the Catholic position on every "non-negotiable" listed, whereas the Democratic platform does not.
Join Keith Michael Estrada on Facebook …
The flyer continues,
Based on the above, it is a mortal sin to vote democrat. If your bishop, priest, deacon, or other parishioners tell you to do so, you must walk away from them. Your immortal soul and your salvation are at stake – and so are theirs.

According to the Catechism of the Catholic Church (CCC) 1035," [sic] Mortal Sin, if not confessed, means Eternal Damnation=Hell. [sic] "…immediately after death the souls of those who die in a state of mortal sin descend into hell."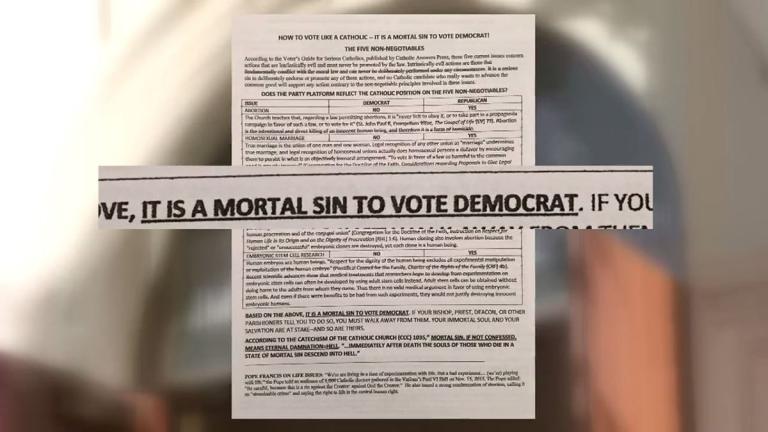 Curiously, the flyer invoked the authority of San Diego based "Catholic Answers" and its voters' guide when presenting these five non-negotiables. In fact, the descriptions of the non-negotiables come from the Catholic Answers voters' guide word for word with no mention of permission, endorsement, or rejection of the insert's overall message by the apologetics organization. Being unable to distinguish between where the voters' guide ends and the anonymous author's opinion begins, we reached out to Catholic Answers for comment and have received none. (Update: Catholic Answers replied to our request for comment; their comments are included at the very top of this post.)
Bishop McElroy's statement addresses not only the insert, but an article in Immaculate Conception's 30 October parish bulletin. The article, titled "Voting Catholic", penned by Father Richard L. Perozich, pastor of Immaculate Conception Parish, outlines positions inconsistent with those of the US Bishops' document Forming Consciences for Faithful Citizenship, and is referred to by Bishop McElroy in his own statement below.
The portion of the "Voting Catholic" article addressed by Bishop McElroy identifies "regulating the right to bear arms for free citizens in a nation where criminals and terrorists will always have weapons, and where government is now in opposition to the citizenry" and "the importation of immigrants whose religious values are to eradicate every belief except those of their own prophet and god, and to impose this on America" as two of ten slaveries imposed on the country "from our elected officials, appointed judges, and Catholics who have voted for them and supported them".
The same article by Immaculate Conception's pastor was criticized by some outlets as accusing Hillary Clinton of being linked to the devil.
Join Keith Michael Estrada on Facebook …
Bishop McElroy's
statement on the San Diego Diocese webpage
reads:
Catholic teaching points to the importance of several major issues in this presidential election year: abortion, poverty and economic justice, the environment, euthanasia, immigration, religious liberty, and solidarity within society. This final issue of solidarity has a particular importance at this moment because the very democratic impulse which is the foundation for our national unity is being eroded by partisan venom and personal attack.

In this environment, it is vital that all institutions in our nation participate in discussions about the election with civility and balance. It is particularly vital that religious communities do so.

This duty has been violated by one of our parishes, and thus it is essential to make clear:

It is contrary to Catholic teaching to state that voting for a Democrat or Republican automatically condemns the voter to hell;
It is contrary to Catholic faith to state that gun control legislation is a form of slavery;
It is contrary to Catholic faith to fan the flames of hatred against Muslims or any religious group.

The United States Conference of Catholic Bishops has issued a comprehensive statement on the substantive implications of Catholic faith for the current election.

It can be accessed at http://www.usccb.org/issues-and-action/faithful-citizenship/index.cfm. I urge all Catholics to consult these teachings, pray about the vote that you are going to make, and then in conscience select the candidates whom you are going to vote for in this very difficult year.
Breaking: Bp. Robert McElroy's statement on distribution of political material at Catholic Parishes https://t.co/bB6h5491WW @keithmestrada

— Mr. Keith M Estrada (@keithmestrada) November 4, 2016
Bishop McElroy's statement is very consistent with his public position on the matter. Late last month the Bishop said, "To endorse, or seem to endorse, a particular candidate is really intruding on what is the legitimate moral autonomy of Catholic lay men and lay women in their roles as citizens and believers."
On 1 November, the Bishop of San Diego addressed an audience at the University of San Diego,
I speak to you tonight as a bishop who is part of a long tradition in Catholic episcopal leadership in the United States which holds that both the Church and society are best served when bishops refrain from publicly endorsing or favoring, either directly or indirectly, specific candidates in partisan elections.
Joshua Stewart's piece noted that the flier was not endorsed by the parish:
The diocese said the flier was not authorized by the parish, but it was somehow inserted into the Oct. 16 bulletin.

"For all I know someone thought that they were doing a service," by putting it into the bulletin, Eckery said. "The pastor said it was not something he had reviewed or approved."
This raises questions, of course, concerning access to stacks of bulletins – at least access for enough time to stuff them with material that has not been approved and that contradicts the guidance offered by the Bishop of San Diego and that of the Bishops of the United States.
Nonetheless, even if the flyer was inserted in the bulletin without authorization and the knowledge of Immaculate Conception's Pastor, a review of bulletins published online shows that the parish has been sharing questionable material, at odds with the guidance of the US Bishops – even criticizing Bishop McElroy on at least one occasion – , for quite some time.
Assuming  Rev. Richard L. Perozich, the pastor of Immaculate Conception, is not publicly opposed to his Bishop, we might consider the possibility that the pastor is not taking the time to review the parish bulletin adequately.
For instance, the same 30 October bulletin had an article by Nicholas Senz published by Crisis Magazine critical of Bishop McElroy's pastoral approach.
Join Keith Michael Estrada on Facebook …
The bulletin from 6 March (2016) contained an article by Dennis M Howard published by Renew America critical of both Donald Trump and Hillary Clinton, but also fear mongering (and possibly supporting racism) with the following:
If you think we have a problem with radical Muslim immigration today, just imagine what that will be like in 2030, 2050, or later.

The truth is: if America and the West do not change NOW, the entire world may very well be living under Sharia Law by the latter half of this century.
An article in the 22 May (2016) bulletin by Robert Royal at The Catholic Thing criticized democratic socialism – even though Joseph Cardinal Ratzinger (before becoming Pope Benedict XVI) found it friendly to Catholic social teaching.
A 28 February article in the parish bulletin mocked "Democrats for Life":
Democrats for Life? What nonsense!

Catholics, or anyone professing to be pro-life, voting for a Democrat? What injustice and hypocrisy!
Etc., etc.
San Diego Union-Tribune's Joshua Stewart followed up his article with a note Bishop McElroy sent to priests throughout the Diocese after the paper published his front-page story:
"Let me stress again that while we have a moral role to play in explaining how Catholic teaching relates to certain public policy issues, we must not and will not endorse specific candidates, use parish media or bulletins to favor candidates or parties through veiled language about selectively chosen issues, or engage in partisan political activity of any kind," McElroy wrote.
In the same follow-up, Stewart reported
Legal experts said the parish's statements likely violated IRS regulations that prohibit tax-exempt organizations like churches from making political statements in support or against a candidate for public office.
It is not clear, however, if Stewart is referring exclusively to the unauthorized insert and, if so, whether he intended on having the sentence suggest that the "statements" belonged to the "parish", immediately after noting that they did not. If what the "legal experts" said referred to the unauthorized insert, I am not sure why it is being identified as the position of the parish.
Stewart also writes
It is not a mortal sin to support Democrats, and voters should use their faith-informed conscience when picking a candidate, the diocese said.
Though that may require some qualification, as it is more appropriate to say that supporting Democrats is not automatically a mortal sin (see Forming Consciences for Faithful Citizenship, 34).
The unauthorized flyer inserted into the bulletin should not concern parties interested in whether or not the parish violated IRS regulations – because it was unauthorized and is clearly inconsistent with the parish's position as made known through the Diocese. Headlines suggesting that a Catholic parish is either condemning those who vote for Democrats, or that voting for a Democrat is automatically a mortal sin, lack an understanding of what the Church teaches and diminishes the publication's credibility. The lack of oversight, however, allotted to the articles published in the bulletin should bother us.
Even though the bulletin articles referenced above lack nuance, proper attribution, disclosures, and disclaimers – and flirt with appearing as overtly partisan even though at least one article attacks Donald Trump,  suggesting he is insane (page 7) – they more so promote teachings inconsistent with those of the US Catholic Bishops and should not be considered for guidance on matters of voting or participation in civil affairs. (For the record, Lifesitenews and Church Militant, in addition to Fathers Frank Pavone of Priests for Life, John Lankeit of Phoenix, and Mark Goring of the Companions of the Cross, among others, all seem to be excellent examples of unreliable sources for guidance on at least these issues.)
While media outlets would do the public a great service to use greater precision in their articles, the parish will do well by sticking to worthy sources for Catholic news and articles of interest for its parishioners.
We'll continue to discuss this story as it unfolds, or hear from either the Diocese of San Diego or Catholic Answers.
Until next time,
Keith Michael Estrada