Join Keith Michael Estrada on Facebook …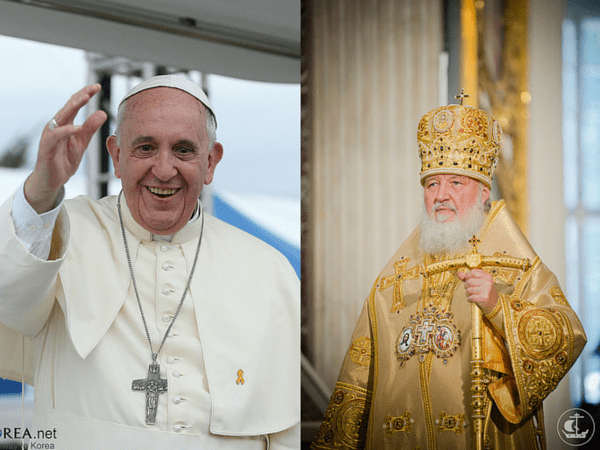 Pope Francis and Russian Patriarch Kirill are about to meet in Havana, Cuba.
The Pope just landed at Havana's José Martí International Airport and is scheduled to have over two hours with the Russian Patriarch in a historical event.
The text of the Joint Declaration has been prepared but may be amended during the meeting between the two Church leaders.
The live stream of the event is below.
Part 1 (This feed is finished but recorded. You can watch the landing and entrance here.):
Part 2 (Standing by. While the Pope and the Patriarch meet, there is no feed available. The stream is expected to go live in 15 minutes – 1:15pm Pacific/3:15 Eastern):
RBTH reports:
Patriarch Kirill of Moscow and All Russia and Pope Francis have agreed upon the text of their joint declaration, which they will sign at their historic meeting in Havana on Feb. 12.

"The text of the declaration was negotiated by the sides until late last night. The final amendments were introduced. It is necessary to hope now that the document in its agreed-upon version will be submitted to the meeting of the patriarch and the pope," Metropolitan Hilarion of Volokolamsk, head of the Synodal Department of External Church Relations, told reporters at the Vnukovo airport on Feb. 11, before accompanying Patriarch Kirill on his flight to Cuba.

Changes may be introduced into the text of this document in the course of the meeting itself, he said, declining, however, to disclose its contents.

…

It will be the first meeting in history between the Moscow patriarch and the pope. This issue has been on the agenda of relations between the two churches for almost 20 years. Pope Francis said, a few days ago, that the upcoming meeting has been prepared in secrecy for two years.

The persecution of Christians will dominate the agenda for the meeting, which is expected to continue for approximately three hours. In light of the situation in the Middle East and Africa, the two churches have decided to put aside their existing disagreements, and unite their efforts in order to save the Christians from genocide. The patriarch and the pope are also expected to discuss the abandonment of Christian values, which can be observed in Europe today. A joint declaration is expected to be signed after the meeting.
Pope Francis is scheduled to arrive in Mexico after meeting with the Patriarch this afternoon. Live coverage will be available on the Vatican's youtube page.
Stay in touch with Keith Michael Estrada's "Proper Nomenclature" on Facebook: