To bring him back with a twitch upon the thread
 by Leah Libresco
Today, I was recieved into the Catholic Church and was given the sacraments of baptism, confirmation, and holy communion.
I had expected, earlier this year, to choose Catherine of Alexandria for my confirmation saint.  After she was converted by a tutor, she king sent various scholars and theologian to argue her out of her belief, and, when she met them in debate, she made converts of them all.  She is the patron saint of apologists, lawyers, philosophers, preachers, students, theologians, and, generally, scrappy people picking fights in charity.  (Also potters, spinners, knife sharpeners, and haberdashers, but they're a little off the point).  St Catherine of Alexandria is everything I like best about myself.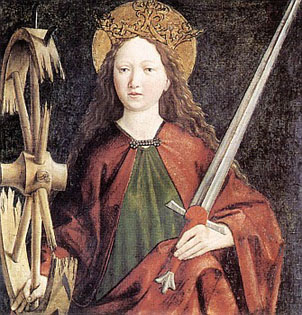 But she has no extant writings.  I wanted a saint it would be easy for me to get to know as themself, not just my image of them.  I wanted a confirmation saint that I could be more directly surprised and challenged by.  And I wondered if it made sense to pick the person who played to my strengths and my pride, instead of my weaknesses.
After I decided to convert, the book I read next was Augustine's 
Confessions
.  And the thing that spoke to me most was Augustine's love affair with Truth.  He sought after his beloved along a long and winding path, but his love and fidelity were powerful enough to give him the strength to walk away from incomplete philosophies. (
I was not yet in love, yet I loved to love…I sought what I might love, in love with loving
).
I've grown attached to Augustine's prayer "Give what you command, and command what you will."  Like Augustine, I had people who loved me storming Heaven on my behalf.  (Read more here.)