I am leaving the Oklahoma legislature. Last week was a week of formal goodbyes.
I gave a farewell speech to the House, which you can watch, if you'd like. Go here to see the video. The House Democrats held their annual Sine Die Party, and roasted me and other departing legislators. The Democratic Legislative Assistants prepared a delicious luncheon (Covered dish. All their best cooking. It was to die for.) with a cake with all our names and said another round of good-byes. I even got a small — and lovely — good-bye editorial in the Oklahoman.
We are still in the busiest time of the legislative process. We haven't shut down. Not at all. That means I'm going to be tres busy until we actually do sine die. (Sine die is the motion we make to adjourn the legislative session.) But I am grateful beyond words to my colleagues for giving me these many avenues of good-bye.
Each of these things is a rite of passage for what has to be a huge transition in my life. Leaving the legislature is a little bit like a soldier, coming home from a war. You are leaving a combative, total environment which engages you on every level and returning to a world that now seems out of kilter by comparison.
Wherever people are for a period of time, that becomes their normal. Normal for me has long ago become the totally unreal world of elected politics.
At the same time, I am way past glad to be leaving. God gave me something like marching orders for the rest of my life a few years ago when I was sitting in the cathedral at Fatima. I've dithered since then, occupied and preoccupied by the legislative wars and the many needs of my constituents. If you don't think that these things are a 24/7 occupation that devours of all your thoughts and passions, then, you my friend, have never been a legislator.
Those of us who legislate or who have legislated know that there are very few jobs that swallow you whole like legislating does. It is difficult to disengage enough to maintain your friendships and family and retain something of your personality.
As for fulfilling the call that God gave me, I found it well nigh impossible. I need more than corners of time in my days to write the things He wants me to write. I'm not going to discuss in detail what I think this is all about. I have a lot of praying to do first.
I do know that I am not going to abandon the political process. I am also not going to stop writing about the intersection of public life and Christianity on this blog. I will, if anything, be a lot more free to talk about these issues now that I'm not bound to protect the privacy of so many people.
That is not to say that I will be talking about closed door conversations with my colleagues or divulging the almost endless private things that my constituents have shared with me through 18 years of elected office.
I have represented, cared for and cared about thousands of people for a very long time. In the course of that, many of them have opened their souls to me. I have never and I will never talk about the people who trusted me to be their voice in government and who honored me by opening their lives and hearts to me in conversations that were in fact and in truth non-sacramental confessions.
All these things I take with me to my grave.
What I will talk about is the intersection of public policy and publicly stated comments, actions, etc. I've operated for a long time using the standard that if something is published and circulated publicly, I can talk about it. That won't change. It will, rather, be enhanced by the fact that I know what's behind these things. I will be a lot less guarded in my opinions in the future when I do not have the responsibility for many thousands of people on my shoulders.
Christians in America have a mountain in front of us. After more than two hundred years of having things our way, we are faced with a society in which we are beleaguered. We live in post Christian America. Our task is to re-convert our nation to Christ.  Right now, we are not up to that task. We are, in fact, confused, divided and overawed by our opposition.
That's what I'm going to write about. Because somebody needs to do it. And because I am uniquely qualified for the job.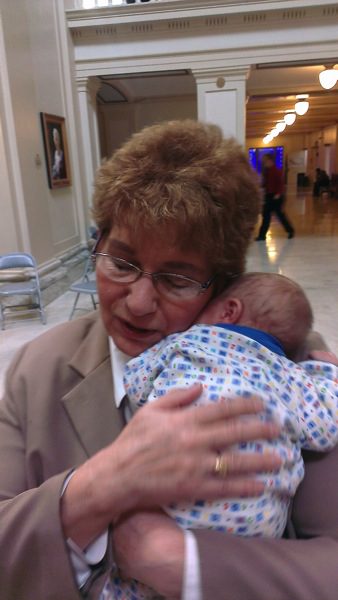 My favorite Representative Hamilton photo. From Rose Day 2014. 
I tried to remember to thank everyone in this speech, but I somehow forgot to mention — even though I wrote their names down and they were right in front of me — two of the most important people. Louise Scoles, who fought for my election and was my sponsor when I entered the Catholic Church. And George Violette, my brother by another mother, who is family in every way except blood. I love both of you.
The "Tony" I introduce in the video is Tony Lauinger, president of Oklahomans for Life and Vice President of National Right to Life. He is my friend. I know that he will remain my friend after I leave office.
If you want to watch the speech, go here.