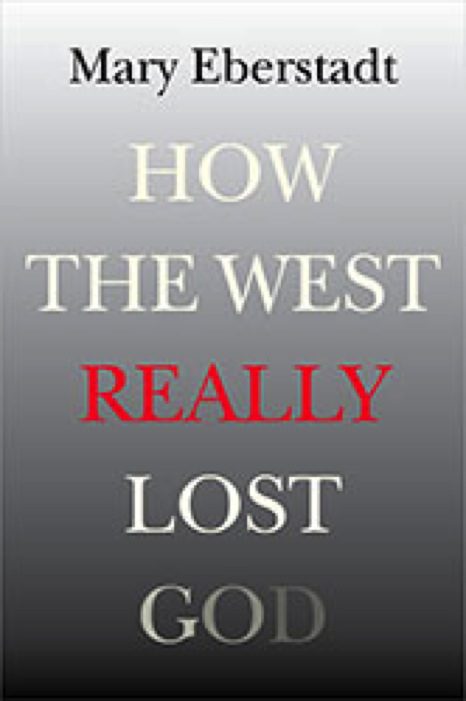 To join the conversation about How the West Really Lost God, a New Theory of Secularization or to order a copy, go here.
How the West Really Lost God, a New Theory of Secularization, is an important book. It's the kind of book that is bound to provoke discussion. It will be lauded and excoriated.
That's because it deals with important issues and advances an argument for a new explanation of much-discussed social trends. A lot of people have a social or professional stake in the old-school explanations of why secularism has taken hold in the West. Many social scholars have based their life's work on the gradualist explanation of secularism.
Social scientist gadflies, such as Dr Richard Dawkins, are attempting to base new socio/political movements at least tangentially on those same explanations. When someone comes along and advances a new theory about what has become a kind of social science cant, the reactions will be strong and varied.
This is exactly what has happened with Mary Eberstadt's fine book, How the West Really Lost God, a New Theory of Secularization. Ms Eberstadt's premise is that the rise of secularism is linked to the demise of the family. She does a good job of establishing a historical correlation between these two trends, going back hundreds of years.
The theory she advances in her book is that this is more than a correlation, that the destruction of the family leads directly to a lessening of religious fervor, specifically as it relates to Christianity. In other words, she's saying that strong families buttress the practice of religion and the loss of family weakens it. She is saying that the loss of family, which began with the industrial revolution, is the primary cause of the rise of secularism.
I am not sure exactly what I think about this. I agree that the correlation between the loss of family and the rise of secularism is there. I also agree that single people go to church less.
I do think she Ms Eberstadt is correct that the loss of family is a real factor in the rise of secularism. But I tend to think that there are economic forces at work here that underlie the loss of family that are probably the true, root, cause. I also think that the two things feed on one another. Declining religion also leads to a decline in family.
My opinion, which is not based on research, but is just my opinion, is that one of the main reasons that a smaller percentage of single people than marrieds go to church in today's society is because they feel compelled to engage in sexual activities which the church forbids. Notice I said "compelled." Sex is a powerful, even overwhelming, drive in young people. Young human beings go through a period of years in which their hormones are running so strong that no matter what they're doing, sex is in their minds somewhere.
However, much of the sexual behavior they engage in today is being pushed on them by adults. Sex education, the media and even their own parents push them toward sexual awareness before they want it and then toward sexual activity before they are ready for it. They are often coerced into sexual activity at a point when they are actually scared of it and would, if allowed to make free choices, much rather just talk and giggle about it for a few years.
They are also forced, by the way adolescent social life is currently constructed, (again by adults) to engage in sexual activity whether they want to or not in order to be one of the group. At that point, their sexuality is no longer their own and it is not so much a response to raging hormones as it is a coerced situation.
Progressive churches often fail to offer a bulwark or any sort against this, while traditional churches, just tell young people to stay pure and not engage in sex outside of marriage. Church does not give kids, even those in intact families, the resources to deal with the cultural landslide of influences pushing them into early sexual activity. What churches do is make them uncomfortable about what they are doing. They are betrayed by progressive churches who are actually part of the problem. They are simply given mandates with no real comprehension of what they are facing or support in facing it from traditional churches. It is easier, once they reach the age where they can decide, just not to go.
Once they are married, they usually find it possible to comply with church sexual teachings and their social group, both at once. The dissonance is removed. They can go to church again.
Unfortunately, it's not as simple as that. All this sexual activity weakens or even destroys the bonds that sex forms between spouses. It contributes to the rise of unwed births, and once people are married, their prior sexual promiscuity makes it easier for them to break their vows.
People aren't as committed to their husbands and wives because they've left too many pieces of themselves with their priors. They find it easy to think of divorce in times of trouble. They also find it easy to engage in extramarital sex. Divorce is just as easy as sex for people like this, and for the same reasons.
The upshot of this is that more and more children grow up in partial families with only one distracted and overwhelmed parent. They may never have seen their father. They may not know who their father is. They may grow up in homes wrecked by divorce with absentee fathers or parents who hate one another and are constantly dragging one another into court over custody and child support.They can't form families of their own when they grow up because they don't have any idea what a family is.
This is more than the loss of family. It is the destruction of normal child parent relationships and the introduction of acute insecurity, abandonment and isolation on a primal level into children's developing years. It leads to partially dismembered adults who cannot form normal permanent relationships or commit to any other person.
Meanwhile, the Church tells them that God is their heavenly father, the church is their home, and heaven is their ultimate home.
The best reaction those metaphors are going to get from children who've grown up in one of today's chaotic, shattered and almost non-existent families, is huh? More likely they will respond with a rejecting anger.
After all, if Daddy is a cipher — or worse — then who is God the Father?
How the West Really Lost God, a New Theory of Secularization is an important book. It dares to break step with the accepted explanations for how we got here. The fact that it also raises questions as well as answers them, is a mark of its relevance to today's world.
I think anyone interested in discussing why Western Civilization has turned toward an increasingly totalitarian form of secularism should read it.