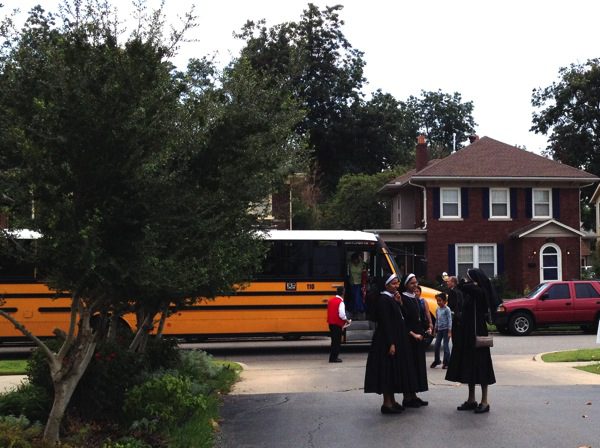 Nuns Off a Bus. Sisters, arriving at the Benediction.
I don't know what to say about the whole "black mass" deal.
They did their uggidy-buggidy thingamajig.
I didn't get near it. And I'm not going to get near it now. If you want to read about the uggidy-buggidy black mass and the brain-dead fools who attended it, google is ready when you are. You'll find none of that here.
I went to the Holy Hour and Bendiction conducted by Archbishop Coakley. I suppose I could begin writing about all this by telling you that, based on what I experienced, this was a real deal.
I had a hard time getting to the Holy Hour and Benediction. All day the day before I experienced the most dreadful spiritual crisis I have been through since I converted to the Catholic Church. My mind was deluged with negative thoughts, to the point that I began to wonder if I even was Catholic or had a right to enter any Church.
Then, at mass that evening, I prayed and prayed and it let up.
Later that night, I got hit with a sudden and rather violent gastrointestinal thing.
It was at that point that I finally recognized old scratch.
The next day, I thought about skipping the whole Benediction. I felt so terrible, and now I was tormented with thoughts that I might meet a particular person there who had hurt me in the past and who I dread ever seeing again.
I prayed, and knew that I needed to go.
I told a friend of mine that all this made me feel as if the devil thought that if Rebecca Hamilton showed up at this Benediction he would be cast back into hell. I told her that if other people were getting a dose of what I was getting, I feared that the church might be empty.
But, despite all this, I went.
And what I experienced was the Presence and Love of Christ.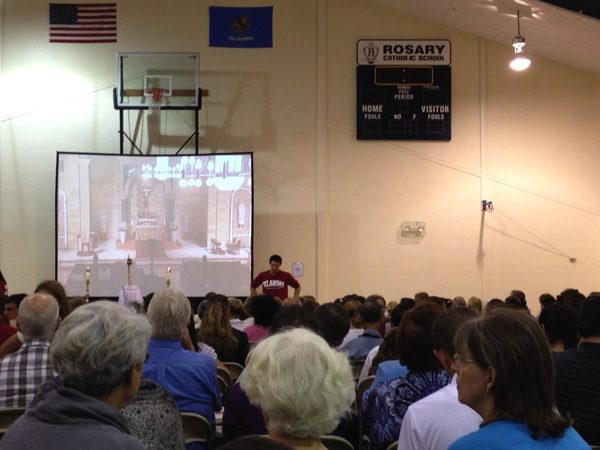 There were a lot of young people wearing red t-shirts with Oklahoma on the front. The back read Sooner Born, Catholic Bred.
That's a play on an Okie saying: I'm Sooner born and Sooner bred and when I die, I'll be Sooner dead.
The prayer service was, for me, an exorcism of sorts. I prayed more deeply than I have in many months, and during the praying I went down into the seamy side of my own soul and confessed sins I had walked into that service not knowing I was harboring. It was cleansing, renewing and deeply, deeply humbling in the most beautiful way possible.
I think the reason that the devil had such a good go at me before the Benediction was that he had his claws hooked into me already. Writing about ISIS, seeing the photos of what they've done to people, is a gateway for satan. That came on top the raw hurt and anger I have about a gay friend of mine who dumped our lifelong friendship (which was as close as family; he was my brother) and who then went out on the internet to attack me — all over gay marriage. Then, there was that person I mentioned, the one I was afraid I would encounter at the Benediction. I had allowed myself to become a seething pit of resentment because of them.
The first two, personal, things, made me an easy target. But ISIS, which is satanic through and through, raised it to an active rageful anger. ISIS, Boko Haram, and all their stepbrothers, are satanic. Their beheadings, rapes, kidnappings, buying and selling of women and children, church burnings and genocides are just as much a black mass as what happened in Oklahoma City yesterday. When they say they do these things in the name of God, they add unspeakable blasphemy on top of their unspeakable actions.
The difference is that, for all its crudity, satan takes off his mask in the black mass and comes out as himself. When he gets inside people and uses them as his instruments on a governmental scale, what you get is Stalin, Hitler, Pol Pot, ISIS, Boko Haram and al-Qaeda. I don't know what you get when he comes out as himself as he did yesterday (except a carny sideshow conducted by a convicted rapist) but I do know that Christ is fully able to cast him down with a flick of the finger. I experienced that in a profound and deeply personal way yesterday.
I don't know about the other people at the Benediction, but I needed what I got there. I barely managed to force myself to go, and what I experienced was a deeply cleansing encounter with Our Lord. It was, for me, a small and much-needed exorcism.
I was in the overflow in the church gymnasium. I got there an hour early, and the gym was already mostly full. I sat on a folding chair on what was then the back row. Later, they added more chairs behind me.
The Eucharistic Procession. I was near the back of the line.
I took bad photos with my iPhone and settled in. It wasn't until the Benediction entered into its first time of private prayer that I plunged, head first, into a dialogue with Jesus. I found myself, my real self, in that time of prayer. I saw my sins, my need to forgive and how deeply God loves me. One thing that came to mind is so simple and powerful.
Before I went to the Benediction, I prayed and asked if, considering how really lousy I was feeling, I had to go. And He answered me.
Think about that.
God, the God who made the deep reaches of space and time and everything there is everywhere there is, stooped down and answered me. Who am I that God should notice my existence, much less engage in dialogue with me and answer my prayers?
He cares. He cares about us. He loves you and me and everyone else. Think about that, my brothers and sisters. Let it roll around in your mind and consider the magnitude of what it means to say, I prayed and He answered me.
He loves each and everyone of us. He enters into dialogue with us, despite our silly and limited little brains and our flawed and sinful souls. He loves us.
Let me say that again: He loves us.
By their fruits you shall know them.
Jesus said that. And it is true.
The fruit of the Spirit is love, joy peace, patience, kindness, goodness, faithfulness, gentleness, self-control. St Paul told us that, and it is also true.
When I read that list, I know — know — how far I am from truly walking with the Lord. God offers me love, joy, peace, patience, kindness, goodness, faithfulness, gentleness and self control. I nibble at these things, like someone sampling a salad bar.
But I save a huge portion of my spiritual plate for resentments, angers, self-righteousness, fear, blame and shame.
The truth is, to the extent that we cling to and protect ourselves, we deny ourselves the free gifts of the spirit. We have to lay it all down on the altar and trust Him.
That doesn't, never has, come easily for me. I am not a trusting person. If I ever was a trusting person, happenings in my life have knocked it out of me. It is as if someone somewhere decided to teach me one thing and then to reteach it over and again throughout my life: You can't trust people.
People will turn on you on a dime. People will abandon you when you are in disgrace. People will betray your confidences, search out and display your shames and, when you need them most, deny they ever knew you.
Does that sound familiar? It should. I began that paragraph writing about my own life experiences, and ended it with the realization that I was also writing about the Passion of Our Lord.
He wants to love us.
Why, I do not know.
But He does. And He wants it so much that He became one of us and allowed us to treat Him the way we do one another. He allowed satan to gloat and howl with delight as He was humiliated, stripped, tortured and murdered.
If the degradations of humanity that take place at the hands of satan's disciples in ISIS, Boko Haram and all the other haters of humanity that stalk our world are a black mass, then, they also are, despite their evil intentions, the reenactment of His Passion. The victims of ISIS are the ultimate Eucharist, in human form. When I am writing about the victims of ISIS, and all its evil twins, I am writing about Him, and His Passion.
Satan intended his little uggidy-buggidy carny show to harm Christ. He can't get at God, so he tries to get at God through us. He can do that because God loves us.
I allowed myself to become so overwhelmed by the evils of our day, and the sadness of humans hurting one another in my private life, that I gave him purchase in my own soul.
If the black mass was meant as a way into our world for satan, it backfired, at least where I am concerned. I experienced a little exorcism at the Benediction yesterday. God brought me back, snug against His side once again.
For this I am both awestruck and grateful.
Archbishop Coakley, holding the Host aloft.