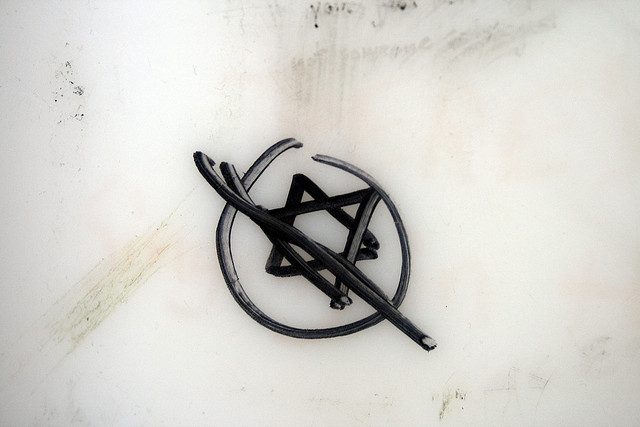 University Campuses have become hotbeds of anti-Israel propaganda. Anti-Semitism is rising along with this.
From The Washington Free Beacon:
Anti-Semitism on college campuses is growing, with more than half of Jewish students claiming they have witnessed or been subjected to some form of anti-Jewish harassment, according to a new report by a leading human rights organization.

With college campuses across the country acting as a hotbed for anti-Israel activism, Jewish students say they are beginning to be targeted on the basis of their religion, according to a nationwide survey conducted by Trinity College and the Louis D. Brandeis Center for Human Rights Under Law.

The survey, which interviewed 1,157 self-identified Jewish students at 55 U.S. colleges, found that 54 percent experienced or witnessed "anti-Semitism on campus during the first six months of the 2013-2014 academic year."

Perhaps most surprising, the report found evidence of anti-Semitism across the country, a finding "strongly suggesting anti-Semitism on campus is a nationwide problem," according to the report.

The findings come as anti-Semitic incidents rise across the globe, with Jewish citizens being targeted for attack by Islamic extremists and far-right neo-Nazis.

This has been accompanied by several high-profile episodes on college campuses in which Jewish students have been subjected to harassment and, in some cases, violence.

The Trinity College researchers who performed the study said they were surprised by the findings.

"The patterns and high rates of anti-Semitism that were reported were surprising," said Ariela Keysar, an associate research professor at Trinity who co-wrote the report with her colleague Barry Kosmin. "Rather than being localized to a few campuses or restricted to politically active or religious students, this problem is widespread. Jewish students are subjected to both traditional prejudice and the new political anti-Semitism."

The survey was conducted prior to last year's conflict in the Gaza Strip, when incidents of anti-Semitism spiked globally.