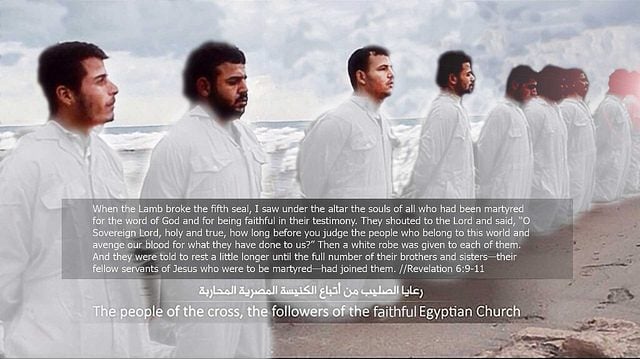 ISIS march 21 men onto a beach in Libya. Twenty of these men were Christians. One, a Chadian Citizen, was not.
He watched the Coptic Christians die for Christ. When the terrorist murderer demanded that he reject Jesus Christ as his God, he replied, "their God is my God." He was then beheaded with his Christian brothers.
The joy in this story is that 21 martyrs to Christ entered heaven that day. They are praying for us now.
From the Malankara Orthodox Syrian Church of the Diocese of Bombay:
ISIS announced the execution of 21 Copts but only 20 names were confirmed, most of them were from the province of Minya(Upper Egypt). There was an inaccuracy in the number of Egyptian Hostages; there were only 20 Egyptians(Copts). Then who was this remaining one non-Coptic victim?

Ahram-Canadian News was able to gather information about this man. He was a Chadian Citizen (Darker skin shown in picture) who accepted Christianity after seeing the immense faith of his fellow Coptic Christians to die for Christ. When Terrorist forced him to reject Jesus Christ as God, looking at his Christian friends he replied, "their God is my God" so the terrorist beheaded him also.