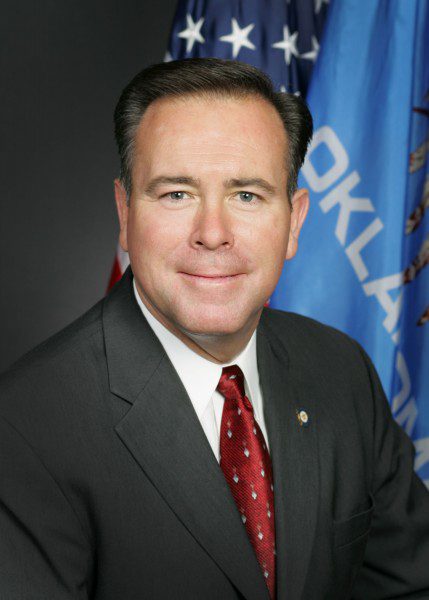 My former colleague, Representative Todd Russ, recently passed a piece of legislation, HB 1125 that would move issuance of Oklahoma marriage licenses from court clerks to clergy or judges.
Under Oklahoma law as it presently stands, court clerks, who are elected officials, issue marriage licenses.
I think that the bill is a response to lawsuits against court clerks around the country who have not issued marriage licenses for gay marriage due to their religious belief. It appears to be an attempt to remove that pressure from court clerks. According to both the author and representatives who opposed the bill, court clerks have not objected to the legislation.
During floor debate, Democratic Leader Scott Inman raised the question of whether or not the bill would, as an unintended consequence, open the door for "marriage" of any type, including group marriage, polygamy, marriage between humans and animals, etc. Rep Russ answered that HB 1125 does not change regulations as to what constitutes legal marriage.
I think that Representative Russ made an attempt to deal with a problem. I don't think that this piece of legislation does what he hopes. It has huge holes in it. It also transfers the potential for court challenges and judicial pressure from court clerks to the clergy.
There is no definition of clergy in the bill. This piece of legislation, by creating a whole new legal responsibility for clergy, needs a definition for what constitutes clergy that is specific to the legislation.
As it stands now, the only requirement in the law is that the clergy be "ordained." That leaves the definition of what constitutes clergy for the purposes of performing this government function entirely in the hands of the religious body of which they are a part.
Since "ordained" is not defined in the bill either, any person could, for the purposes of this law, "ordain" themselves. I am aware that there are definitions in other places in the statutes. But since this creates a new kind of clergy that is part government functionary and part religious leader, a new definition is called for.
Another serious problem with the legislation is that it does not define what relationship the clergy would hold vis a vis the government. Are they now government officials, rather than clergy? That is a legitimate question, since they are now charged with enforcing state law concerning marriage so far as it pertains to the issuance of marriage licenses.
America has kept the issuance of marriage licenses and the definition of marriage as a legal construct entirely under the auspices of the government for over 200 years. The idea of transferring this to clergy is a radical change with many unintended consequences.
One unintended consequence would be the massive impact that this change would have on arguments concerning religious freedom. I believe strongly that clergy should not be government officials by virtue of their ordination. If we make them that, we also make them subject to the same oversight and control as any other government functionary.
Statutes that make all ordained clergy function as government opens clergy and faith to government regulation. It transfer the court challenges and pressure being brought against court clerks to clergy. It pierces the protected legal status that clergy holds now.
This legislation, which I think is a good-faith attempt to deal with a serious problem, will, in a few years, create other problems concerning attempts to limit religious freedom that will be exceedingly grave. It has the potential to create a religious freedom train wreck.
HB 1125 has been the object of quite a bit of purple prose, both in the mainstream press and in the blogosphere. This includes claims that Oklahoma has done away with marriage licenses, or that the bill would limit marriage to people of faith.
These claims are not accurate. The bill changes how marriage licenses are issued. It does not do away with them. Any one who wants to get legally married in Oklahoma today would be able to get legally married under this bill if it becomes law.
I'm not sure how to handle the problems we are now facing as a result of the nihilism that is being applied to family law in this country. If I was still a legislator, I would have voted against this particular bill for the reasons I give above.
My greatest concern about the bill is that it would change the legal status of clergy and that would create the means for successfully attacking religious freedom in the future. It does not matter if the bill labels clergy government functionaries or not. If this bill becomes law, that is the function they will be performing.
I have no doubt that future civil challenges would use this law to seek to define clergy as government functionaries through the courts. This law creates a means by which clergy can be subjected to government regulation as civil authorities.
In today's political climate, that would be a disaster for religious freedom in this country. Groups have been attempting to control what clergy preaches for decades. This law hands them the means to do that. It would also open the doorway for legitimate court challenges requiring clergy to perform gay marriages (and other inventive forms of "marriage") even if it violates the teachings of their faith.
You can read the version of the bill that passed the House here.