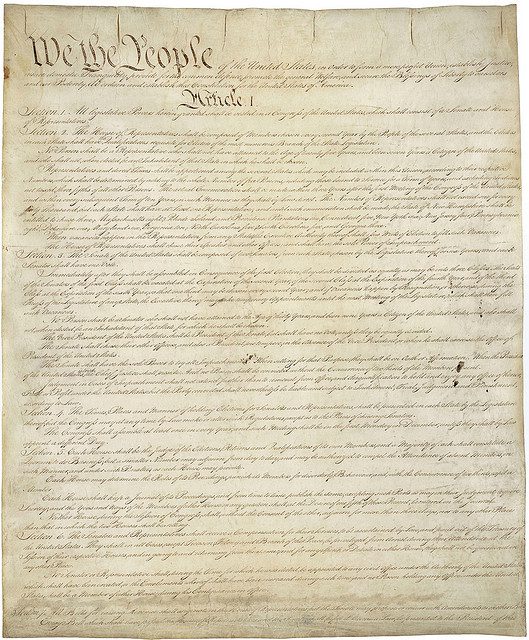 The boys and girls in DC are doing their doo-dah, once again.
It seems that Congress has labored and almost brought forth a bill. That in itself is newsworthy. Congress doesn't make laws these days. It makes slander against anyone in the opposing political party that it can find to attack. By opposing party, I mean, of course, both of the political parties. Each political party is the opposing party to somebody.
It seemed for a moment in political time that this great American law-making body was actually going to make a law. They found something they could agree on enough to get enough of themselves to stop denouncing one another long enough to … ummm … actually do something that was part of the job they were elected to do.
Congress was poised on the tip of an actual vote on an actual bill. Americans everywhere held their breath. Would this Congress, long thought barren, bring forth a law?
Not, mind you, that it was much of a law. This particular bill would set up a fund for victims of sex trafficking. The monies to support this fund would come from fines that are paid by those who are convicted of sex trafficking. The money in the fund would be disbursed through grants to local law enforcement and non profits.
In other words, the law would not "protect" sex trafficking victims, as one headline I read stated. In fact, it would not do anything for sex trafficking victims in a direct fashion. But it would provide jobs for folks in the shiny new anti-sex trafficking industry, and some of them night help sex trafficking victims. Of course, the recipients of the grants would be subject to all sorts of politically correct stuff and nonsense, but that's another post.
This bill is, as they say, a modest proposal. It is an especially modest response considering the horrific crime against humanity that it seeks to address. The real story here is that Congress actually came so close to passing a bill.
But, never fear my fellow Americans. Congress is not going to allow itself to break its losing streak by doing something. It seems that the Dems discovered that (Gasp!!!!) the bill does not allow these monies to be used to pay for abortions for victims of sex trafficking.
Now, we can not have that. Any piece of legislation that concerns "women's issues," which is to say any piece of legislation that involves sex, which as we all know, is a man's delight and a woman's "issue," must have a codicil in it somewhere providing "access" for abortion. The reason for this is simple: All any woman needs, ever, is an abortion.
If a woman is kidnapped, raped, beaten, shut in a tiny room and only let out to be repeatedly sold so that she can be raped again and again and again, night after night, day after day. If she is sold across borders and put in "legal" brothels or put on the street and sold hand to hand, if she is told that if she resists, her family in her home country will be killed … if all this is done to her … why then, what she needs is an abortion.
I know something about this problem. I sit on the board of directors of a non-profit that rescues these women, often at great personal risk (people who will do all this, will kill anybody you know.) This organization provides a home environment, therapy, medical aid, education, clothing, and anything else these women need to help them rejoin humanity. Sometimes, the women are pregnant. When they have their babies, it's a time of great rejoicing in the shelter. The babies are loved and the women are supported.
Odd as it may sound to the abortion-is-all-women-need crowd, when women are given the option of having their babies without paying a horrific price for doing so, when they are honored, respected and loved and their babies are honored, respected and loved, they want the children.
Many of the women we are talking about come from very traditional, conservative societies where children are valued. They value their maternity, when the people around them value it.
But I digress. Let's return to the ugliness of Congress. It appears that this modest little piece of legislation is in big trouble.
The Democrats (or at least enough of them) are going into a you-can't-pass-a-bill-about-women-without-promoting-abortion frenzy. They are willing to see the bill die rather than forego using it to fund abortion.
Because, you see, if help for women doesn't include abortion, why then, it's no help at all. Women need abortions. More than they need rescue, therapy, medical care (many of these women are horribly injured) freedom from slavery, legal aid, love, support and home, these women — like all women, everywhere — need abortions.
If the Ds can't make sure that the sex trafficked ladies get their abortions, then they will protect them from having freedom, medical care, therapy, shelter, legal assistance, love, support and home forced on them. After all, without abortion, why would any of these things matter to a woman?
Just when it seemed that the Ds would take home the trophy for dereliction of duty for the week, the Rs jumped in. Senate Majority Leader Mitch McConnell announced that, unless the Ds stop fighting the sex trafficking bill, he will not schedule a vote on the confirmation of Loretta Lynch, who is President Obama's nominee for Attorney General.
Because, you see, refusing to do its job is how Congress gets its way, and its way is always about partisan fighting.
There is the possibility that public dismay might jog the Stepford Congress out of its partisan thrall. But that won't happen unless public dismay convinces the people who own Congress that their investment is in danger. It's more likely that this bill will go the way of the ban on abortions after 20-weeks.
These people campaigned on all sorts of issues, and that got our votes. But they were lying in all those campaign ads. They were sent there to do what they are doing, which is to position their parties to take over the White House in '16 and allow their money backers to take control of the Imperial Presidency.
The Ds are fighting over money for abortion because that's big campaign $$ to them. The Rs are blocking everything that Congress might do because, as any politician knows, it's easier to sell the public on being against things than it is to explain why you're for something. They don't want to do anything because there is risk in doing things and that might hurt the chances of taking the White House in '16.
That's why this little bill almost came to a vote. It looked like such a win-win-win-win that everybody thought it would be good political fodder for themselves.
But then, abortion reared its ugly head, and Congress stopped itself from breaking its self-imposed losing streak just in the nick of time.
From the New York Times:
WASHINGTON — An amazing thing about Congress: Things can always get worse.

After several years of troubles with spending bills that were once routinely bipartisan, the Senate has now found a way to disagree on a bill that would protect victims of sex trafficking. And in the process, that dispute has ensnared President Obama's largely uncontroversial nominee for attorney general, Loretta E. Lynch.

The latest impasse sweeps up five years of the lowlights of congressional dysfunction: abortion and immigration policy disputes, White House exasperation, garden-variety distrust, and mutual loathing between Democrats and Republicans.

"Life is really simple," Senator Harry Reid, Democrat of Nevada and minority leader, said on the Senate floor on Monday, attributing the sentiment to Confucius, "but we insist on making it complicated."

The bill in question, sponsored by Senator John Cornyn, Republican of Texas, is a modest measure with broad support in Congress that seeks to create a victims' fund from fines collected from perpetrators of sex trafficking. A similar measure has passed the House and was expected to pass easily in the Senate.

But a provision in the Senate bill would prevent the fees from being used for abortions for the victims. Democrats say Republicans sneaked it into the bill. Republicans firmly deny the charge. And Democrats now say they will not vote for it unless the language is removed, something that Republicans decline to do.

In turn, Senator Mitch McConnell of Kentucky, the majority leader, has said he will not turn to the matter of confirming Ms. Lynch, Mr. Obama's nominee to replace Attorney General Eric H. Holder Jr., until the sex trafficking bill gets off the floor. A procedural vote to move the bill forward was expected on Tuesday.