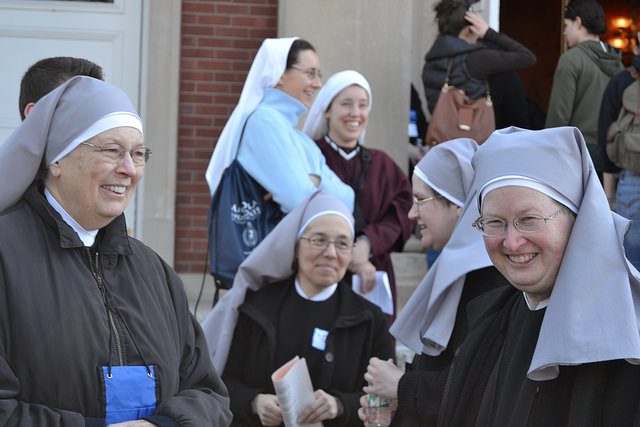 The 10th Circuit Court of Appeals has ruled that the Little Sisters of the Poor are not affiliated with a specific church and they are a non-profit, so the First Amendment doesn't apply to them.
Ditto for the Christian Brothers Services and Christian Brothers Employee Benefit Trust, the Catholic organization through which the Little Sisters buy their insurance.
This is how the on-going war against people of faith is played out. It rides in on the back of the legal sophistry that the First Amendment only applies to recognized churches and then only to what is done within the aegis of that recognized church. The verbiage is to limit "freedom of religion" to "freedom to worship." This kind of limitation effectively destroys our most cherished freedoms, including freedom of speech as well as freedom of religion.
The 10th Circuit has bought into this fiction big time, because … well because they are idiots. Or rather, because they are ideologues. But, to paraphrase Mark Twain, I repeat myself.
There is a growing — and I mean rapidly growing — opinion in this country that We the People should begin to ignore the courts. That is a dangerous notion that I will write about at length later. But the public attitude underlying it has its roots in this kind of absurd ruling. This is a re-writing and abrogation of the First Amendment that damages the freedoms and liberties of every American citizen today and into future generations.
The people who support this are throwing away their own freedoms for no other reason than a desire to get at someone whose opinion and beliefs they do not share. The courts are playing fool to this because — and this seems obvious — at least a number of members of the judiciary are ideologues with only a narrow understanding of their responsibilities to our country.
This particular move comes from the hubris of a president who seems addicted to an imperial view of himself and his office. How many times has President Obama made statements that he can do enact policy without Congress? How many times has Congress answered him in the affirmative?
Congress has always had the power to rescind the HHS Mandate. They did not have to let it go into effect in the first place. They have not used this power in any way except as a campaign tool to win elections. If campaign promises were Congressional action, this would be an entirely different country in which We the People would have some hope of making a difference when we vote.
As it is, most of us have figured out that, no matter who we elect, they end up lying to us, ignoring us and doing things that hurt us. Why should we be surprised when the judges these folks we elect appoint behave in the same way?
The 10th Circuit does have have the last say on this issue. The Supreme Court can chose to hear the case and rule on it. The question is, will they?
As for the Little Sisters of the Poor, they intend to continue in their ministry and stay faithful to their faith. This is the challenge and the example for each and every one of us.
From CNA Daily News here at Patheos:
Disappointment follows ruling against Little Sisters in mandate case

Denver, Colo., Jul 14, 2015 / 11:29 am (CNA/EWTN News).- The Little Sisters of the Poor have reiterated their commitment to following their conscience as they care for the poor and dying, following a federal appeals court ruling that they must obey the federal contraception mandate.

"As Little Sisters of the Poor, we simply cannot choose between our care for the elderly poor and our faith," said Mother Provincial Sr. Loraine Marie Maguire.

"And we should not have to make that choice, because it violates our nation's commitment to ensuring that people from diverse faiths can freely follow God's calling in their lives. For over 175 years, we have served the neediest in society with love and dignity. All we ask is to be able to continue our religious vocation free from government intrusion."

Sr. Maguire responded to a Tenth Circuit Court of Appeals ruling against the Little Sisters of the Poor on July 14.

The sisters are among several hundred plaintiffs that have challenged the federal contraception mandate, which requires employers to offer health insurance plans covering contraception, sterilization and some drugs that can cause early abortions.

Employers who fail to comply with the mandate face crippling penalties. In the case of the Little Sisters, the fines could amount to around $2.5 million a year, or about 40 percent of the $6 million the Sisters beg for annually to run their ministry.

Met with a wave of protest, the contraception mandate has undergone a number of revisions. However, the sisters say that it still requires them to violate their beliefs.