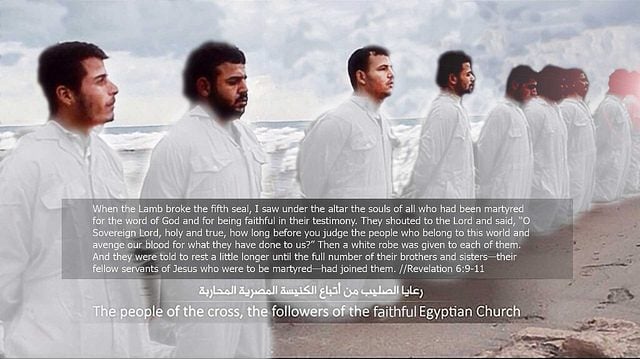 My colleague Kate O'Hare interviewed Chaldean Catholic Bishop Mar Bahai Soro about the holocaust of Christians that is taking place in the Middle East. 
To be honest, reading this interview put the hijinks of the Synod on the Family in perspective. It made the whole thing seem a little bit like an exercise in rearranging the deck chairs on the Titanic. It would have been better to hold a Synod on Christian persecution in much of the world, coupled as it is by increasing harassment, bashing and legal attacks on the rights of Christians in the so-called Christian West.
Christianity is under attack as it has not been since the Muslim wars of conquest in the Middle Ages. Today's line of attack is even more aggressive because it has not one, not even two, but several fronts. Christians are being subjected to genocide in their ancient homelands. Christians endure violent persecution in places like North Korea and certain parts of India. Christians are subjected to government control and abuse in places such as China, and Christians are under social and legal attack in an attempt to drive them from public forums and banish their ministries in much of the West, including the United States.
That is the most serious issue facing Christianity today.
From Angelus:
Many, if not most, of the Christians will be forced to leave Iraq forever, but some are determined to stay and see that Christianity maintains a living presence in some of the places that first heard the message of the Apostles.

In America, there are those determined to help. They can't work a miracle, but you have to start somewhere.

Chaldean Catholic Bishop Mar Bawai Soro resides at the Chaldean Eparchy of St. Peter the Apostle in El Cajon, in San Diego County. It serves approximately 60,000 Catholics in several western states who are part of the Chaldean or Assyrian Rite. Many are immigrants from the Middle East, especially Iraq and Iran.

Bishop Soro was formerly a bishop of the Assyrian Church of the East. A longtime advocate of the primacy of the Apostolic See of Rome — he proudly displays thick albums of photos of the times he has met Pope Saint John Paul II, Pope Emeritus Benedict XVI and Pope Francis — Bishop Soro was received into the Catholic Church in January 2008.

He recently joined forces with Kingdom Special Operations, a Las Vegas-based private security company. Staffed by former intelligence officers and military Special Forces members, it goes on assignments worldwide for the U.S. government and other entities.

But the CEO of Kingdom, Orange County native Roger Flores, is a Catholic and a Knight of Columbus, and he has always maintained that part of Kingdom's mission is to help his fellow Christians.