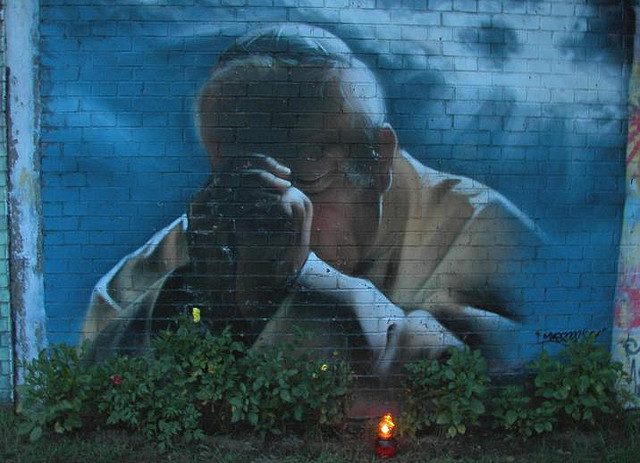 I was like everyone else. I thought at first that the Holy Father's visit with Kim Davis was exactly what the Vatican has now said that it wasn't: A form of support. Deacon Greg has the full story. All I care about is the bottom line: The pope's visit to Kim Davis was evidently meaningless.
That means that we're back at square zero. Pope Francis has not given us the clarity we crave concerning the family. And the almighty Synod is looming ahead like a bad dream.
Last year's synod was such a mess that I began to feel the same way about it that I feel about the United States Congress. I was relieved when they went home without doing any real damage. Now, I've been reading that serious money is being used to lobby the Synod Fathers on behalf of getting them to support gay marriage.  The African bishops have announced that they will present a united front on behalf of marriage and the family. May God go with them.
Meanwhile, I've decided in an absolute sort of way that I'm all through reading the tea leaves of Pope Francis' various actions concerning marriage. I love Pope Francis. But I don't — none of us do — need him to give me my marching orders on this issue. Saint John Paul II already did that for us.
The papacy is not a political office. When we inaugurate a new president, that often means that we are also beginning a change of direction for our government. But popes do not come into office with a mandate to overturn the teachings that went before them. In fact, they come into office with a clear mandate to continue the teachings of those who went before them. Pope Francis, has, for instance, reaffirmed Saint John Paul's teaching that the priesthood is reserved to men so many times I've lost count.
He has not reaffirmed Saint John Paul's teaching on marriage, or at least not as specifically and clearly. But that does not mean that those teachings are no longer valid. Pope Francis is Peter. He is the inheritor of the apostolic succession that goes all the way back to day that the risen Lord told the Apostle to "feed my lambs." He is, in many ways, the protector of the Church's teachings and the depository of faith which has been handed to him.
The teachings of Saint John Paul II are just as valid now as when he published them. And, since they were written down and published in explicit form, they have real weight. We could spend all day, trying to interpret off the cuff remarks and random actions by Pope Francis, but none of those things have the teaching authority of Saint John Paul's official teachings.
I wrote about what this means to our concerns as Catholics and how we should approach the gay marriage issue for Catholic Vote.
Here's part of what I said:
The pope has spoken about what we should do if our government legalizes gay marriage. Saint Pope John Paul II published a document in 2003 titled Considerations Regarding Proposals to Give Legal Recognition to Unions Between Homosexual Persons. 

I am familiar with this document because I was a Catholic lawmaker, serving in the Oklahoma House of Representatives, at the time it was issued. To be honest, I found it troubling because of the onus it put on me as a lawmaker to do things that I knew would affront my gay friends.

I loved these people, love them still, and it was tough, going against them. It cost me dearly on a personal level.

But there is nothing unequivocal about Saint John Paul II's teaching in this matter. I prayed and blew off steam to my pastor, but there really was never a question that I would obey. The pope was quoting Scripture and talking Jesus. I had no choice.

Today's Catholics, me included, are hungry for a repeat from Pope Francis. We want something concrete like the document Saint John Paul issued. However, it's entirely possible that Pope Francis thinks that Saint John Paul has already said all that needs to be said and that all he has to do is make it clear that the pope's opposition to gay marriage continues.

If that's true, then, my fellow Catholics, we already have our marching orders.